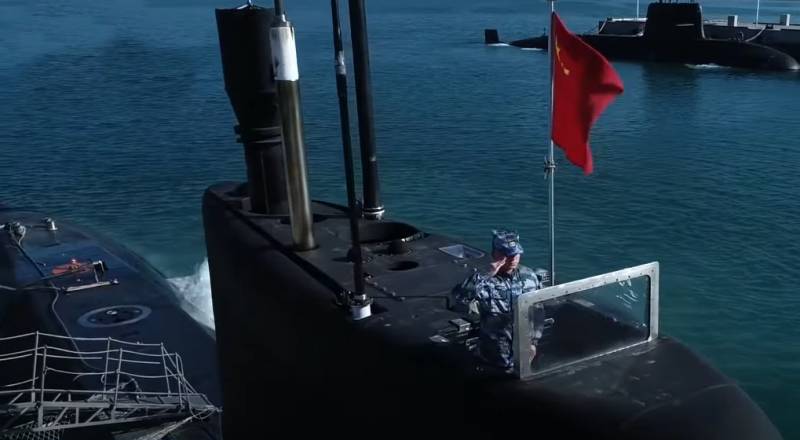 Like the Russian Navy, the PLA has a mixed submarine fleet, consisting of both nuclear submarines and submarines with conventional propulsion. The latter are mainly represented by Type 039 submarines, which form two classes - diesel-electric submarines Song (base Type 039, 13 units) and submarines with VNEU Yuan (Type-039A/B/C).
According to Beijing's officially announced plans, the PLA Navy should have 2025 Yuan-class submarines by 42, with a total number of conventional submarines of 60 units.
However, to monitor the composition of the underwater
fleet
China is a difficult task, as the construction and testing of ships are carried out behind the scenes, and censorship is becoming more severe, affecting, among other things, social networks
- complain in the French edition of Meta-defense.
At the same time, it is indicated that a short video was recently posted on the social networks of the PRC, which depicts a new class of submarines previously unknown to observers. As explained in the Covert Shores publication, this submarine cannot be classified as a Yuan subtype, since it is approximately 40-50 meters shorter in length; has a design with a single rather than a double case; horizontal rudders are mounted in front of the hull (and not on the sail).
Earlier, in 2018, a submarine very similar to the new submarine was noticed with one significant difference - it did not have a wheelhouse.
The new model of the submarine surprised even the most knowledgeable experts in this matter
- noted in the Western edition of Meta-defense, which drew attention to a new type of Chinese submarines.
However, observers have already managed to attribute the submarine to the conditionally allocated "Olympic class" - in honor of the sports competitions taking place in China.
We appear to have a new Chinese mystery submarine. This one notably smaller than existing designs outside of the equally mysterious "sailless" type. @CovertShores with what we know. Images via now deleted Twitter post (linked in piece).https://t.co/DcDmoVsDr9 pic.twitter.com/meTDxhw3Uy

— Alex Luck (@AlexLuck9) -