South Korean specialists from Korea Aerospace Industries, together with representatives of KONKUK University, announced the construction and successful testing of a prototype UAV Devil Killer, a drone for high-precision destruction of North Korean rocket bases and artillery batteries in the case of open aggression and for reconnaissance.
For the South Korean aircraft, the Devil Killer UAV is a new type of weapon. After conducting a series of tests and improvements in 2016, the shock drones will come into service. Drones, having on board about 3 kilograms, will not return to the base - the destruction of the target will be carried out by a dive of the Devil Killer UAV at the target of the kamikaze type.

Another purpose of UAVs can be the destruction of small combat boats, including air cushions. A UAV is capable of catching up and striking an object moving at speeds up to 80 kilometers per hour (including ground-based equipment).
The creation of the Devil Killer UAV and its purpose is not accidental - the northerners are already building a similar UAV based on the American MQM-107D Streaker that fell into their hands. It is also known about the creation by Northerners of the basing of surface ships, whose main task will be the landing of troops on the disputed islands. The existing differences between North and South Korea (especially noticeable in relation to the ownership of some islands) forces the South Korean military to search for ways to increase the combat effectiveness of the Armed Forces. The latest drone drone will take its place between artillery systems and cruise missiles. If the use of artillery systems "cheap" they have their drawback - the low accuracy of the defeat. With the CD all the way around - the accuracy of defeat is high, but the possible application is expensive. Devil Killer drones with high accuracy will be relatively inexpensive - in the 90 area of ​​thousands of dollars.
The unmanned vehicle is equipped with a video camera with a high-tech navigation system and a high-explosive charge. Target search will be conducted automatically. UAV transportation is facilitated by the presence of a folding wing.
He will be able to destroy the enemy's artillery position at a distance of 15 kilometers in 4 minutes. And to destroy the target, located at a distance of 40 kilometers, it will take him about 20 minutes.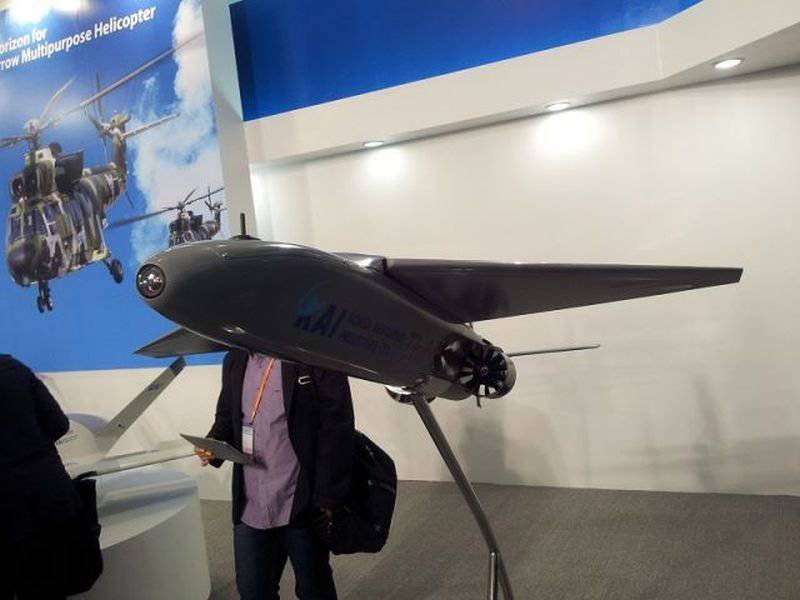 Note that the creation of the UAV was not without the United States, because the cooperation between them is underway. It is possible that the UAV will receive battery recharging via wireless laser power transmission. The estimated cost is about 90 million dollars. And although the South Korean military announced successful prototyping launches, they will come into service no earlier than 2015 of the year.
Key Features:
- combat weight - 25 kilogram;
- wing span - 3 meter;
- wing length - 1.3 meter
- Length - 1.5 meters;
- maximum speed up to 400 km / h;
- range to 40 kilometers.
Information sources:
http://noos.com.ua/ru/post/3021%26post%3D-27278394_253
http://www.koreatimes.co.kr/www/news/nation/2012/09/113_120065.html