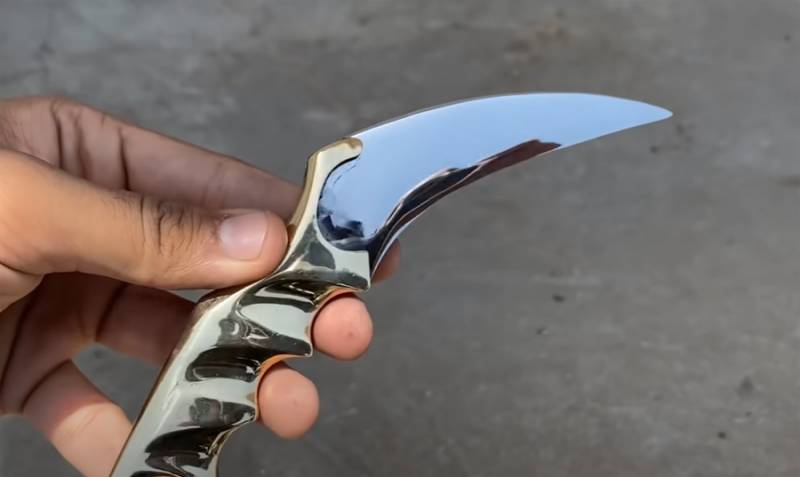 History
humanity is closely connected with history
weapons
. Separately, in this story, one can single out the direction associated with the emergence and development of edged weapons. The mastery of metalworking skills allowed a person to create new versions of weapons that could be used not only for hunting, but for military operations. Knives, swords, daggers with countless derivatives.
One of the variants of edged weapons, which in this case is considered to be the birthplace of Southeast Asia, is karambit. It is customary to call a karambit a fairly short knife, characterized by curvature. It is believed that the progenitor of karambit was the fang of a predatory animal - for example, a tiger, which (fang) in ancient times could be used by a person as a cutting tool with special sharpening. After mastering metalworking, the inhabitants of some regions of Southeast Asia embodied the tiger's fang already in metal - as they say, in the image and likeness.
A classic karambit is a knife with a sickle-shaped blade no more than 8-10 cm long and its internal sharpening. Usually, together with the handle, it forms a semi-oval, a crescent. It is the shape of the crescent, according to historians, that caused the variations of kerambit to become very popular in the countries of the Islamic world - primarily in the Arabian Peninsula, as well as in the territories of modern Iran, Iraq and Turkey.
The classic karambit has a special handle. It is made of high density wood, and this handle must have a hole. First of all, the ring was created under the finger, and also so that a rope could be passed through it. As a typical karambit grip, a variant with a thumb threaded into the handle ring is used.
Today, knives from the karambit series often serve as accessories for noble people in North Africa and the Middle East.
The video shows the manufacture of one of the variants of karambit from a rusty bearing.
"Military Review" recalls that the unauthorized manufacture of edged weapons is punishable by law.