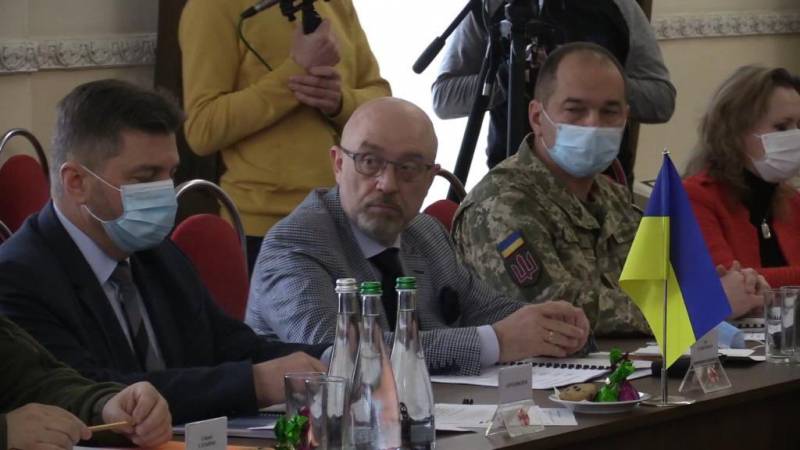 Ukrainian Defense Minister Oleksiy Reznikov made another statement regarding "a possible attack on Ukraine by the Russian Federation." Being on the air of one of the Ukrainian TV channels, Reznikov said that Russia would not be able to use "no green men" to "seize administrative buildings".
Head of the Ministry of Defense of Ukraine:
Our country is ready. Including attempts to seize administrative buildings. Russia will no longer be able to use the methods that they used in 2014.
Recall that in a few days in Ukraine they are going to celebrate the next (8th) anniversary of the coup d'état, which, as you know, is officially called the "revolution of dignity" by Kiev. Despite the fact that dignity never came, and those who participated in the coup plunged the country into chaos and civil war, the authorities in Kiev are trying to claim that Ukraine is "developing in the right direction." At the same time, more than 79% of the polled Ukrainian citizens do not agree with this opinion, as recent sociological surveys show.
Minister Reznikov said that Russia "may try to use the option of destabilizing Ukraine from within, including with the help of agents." At the same time, the head of the Ukrainian Ministry of Defense referred even the so-called anti-vaccinators who come out to their protests to "Russian agents".
Reznikov:
She (Russia) can use those who are dissatisfied with the political system, economic policy or anti-vaccinators to implement such scenarios. But we need to be prepared for this so that they do not have such an opportunity.
From this statement, it becomes clear that the Ukrainian authorities act according to the most primitive principle: if someone in Ukraine is dissatisfied with something, then this is "a Russian agent who needs to be resisted." Only judging by the results of a sociological survey, there are already at least 79% of "Russian agents" in Ukraine, because it is precisely this percentage of respondents who do not consider the policy of the authorities and the course of Ukraine to be correct.