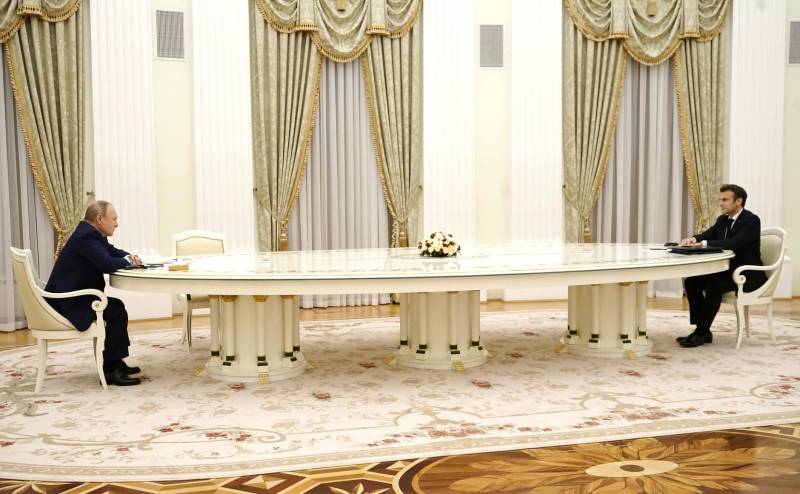 During talks with Emmanuel Macron in the Kremlin, Russian President Vladimir Putin pointed out that the United States and NATO had ignored Russian security concerns. At a press conference, the head of the Russian state said that in Washington and Brussels they simply ignored such topics as guarantees of non-expansion of NATO to the East and the withdrawal of troops from the countries of the alliance that entered there after 1997.
According to Vladimir Putin, secondary topics were raised instead, and political clichés were used.
At the same time, the Russian President noted that Moscow was going to continue discussing the issues raised with the United States and NATO and seeking answers to the key questions posed in the initial letter.
Vladimir Putin:
There is not a single impracticable point in our proposals. No one!
The topic of Ukraine was also touched upon. In particular, there was a comment from the Russian president about the constant statements coming from the West, allegedly about the imminent attack of the Russian Federation on Ukraine. Vladimir Putin once again stated that Russia itself is not going to attack anyone. At the same time, the president was asked in what case a military conflict between the Russian Federation and the North Atlantic bloc is possible. Putin said that such a conflict is possible if Ukraine is accepted into the alliance and an attack on the Russian Crimea.
The President of the Russian Federation also pointed to Kiev's two-time attempt to resolve Donbas issues by force. He noted that if there were two attempts earlier, then a third such attempt by Ukraine, which stubbornly refuses to fulfill its obligations under the Minsk agreements, cannot be ruled out.