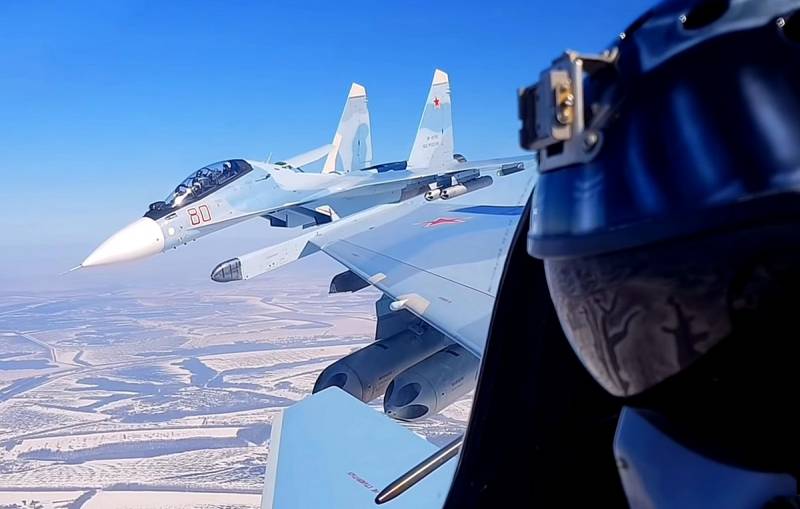 Russian combat aircraft reappeared in the skies of Belarus and conducted joint patrols with combat aircraft.
aviation
The Republic of Belarus. This was reported by the press service of the Russian Ministry of Defense.
Russian Su-30SM multirole fighters together with Belarusian Su-30SM conducted patrols along the state border of Belarus. The flight took place at an altitude of about 8 thousand meters at a speed of about 750 km / h. In total, the aircraft covered over 1800 kilometers. According to the report, during the flight the crews of Russian and Belarusian fighters worked out some elements of maneuvering, as well as interaction. After the end of duty, the Russian fighters went to the home airfield in Russia.
The day before, two Russian Tu-22M3 long-range bombers carried out air patrols in the skies of Belarus. A pair of aircraft spent about 4 hours in the air, flying around the borders of the Union State. During the flight, joint tasks with aviation and air defense systems of the Republic of Belarus were worked out. After completing the tasks, the bombers returned to their base airfield.
As previously stated in the Ministry of Defense of Belarus, joint patrols of the borders of the Union State will take place on an ongoing basis due to the concentration of NATO troops near the republic.
Not everyone liked the appearance of Russian aircraft in the airspace of Belarus, rather, they didn't like it at all. Sharp statements on this issue were made in Poland and Lithuania, and in Ukraine they were generally afraid that Russia could strike at important targets from the territory of Belarus.