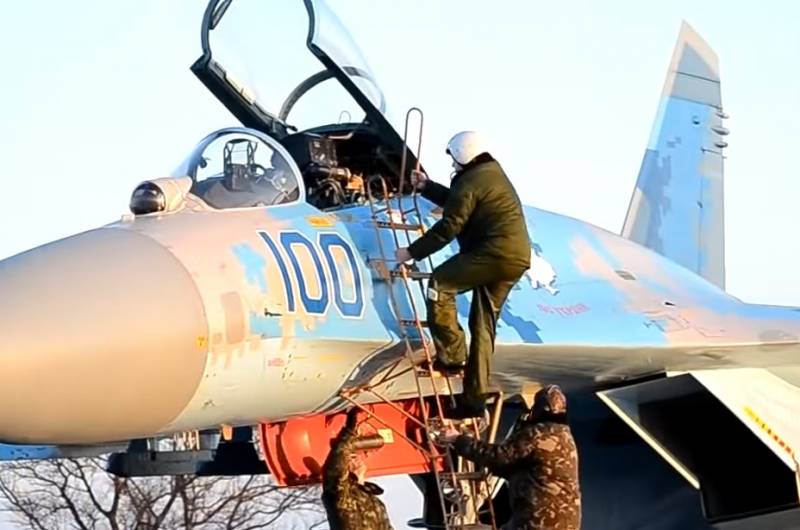 The most combat-ready part of the military
aviation
Ukraine is considered the 831st tactical aviation brigade, based in the city of Mirgorod, Poltava region and consisting of two Su-27 squadrons. Now its pilots are intensively preparing for war with Russia. American expert David Ax writes about this in Forbes magazine, for whom the subject of a "possible war in Ukraine" has become almost the most basic in recent months.
In his opinion, in the event of the outbreak of hostilities, the military aviation of Ukraine will be almost immediately destroyed by the Russian Aerospace Forces. The Ukrainian Air Force has only 71 fighters in its arsenal, and even then less than half of them are combat-ready. Only they can provide hundreds of Russian combat aircraft with at least some resistance. Therefore, the United States believes that the Ukrainian Air Force will not be able to fight, because the Kiev authorities will not risk their Air Force, which they are able to lose in a collision with the numerically predominant Russian military aviation, which is also equipped with more modern aircraft.
The American observer is sure that the Ukrainian Air Force, whose most likely adversary is the Russian Aerospace Forces, shows its hopeless lag behind them. They are not capable of defeating Russian fighters in air battles, since the Russian Aerospace Forces have an advantage not only in numbers, but also in weapons. In particular, we are talking about the possibility of using long-range air-to-air missiles and modern electronic countermeasure systems. At the same time, Ukraine's fighter aircraft should not be completely written off. Indeed, although its Su-27s were created back in the USSR, they are equipped with radars with a range of up to 100 kilometers and quite effective R-27 aviation missiles, which are still used in the Russian Federation.