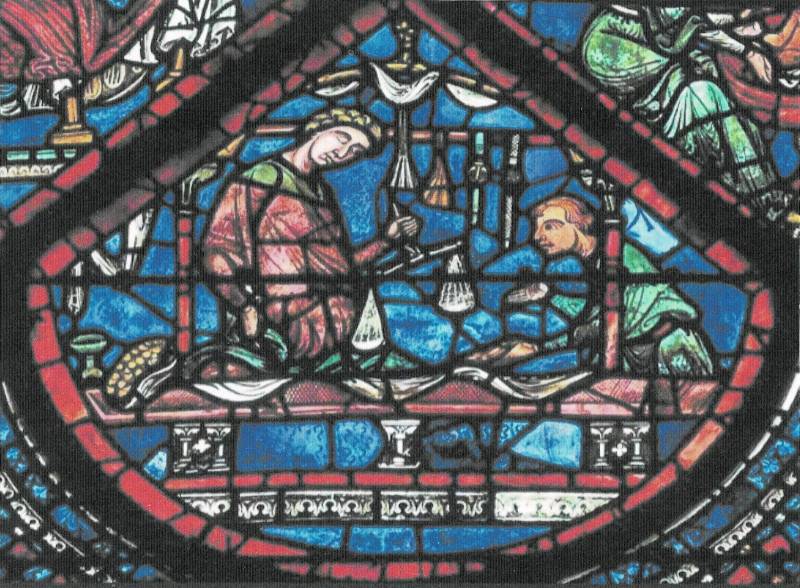 Detail of a stained glass window in the Cathedral of Chartres ("window of St. Nicholas"), France, depicting a spice seller, XNUMXth century. Many medieval guilds contributed to the production of stained glass windows of this cathedral and for this they were honored to be depicted on its magnificent stained glass windows.
"...nard and saffron, calamus and cinnamon with all sorts of fragrant trees, myrrh and scarlet with all sorts of the best flavors."
Song of Solomon 4:14
...
"Put wood, make a fire, boil meat, add seasoning."
Ezekiel 24: 10
Culture and civilization.
Today we have a topic that is not entirely military, although it is most directly related to the war. Today we will talk about spicy plants that have played in
stories
Humanity well, just a huge role. And, of course, they even became the cause of many armed conflicts, which most seriously influenced the course of history.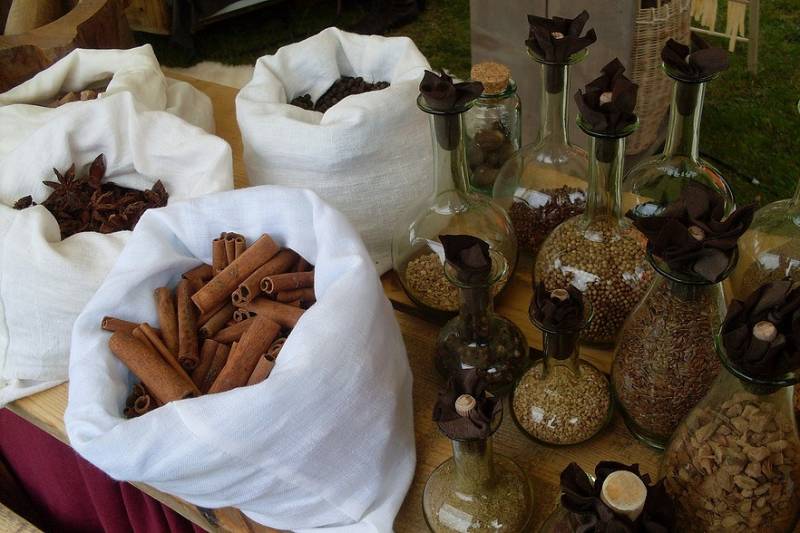 In the old fashioned way, spices are sold at a medieval festival in the city of Bayeux. Tapestry tapestry, but you also need to amuse your mother flesh. Photo of Bayeux City Hall
And it was so that already in primitive society people used various fragrant plants both as food and in various rituals to scare away, for example, evil spirits. In the ancient world, in particular in Egypt, onions and garlic were included in the diet of almost all segments of the population, and incense herbs were used for burial - their bunches were placed in the bodies of mummies.
Well, in the Middle Ages, spicy plants of the temperate zone grew in vegetable gardens and were widely used for food. Although, of course, they came to the diet of medieval Europeans still from the past.
Here, for example, parsley. In ancient Greece, it was believed that parsley originated from the blood of Archemoros and graves were decorated with wreaths of parsley.
But wreaths of celery, a close relative of parsley, were decorated with the winners of the Isthmian Games. And in ancient Egypt, parsley wreaths were woven as a sign of grief. Garlic was the constant food of the builders of the pyramids, but in ancient Rome they were fed to legionnaires, as it was believed that its sharpness gives the soldiers strength and courage.
As early as 1000 BC, coriander was grown in the eastern regions of the Mediterranean. Moreover, in Egypt it was used both as a medicine and as a spice. The ancient Greeks dedicated thyme to the goddess Aphrodite and burned it on a sacrificial fire. By the way, the pagan Slavs did the same, who burned thyme so that its fragrant smoke would bring joy to their gods. Well, in the Middle Ages, thyme was used very widely in cooking. It was added to stir-fries, sauces, stuffed with fish before frying.
Melissa, with its lemon scent, was also widely distributed in southern Europe, where it was valued as a medicine. Ibn Sina also spoke of her as a remedy that drives away melancholy. So if this same melancholy suddenly attacked you, then in order to fight it, chew lemon balm. In the Byzantine encyclopedia of agriculture of the XNUMXth century, Geoponics, it was written that lemon balm protects a person from bee stings, which our today's beekeepers should also know about.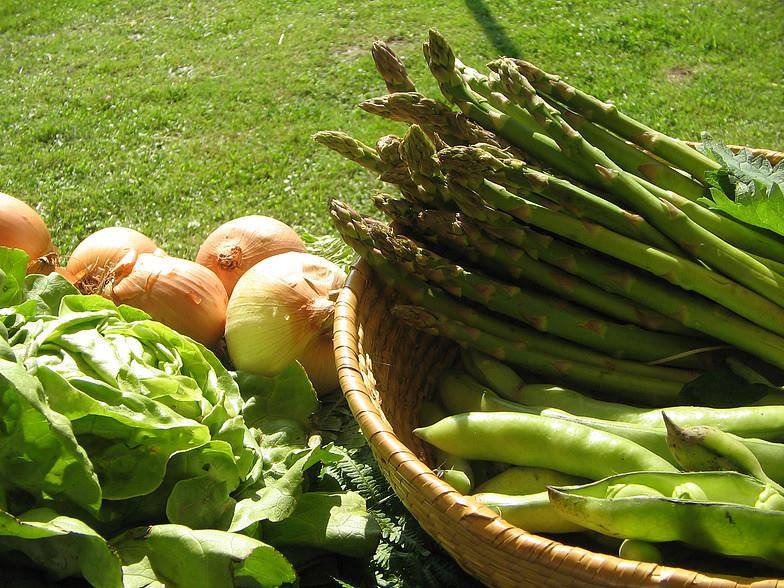 And these are garden plants known since the Middle Ages. Photo of Bayeux City Hall
Peppermint is named for the pungent taste of its leaves. Its oil contains a lot of menthol - hence all its pungency. The Romans liked mint very much. They believed that its aroma lifts people's spirits, especially during a pleasant conversation with wine and light snacks. Therefore, by the arrival of guests, it was their custom to rub the tables with freshly picked mint, and sprinkle the walls with a tincture of its leaves. Pliny the Elder even wore a wreath of mint leaves on his head, as it was believed that the scent of mint stimulated the brain. He recommended the same to his students.
In the Middle Ages, mint was used both as a medicine and in cooking.
Anise is another plant with a pleasant smell, known since ancient times. Moreover, its seeds were found even in the piled buildings of the Stone Age. It was mentioned by both the Egyptians and the Greek physician Hippocrates, and it was already used very widely. And above all for baking bread.
Onion is a truly irreplaceable product in all respects. Known for a very long time, 4000 years BC. e. The Egyptians fed onions to the builders of the pyramids. Bunches of onions are even found in the sarcophagi of the pharaohs. Among the Romans, onions were included in the diet of legionnaires along with garlic. Like, strengthens courage and strength.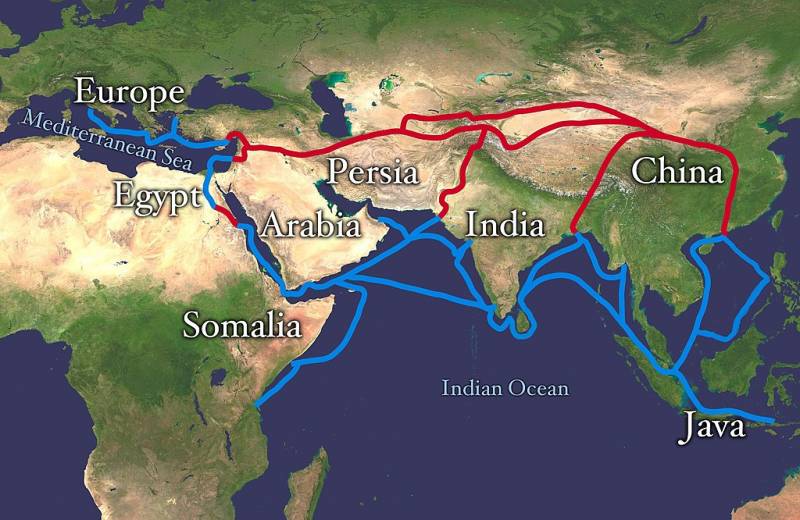 You do not believe that spices have caused many wars and conflicts? Then take a look at this map. When the Silk Road (red) and spice trade routes (blue) were blocked by the Seljuk Empire in 1090, it sparked the Crusades; when the Ottoman Empire did the same thing after 1453, it marked the beginning of the Age of Discovery and European colonialism!
In the Middle Ages, onions, in addition to food, were used as an amulet. Richard the Lionheart wore an onion around his neck, and the Saracens took a ransom with a bow for every franc - eight onions per head! At night, wandering around the dark corners and lanes of medieval cities, or making your way through a dark forest, you should definitely have an onion on a string around your neck and from time to time notify the "dark forces" with the words: "Beware, I eat onions!", And only then say: "The power of the cross is with us!"
Bay leaf also came to us in a pan from the shores of the Mediterranean Sea. Who has not heard about the laurel wreath, which crowned the winners in games and competitions in honor of the god Apollo, and there were a lot of them: Daphnephoria, Targelia, Delia, Pythian and Carnean games. Not surprisingly, wreaths were required in such large numbers. Weaved them constantly and ... of course, the hands from weaving them smelled of laurel for a long time. Well, then they guessed to add laurel leaves to food ...
However, all this grew among the Europeans, one might say, at hand. But people always want more. So the people of the Ancient World and the Middle Ages were also attracted by spices that they did not grow in their garden. First of all, it was saffron, which also served as a dye. It was known in Assyria and Egypt, and in Syria and Palestine it has been cultivated since the time of the legendary King Solomon. In the East, saffron was valued very dearly. Fragrant water was prepared from it, which was sprayed on clothes and even rooms. They also made a fragrant ointment for skin diseases. In ancient Egypt, saffron was also used as a dye, which was used to dye fabrics in pale brick and yellow in various shades. This is where it was grown. Moreover, landing is carried out in November, and harvested in March. In Persia and China, only royal clothes were dyed with saffron, and in China (as always), under pain of death, it was forbidden to wear fabrics dyed with saffron to anyone except the emperor.
The Roman emperor Heliogabal, who became a model of licentiousness and vice in the history of Rome, took baths with saffron, and Nero, when returning to Rome from Greece, rode along the road, which was poured with saffron water in front of him, so that its aroma clogged all other smells unworthy of his delicate smell. By the way, plain boiled rice seasoned with saffron is much tastier than rice ... without saffron!
Saffron was very expensive, 15 times more expensive than black pepper, which was also not cheap. Not without reason, after all, the rich man in the Middle Ages was called "a bag of pepper." But it would be more correct to call it "a bag of saffron." Indeed, to obtain just one kilogram of saffron powder, about 15 thousand of its flowers were needed, and all of them, of course, were collected and processed by hand, especially since saffron was not obtained from the flowers themselves - it is pollen covering their stigmas! The flowers themselves are light purple! Interestingly, in Scotland, saffron was also in use, with which the traditional linen combat shirts of the lane were dyed bright yellow, and women wore them in the same way, but men went into battle only in them. But since it was very expensive, only a few could afford such a shirt. We found a way out, and a very simple one. They began to paint them yellow ... with horse urine! The Gaelic historian Martin Martin, who was originally from the Scottish Isle of Skye, later wrote that the Scots stopped wearing saffron clothes only towards the end of the XNUMXth century.
In Europe, saffron began to be cultivated very early, already in the seventh century, first in Spain, where it came after the conquest by the Arabs, and then in France and even in England. And all because it turned out that it is also a good remedy for headaches, heart palpitations, fainting, dropsy, and even stomach ulcers!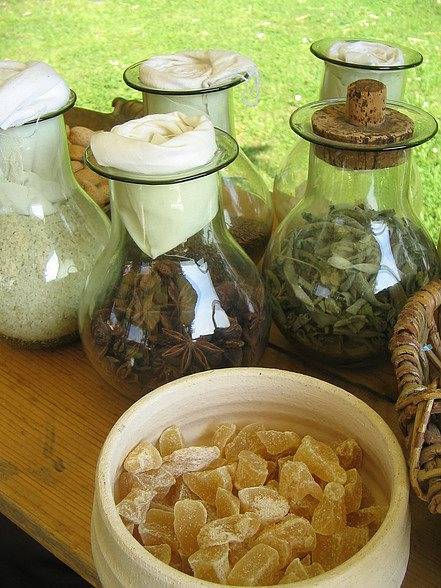 The spice trade has always brought fabulous profits! Photo of Bayeux City Hall
Cinnamon in Greek means "perfect spice". Cinnamon is the biennial bark of the cinnamon tree, which can be seen either in the form of hollow brown tubes or as a powder. You can sprinkle it on almost any food that has a sweetish taste. However, they also put it in marinades, pickles, as well as sauces for fish and meat. The simplest recipe is cinnamon toast. Slices of rolls are moistened with water, sprinkled with sugar and fried in oil, and before serving they are also sprinkled with ground cinnamon. In addition, cinnamon is also used as a stimulant, carminative and astringent.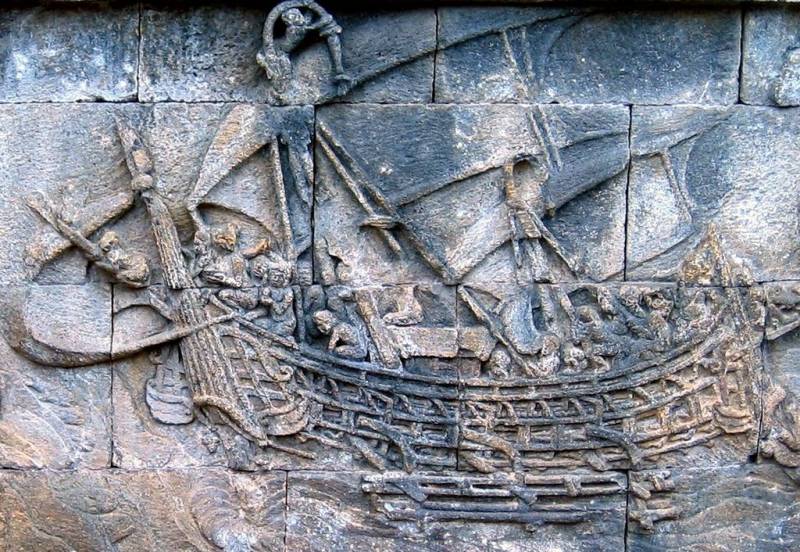 One of the ships of Borobudur, VIII century. These were large merchant ships with slanting sails, typical of Southeast Asia. Photo by Mikael J. Lowe
Also spice are inflorescences of flowers of a clove tree. Dried cloves were used in India, China, Indonesia long before our era. Moreover, in China, during an audience with the emperor, dignitaries were charged with the duty of chewing carnation inflorescences so as not to defile the sense of smell of their master with their fetid breath. By the way, have you tried chewing cloves? Try it! This is a wonderful natural antiseptic, which helps well with colds and sore throats, but whether it helps with covid - this needs to be clarified. In any case, it is more useful to chew it than not to chew it. Casanova also used cloves, going to meetings with his fans, because then people's teeth deteriorated very early, with all the ensuing consequences. By the way, it also helps with toothache!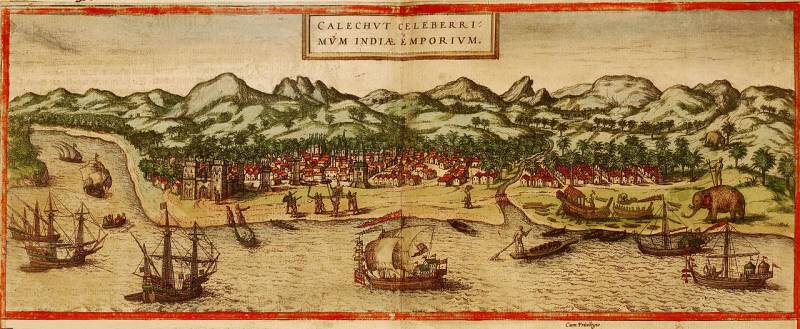 It was only in modern times that the delivery of spices by sea from India became a more or less regular occurrence. Depiction of Calicut, India, from Georg Braun and Frans Hogenberg's atlas Civitates orbis terrarum, 1572
In ancient Greece and Rome, cloves were brought from India by land. But after the fall of Rome, Europe forgot about cloves and black pepper for many centuries, until the beginning of the Crusades. What only then did not get from the East to Europe! "Plums from Damascus" (prunes), "grapes from Damascus" (raisins), as well as "Saracenic millet" (rice) and, of course, spices - nutmeg, black pepper, ginger, cloves. Caravan after caravan reached the sea coast to deliver the precious goods. The taxes of the city were paid with the same pepper instead of hard cash, and such payment was accepted with joy!
The reason for such a high popularity of spices is very simple. In addition to improving the taste of dishes, they helped keep food fresh - after all, there were no refrigerators then, or they were, but of a very primitive quality, and not at all, and not everywhere. And, of course, the aroma of spices beat off the smell of stale meat, and meat ("flesh dishes") was the main nutritious product on the table of the nobility, and the peasants also loved it, although their meat was not quite the same as that of their seniors.
The aroma of spicy food also directly indicated prosperity, so the use of spices was also a way ... to "show" oneself. However, it happened that the seductive aroma coming from his kitchen could be deadly for a person. But next time we will tell you about this page of the history of cooking of our distant ancestors!
To be continued ...