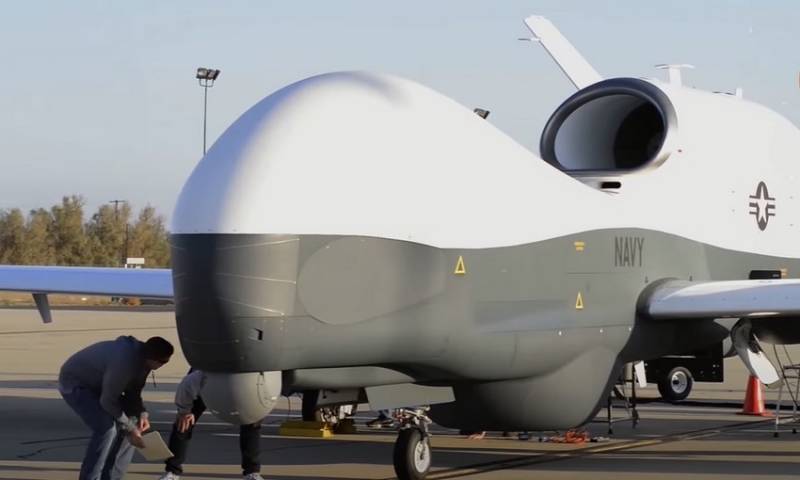 The US Navy received the first serial MQ-4C Triton drone in a new configuration. The new version of the drone, designed not only for reconnaissance, but also for target designation, has received the designation IFC-4.
The IFC-4 Triton drone was delivered on February 1, 2022 to Patuxent River Naval Air Station in Maryland. As explained, this version of the UAV received a reinforced airframe, increased load, protection from hail, bird strikes and gusts of wind. For operations in northern latitudes at a lower altitude, the drone was equipped with an anti-icing system and lightning protection.
The IFC-4 Triton is equipped with a 360-degree multifunctional AFAR radar, video camera, electro-optical/infrared sensors, radio intelligence, Automatic Identification System (AIS) and relay equipment. The equipment allows you to exchange intelligence with patrol aircraft, as well as with ships and ground stations. This modification, according to the command of the US Navy, can replace the EP-3 electronic reconnaissance aircraft, since it is capable of providing continuous monitoring of a large area for a long time.
Flight tests of the upgraded version of the MQ-4C took place on July 29, 2021. The drone will reach initial operational readiness in early 2023. The US Navy has previously announced plans to acquire 68 MQ-4C Tritons.
The MQ-4C Triton is a high-altitude long-range unmanned aerial vehicle developed by Northrop Grumman based on the RQ-4 Global Hawk drone and is designed for information collection, surveillance and reconnaissance in the coastal zone. Able to rise to a height of over 17 km, fly at speeds up to 575 km / h and stay in the air for up to 24 hours.