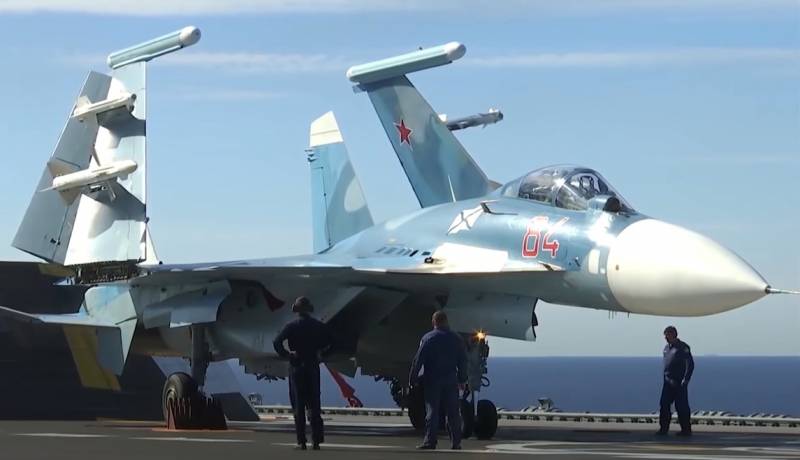 "Admiral Kuznetsov" became the only aircraft carrier that Russia inherited from an extensive modernization program of the Soviet
fleet
.
She became an aircraft carrier as a result of a number of compromises: the ship is heavily armed, but her air group is limited, and her combat readiness is low.
- noted in the French edition of Air & Cosmos.
As indicated, as a cruiser, the Admiral Kuznetsov carries 12 P-700 Granit attack missiles with a range of 500 km, "which are rightfully called aircraft carrier destroyers." At the same time, the air fleet located on board is "much weaker than its Western contemporaries (maximum 15-20 aircraft) and has a predominantly defensive purpose."
According to the author, the air group of the ship is represented by Su-33 and MiG-29K fighters, which are equipped with powerful enough engines to take off from a springboard. However, they are not able to take off with a large mass of equipment, which imposes restrictions on the range of vehicles. The volume of their release also does not impress the author:
Only a few dozen aircraft were built.
However, even such a small number of carrier-based fighters rarely take to the air. For example, according to the Pentagon, during the deployment of "Admiral Kuznetsov" in Syria in 2016, only 154 sorties were made within two months: "this is 3 per day, which is 10-15 times less than that of a modern aircraft carrier."
According to the author in the French press, this negatively affects the qualifications of pilots, which, in turn, leads to increased accident rates. So, during the Syrian operation, three aircraft were lost. The deployment of the ship in northern latitudes also prevents regular flights due to "ice cover [on deck] and lack of [sunlight] light."
As a result, we see an aging air group, the usefulness of which is doubtful. To date, the service life of the Su-33 is expiring, although they already have low combat effectiveness.
- indicated in the French press.
As "evidence", the author cites an example when Israeli Air Force F-15s intercepted Su-33s, whose avionics allegedly failed to detect a threat. As he notes, at least about three dozen Su-33s were produced, MiG-29K - only about 15 units. At the same time, about 6 years have already passed since the last mission of the Admiral Kuznetsov, which continues to be under repair.
As the author writes, the Russian fleet can only jealously watch the replenishment of the Chinese Navy with new aircraft carriers. Although there is a chance that Beijing will assist Moscow:
Can Russia turn to China for help in modernizing its fleet? Technically possible, but politically it is a difficult decision.