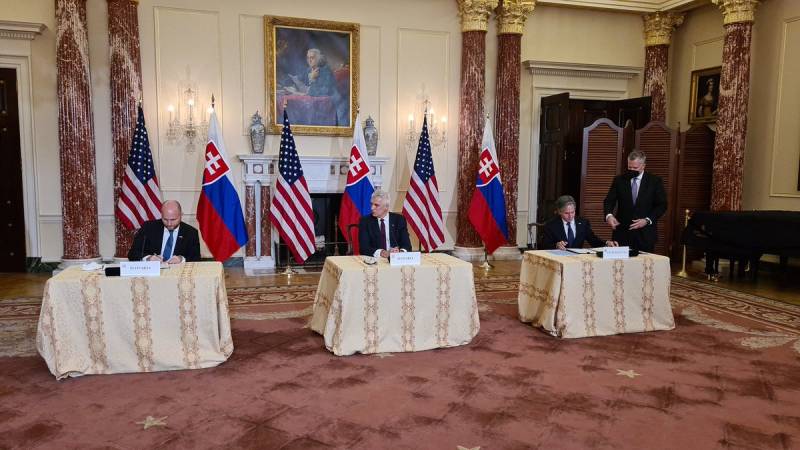 The United States has acquired a new ally in Europe, ready to deploy an additional American military contingent on its territory. The United States and Slovakia have reportedly signed a military cooperation agreement.
Last Thursday, an agreement on military cooperation between the United States and Slovakia was signed in Washington. The document was signed by US Secretary of State Anthony Blinken, Slovak Defense Minister Jaroslav Nagy and Slovak Foreign Minister Ivan Korchok. Now, for the document to come into force, it must be approved by the country's parliament and signed by the president.
The agreement is said to make it possible to expand the US military presence in Slovakia no longer within the framework of NATO, but within the framework of bilateral relations. Washington already intends to modernize the two military airfields Malacky-Kuhinya and Sliach, with the further deployment of the American military to them.
The signing of the document caused a mixed reaction in Slovakia, where not everyone is happy with the Americans. Opponents of signing the treaty claim a possible loss of sovereignty and the transformation of Slovakia into a US vassal, following the example of Poland, which has long become a conductor of Washington's ideas in Europe. Protests took place in the country, but most likely they will not affect the ratification of the agreement.
In the United States, they swear that they do not intend to deploy any permanent military bases on the territory of the republic, and cooperation will be based on equality and mutual respect. According to Blinken, the US respects the sovereignty of Bratislava and will act solely in the interests of the two countries.
The head of the State Department confirmed the US plans to upgrade two military airfields at its own expense, but stressed that they would remain the property of the Slovak Air Force, and the Americans would simply use them sometimes, albeit for free.