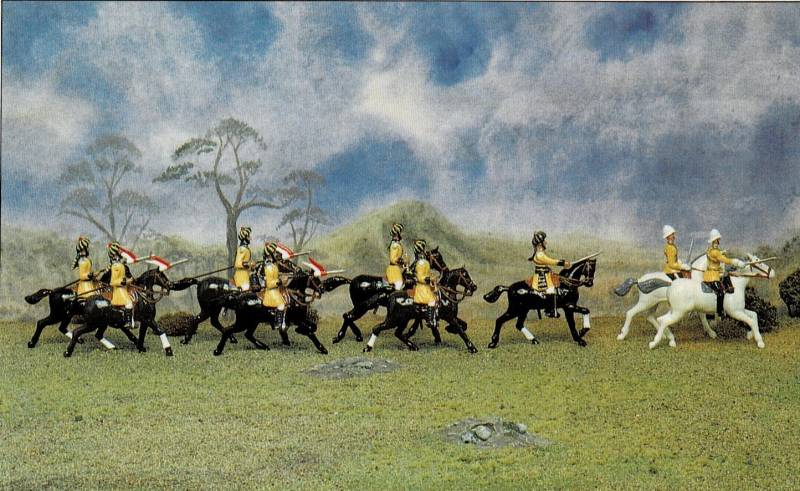 Skinner's Riders are traditional Trophy Miniatures figurines depicting Indian horsemen of the 1st Bengal Lancers led by their British officers. Photo from Military Hobbies August/September 1992. P.17
Maybe in swamp Bengal,
Where everything turns to dust
Perhaps in the mountains of the Transvaal,
Perhaps - in the Afghan mountains,

By the black Sudanese wells
On the fast Burmese river
One day you happen to
To stand on the bloody sand.
Adam Lindsay Gordon
History in uniform.
History is always written by people, including those dressed in uniforms. And often they don't do it themselves. They do things, but others are already inscribed in history. But ... there would be no deeds, there would be nothing to write about. And since we are talking about people in uniform, and the uniform, as a rule, is unusual and colorful, then today our story will be about such people dressed in something bright - the horsemen of the 1st Bengal Lancers Regiment and their commander - the legendary James Skinner. Moreover, today we use photographs of figurines of soldiers from the British company Trophy Miniatures as illustrations. Why is there such attention to them and to him personally? Yes, because he was a very interesting person, and so much so that even the Indians respected him and called him Sikandar Sahib.
And many were surprised that he commanded a regiment of Bengalis, about whom in India they made up such a proverb: "
The hare and the Bengal were created by God. Why should they be ashamed?!
And then, out of nowhere, the "Skinner Riders" appear, excellent cavalrymen with their deadly bamboo spears, dressed in yellow uniforms and striped turbans. So it is not surprising that, knowing the history of this regiment, not a single self-respecting manufacturer of toy soldiers in England dared to exclude this famous regiment from its assortment, including traditional figures painted in bright shiny colors.
Riders of the 1st Bengal Lancers. Trophy Miniatures figurines. Photo from Military Hobbies August/September 1992. P.16
However, the fate of Skinner himself is no less surprising. His father was a Scot by origin, who ended up in India in the same way as many other seekers of adventure and money, that is, by accident. And he found here something in which very few were fortunate, namely, an eminently romantic union with a Rajput princess, by whom he had a son in 1778. Young James grew up like Kim O'Hara from Kipling's Kim, that is, he did absolutely nothing. And when they decided to "pick him up", he ran away to hide as a market boy. At the age of 12, he experienced the tragedy of the death of his mother, who committed suicide out of shame that her daughters had been sent to school for an English education. I considered it a real disaster and ... laid hands on myself! After that, it became clear to his father that only the army could beat the crap out of his head!
However, when he tried to enlist in the British army, he was turned down because of his semi-native origin.
Then the young Skinner joined the army of the Maratha Raja of Sindia and there, fighting under his banner, at the age of 18 he became the commander of a cavalry detachment. But in 1803, the Marathas began to prepare for war with the British and began to purge the army of those who could become a potential supporter of the enemy.
Skinner was on the list of potential victims, and he would not have been blown off his head if she had not also been saved by a mercenary, the commander of the Maratha army - General Perron, a Frenchman by birth. Upon learning of the impending massacre, he simply fired Skinner along with the detachment and advised him to go seek his fortune elsewhere.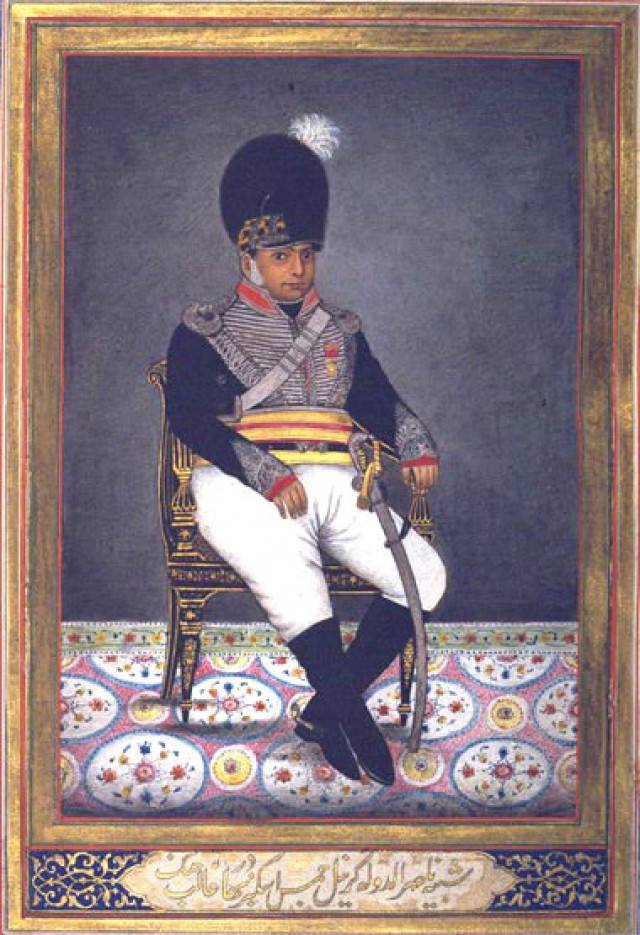 Portrait of J. Skinner in the uniform of a British light cavalry officer. Unknown artist. Royal Historical Society. University College, London
And that's when Skinner and his horsemen turned to the British. The commander of the armed forces of the East India Company, Lord Lake, first ordered such a strange military unit to be driven away, but then he nevertheless changed his mind and accepted him into service as an irregular unit.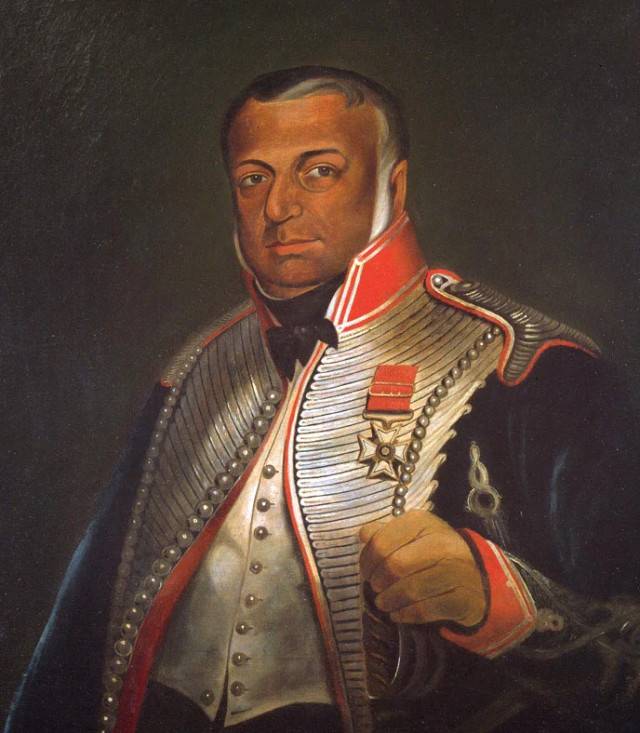 Colonel James Skinner (1778–1841). Unknown artist National Army Museum, London
So, on February 23, 1803, Skinner became an officer in the royal army, under whose command there were 800 horsemen. Moreover, it is interesting that all of them, when recruiting, put forward only one requirement: that he be left as the commander.
As a combat officer, James Skinner was on the verge of death twice. The first time this happened was when he, having lost his horse, met with horsemen armed with lances. Fleeing from them, he rolled under the ammo wagon and rolled frantically under it from side to side as the deadly spearmen jabbed their spears at him from one side of the wagon, then the other. Perhaps the heat of battle prevented them from realizing that it would be wiser to split up and take him on spears on both sides of the wagon. And in the end, most likely, it would have happened, but then, fortunately, his comrades saw the plight of Skinner, and scattered the enemy horsemen with a hail of bullets.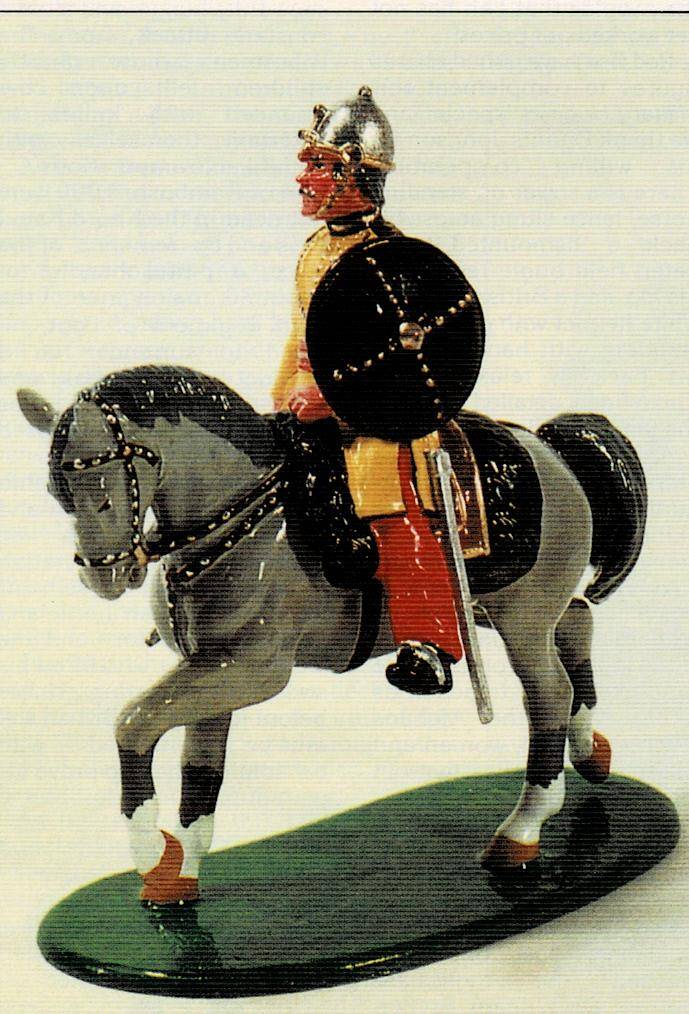 James Skinner figurine. Beautiful commemorative figurine of the man who founded the regiment, which has its roots in the days of the mercenaries of the Mughal era. Looking at his figure in a traditional yellow caftan, in an ancient silver-plated helmet with a nose and with an old round shield of the Mahratta light cavalry, we understand how little simple and ignorant people needed then in order to take a stranger for their own and with gladly obey him. Dressed in a national costume, made characteristic prayer movements in front of the figure of a deity, speak the local dialect - that's it, you are yours! And if you also ride a horse, and wield a saber well, and ... the hand of the Sahib is generous - then they are all yours with giblets! The manufacturer is Trophy Miniatures. Photo from Military Hobbies August/September 1992. P.17
The next time, his situation turned out to be even more difficult, as he was seriously wounded by a bullet in the groin and remained lying on the battlefield. The locals, who made a living by robbing the dead and wounded, undressed him and left him to die slowly. And for two nights and a day he endured terrible torment, lying undressed among the dead and dying soldiers from his defeated battalion.
It was then that the tanner and his wife, low-caste people, accidentally found him among the dead bodies and brought him to his senses. One of the officers lying next to him, who had a crippled leg, refused water from the hands of such a person. But Skinner drank it gratefully and vowed that if he survived, he would build a church to the God of his Scottish father.
And he did both, and also, following the customs of the East, had 14 wives and concubines, lived in Delhi in luxurious chambers, styled himself in an oriental manner and ended his bright career as a colonel of the 1st Bengal Lancers and a holder of the Order of the Bath . He not only built the Church of St. James in Delhi, he built a mosque for one of his wives and a Hindu temple for his Rajput mother.
He and his riders played an important role during the Anglo-Maratha wars of the early XNUMXth century. Then the British army suffered greatly from the guerrilla actions of the native cavalry units. Skinner's horsemen were assigned to fight them. Moreover, they not only cleared the area from the partisans, but also conducted reconnaissance, guarded and ... captured the much-needed forage for the army and, of course, food.
Skinner was soon spoken of with respect, and his cavalrymen were unofficially referred to as the "Yellow Boys" - as their distinguishing mark was that they were the only ones in the army of British India who wore yellow jackets.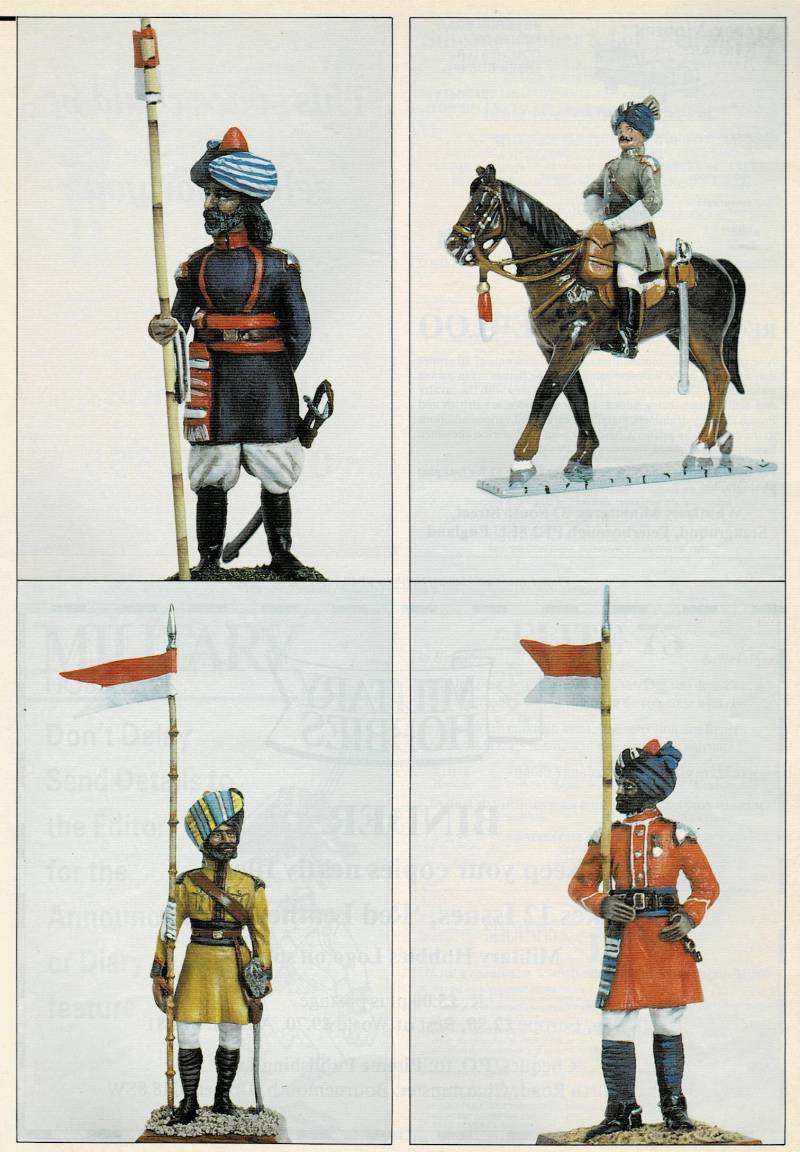 Lancers of the native cavalry of the British Indian Army in the uniform of 1903: upper left - Lancers on the 15th; top right - British officer 10/18 lancers regiment; bottom left - Lancers of the 1st Duke of York Lancers (Skinner's Cavalry Regiment); bottom right - Lancers of the 18th Taiwan Lancers Regiment. The manufacturer is Trophy Miniatures. Photo from Military Hobbies August/September 1992. P.13
However, this is not particularly surprising. The yellow color for the same Rajputs was sacred, and meant that victory or death awaited them in battle. Therefore, before the battle, the Rajput warriors smeared their faces with saffron and put on the "Yellow Clothes of Death", and also girded themselves with yellow belts. Being Buddhists, the Rajputs did not seem to have to eat meat and drink wine, but ... it was for them that not only an exception was made in this regard, but, on the contrary, the use of both of them was charged to them as a duty, solely in order to ... raise them militancy!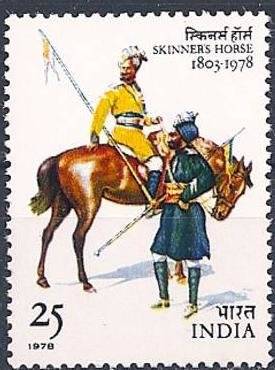 Indian stamp commemorating the 175th anniversary of The Skinner Riders
Already in 1814, the number of Skinner's cavalrymen began to reach three thousand people, so that on their basis as many as three regiments of 1000 sabers each were created. In addition to sabers, the "yellow guys" were armed with long and light bamboo peaks, which is why they were ranked as lancers.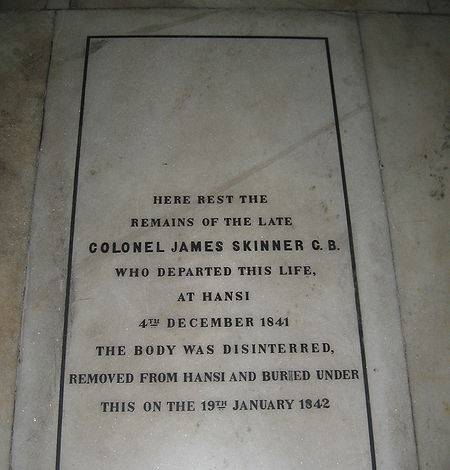 Tombstone at the grave of James Skinner in Delhi
The great Sikandar Sahib died at the age of 63 in 1841, and thousands of people attended his funeral in Delhi. It was said that although he was a Sahib and the son of a Sahib, his heart belonged to his Indian homeland, he lived by its customs and interests, and therefore became its history. Well, the figures of soldiers depicting him and his soldiers are a reminder of this.