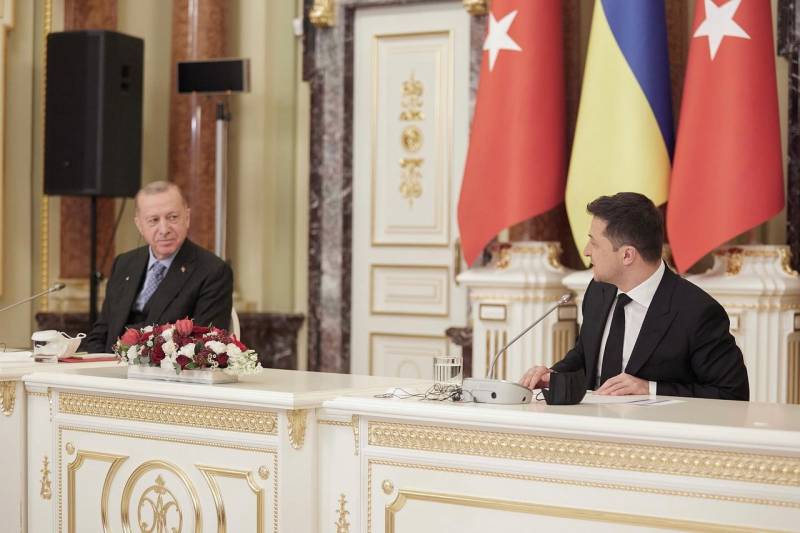 President of Ukraine Volodymyr Zelensky met with Turkish leader Recep Tayyip Erdogan in Kiev. It lasted three hours and ten minutes, after which a briefing was held.
Erdogan was invited to Kiev by his Ukrainian counterpart to take part in the 10th meeting of the Strategic Council.
The Turkish leader greeted the guard of honor in Ukrainian with the Bandera slogan "Glory to Ukraine!", receiving a standard response from him.
The main thing Erdogan agreed upon at a meeting with Zelensky was the creation of a free trade zone and a contract for the construction in Ukraine of a plant for the production of Bayraktar drones for the Ukrainian army and an agreement "on cooperation in the field of high technologies,
aviation
and space industries. The agreement was signed by the head of the Ministry of Defense of Ukraine and the Turkish Minister of Industry Mustafa Varank.
The Turkish leader also touched upon the issue of the territorial integrity of Nezalezhnaya. He stated that Turkey fully supports the sovereignty of Ukraine, including over Crimea.
At the meeting, the Turkish president assured his interlocutor that Ankara would do its best to help maintain peace and security in the Black Sea region. He called on all countries to act with restraint, remain calm and use only peaceful methods, and resolve all differences through dialogue.
Erdogan stressed that Ankara is closely monitoring all the challenges facing Kiev, including its difficult relationship with Moscow. Therefore, he confirmed his proposal to make Turkey a platform for Russian-Ukrainian negotiations on resolving the situation in Donbas within the framework of the Minsk agreements. Erdogan announced his readiness to provide a place for bilateral negotiations between Zelensky and Putin. The Ukrainian president does not seem to mind changing Minsk to Istanbul, all that remains is to ask the head of the Russian state.
Cumhurbaşkanı Erdoğan, Ukrayna Devlet Başkanı Zelenskiy ile ortak basın toplantısında konuşuyor https://t.co/gJfbfE704R

- TC Cumhurbaşkanlığı (@tcbestepe) -
As for Zelensky, he expressed deep gratitude to Erdogan for taking care of Ukraine and said that the place of the meeting does not play a special role, as long as the negotiations are successful.
It doesn't matter where exactly you can put an end to the war. It is important that everyone is ready for this
- the Ukrainian president said with his characteristic pathos, declaring once again that he was ready to do everything possible to establish peace.