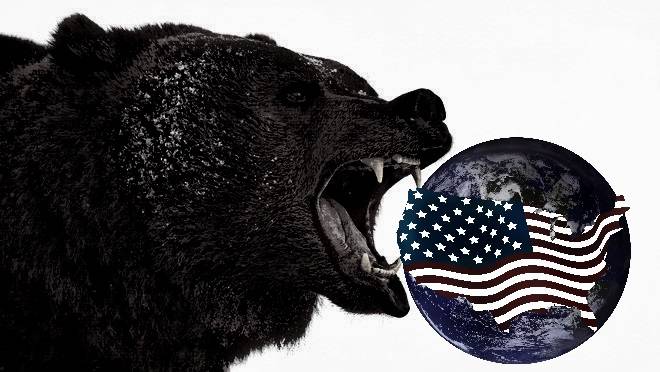 Almost throughout the world
stories
Western countries tried to denigrate Russia/USSR and isolate our country from the rest of the world.
As soon as they didn't call us: "a thundercloud hanging over Europe", "gendarme of Europe", "Mongol-Slavic hordes", "communist threat" - these are just a small part of the labels that were hung on Russia and the USSR in different historical periods.
Now we are witnessing another attempt to send Russia to the dustbin of history: the United States has launched a frantic activity, trying with all its might to provoke a conflict between a previously united people, artificially divided by deceit and betrayal - between Russia and Ukraine. For this: American and European politicians throw tantrums in the media, America and some European countries pump up Ukraine
weapons
, States are planning to deploy their troops in Eastern Europe.
The ultimate goal of all this is to force Russia to use armed forces, for example, to protect the inhabitants of the DPR and LPR in response to the provocations of the Ukrainian Armed Forces. And for its part, for this, the United States promises to impose "unprecedented sanctions" on Russia, hoping thereby to drive our economy into the "Stone Age".
This threat is real and quite serious.
In the case of a really wide application of sanctions - disconnection from international banking services, restrictions on the supply of industrial and household goods, as well as access to the Internet, the life of the population in the country may deteriorate by several orders of magnitude.
In fact, if this is not a declaration of war, then the last step before it.
Russia will have to somehow react to these sanctions, and respond harshly enough so that the enemy's population will feel the result in "their own skin". We have no direct options for responding to sanctions, and it is also not very acceptable to unleash a war because of them.
The answer may lie in asymmetric measures, and we will consider some of the potential ones in this article.
Let's divide all the proposed counter-sanction measures according to the degree of their "rigidity" into three levels, respectively, green (relatively mild measures), yellow and red (the most extreme measures).
Some measures may seem "too much" to someone, but after all
"à la guerre comme à la guerre"
, is not it?
Green level
stock storm
One of the most important financial instruments of Western countries are stock exchanges, where securities are traded: shares, bonds and other financial instruments.
As in any market, there is a wide layer of speculators on stock exchanges - companies that, without producing real goods and services, earn on changes in the value of financial instruments. Often their actions cause significant damage to both individual companies and entire market segments (and their country as a whole, including).
Exchange mechanisms can be used to cause significant damage to the enemy's economy. The effectiveness of exchange speculation as a response to sanctions can be increased due to the fact that the goal is not to extract financial profit, but to cause damage - to break not to build.
Another factor contributing to the effective creation of a "stock storm" is that the position of many companies and market segments can be naturally unstable, and it remains only a little pressure on them at the right time, in the right place -
"falling push"
.
Attacks on the stock markets can be carried out by suitably programmed exchange robots that are capable of carrying out trading operations at a speed inaccessible to a person, registered as nominees and companies.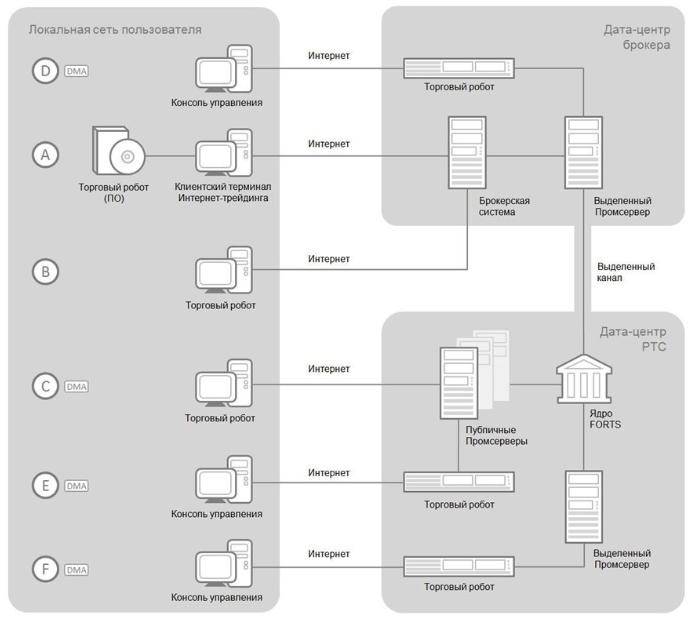 Scheme of interaction of trading robots with financial platforms. Image by wikipedia.org
It is worth noting that financial markets are often prone to excessive influence even by third-party factors, for example, publications in the media or rumors spreading on the Internet.
For example, there was negative information about the owner of a certain company, and its shares immediately fall.
Cheated on his wife?
Called black black?
Got drunk in a bar 30 years ago?
The next day, the capitalization of the company falls by 20% (conditionally).
This tool can and should be used effectively as well.
Cyber ​​attacks
What Russia is constantly accused of is "terrible Russian hackers". Cyber ​​espionage, influence on the US presidential election and much more.
Well, you have to comply, otherwise it's even a shame to be uninvolved with such and such an advertisement.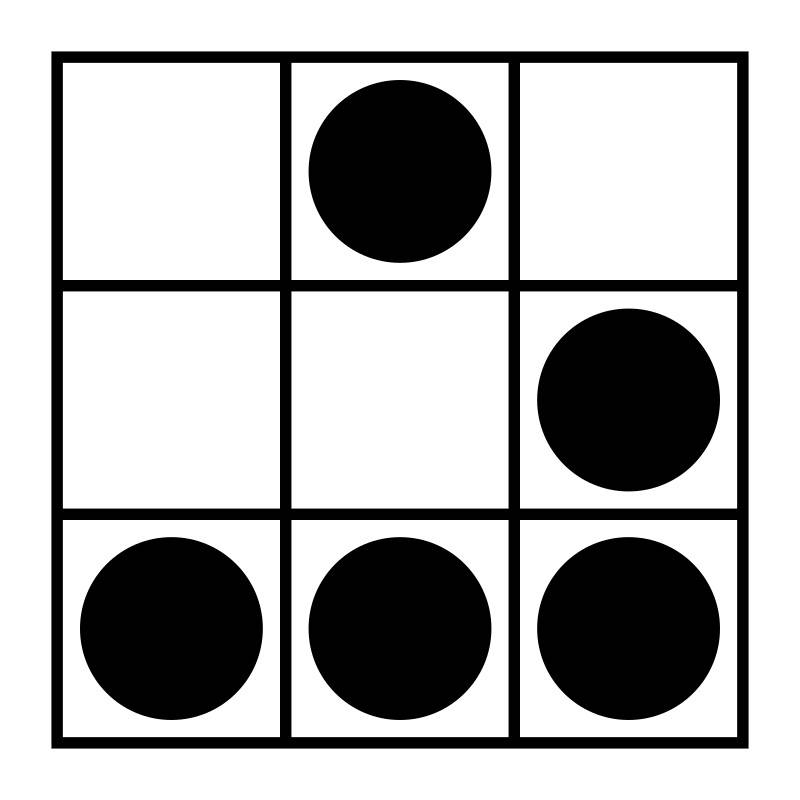 Unofficial emblem of hackers. Image by wikipedia.org
For example, the same trading exchanges can be subjected to virus attacks, which can be very effective in combination with a "stock storm". First, the shares of the largest companies fell, and then it (the stock exchange) "cut out" altogether.
Why not a scenario for a full-fledged panic?
In general, war on the information battlefield is a multifaceted thing, we considered this issue in more detail in the article
Cyber ​​weapons of mass destruction
.
Violations of the work of retail chains, infrastructure facilities, commercial enterprises. What can I say - the thoughtless digitization of everything and everything leads to the fact that things no longer belong to the people who own them.
The manufacturer, at its discretion, can disable some of the functions or make them paid - in a car, TV, washing machine or iron.
It is irrational not to use such opportunities in the sanctions confrontation.
Particularly effective may not be a complete disruption of the performance of any equipment, technique or service, but a deterioration in the efficiency and quality of its work - it works a little slower, more errors, more energy consumption, increased load on mechanisms, and so on and so forth.
Such digital sabotage may not be immediately noticeable, but in the aggregate they can cause enormous damage to the enemy's economy.
A variant of a kind of "Internet privateering" may be considered.
And what, we need to learn from the best - the leading European countries practiced this method of warfare at sea with might and main, why are we worse?
Within the framework of "Internet privateering", hacker groups can receive information support and immunity on the territory of the Russian Federation, provided that their actions are not directed against Russian interests. And in the US, let them frolic as they want.
The advantage of the above methods is that they do not have to be voiced and acknowledged publicly, since the Internet is always a gray area.
Shelter
We can provide political asylum to all those who oppose the authorities of countries that impose or support sanctions against the Russian Federation - various Edward Snowdens, Julian Assanges and others accused of divulging classified information, sympathizing with Russia or China, inadvertently offending ethnic or sexual minorities, opposing gender insanity.
People like them will be much more active if they know that they can always find protection and asylum in the Russian Federation.
Despite the "democratic" rhetoric, the United States is far from what can be considered a rule of law, it has a lot of its own secrets, the disclosure of which obviously will not positively affect the social and economic situation in the country.
This means that there will always be dissatisfied people who will work with Russia not for fear or money, but out of conviction.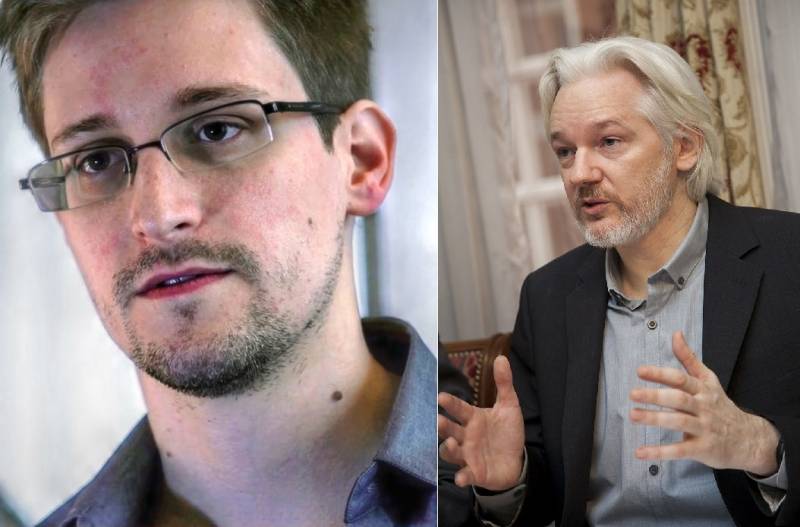 Russia can provide political asylum to American and European dissidents. Image by wikipedia.org
Suspension of agreements
We are talking about various economic agreements, for example, Russia's accession to the WTO or the observance of copyright.
As the injured party, which has suffered unjustified economic damage for no reason and treacherously, we refuse to comply with those international agreements and rules that are not beneficial to us.
Suppose our opponents do not let up, and tighten the financial noose on the economy of our country more and more, and then we move to the yellow level.
yellow level
Information isolation
Internet cut off?
Well, Western countries will also have to get used to isolation, at least partial.
Underwater Internet cables can be chosen as a target.
Deep-sea submarines in combination with autonomous uninhabited underwater vehicles (AUVs) can ensure the physical destruction of submarine cables linking the continents.
Submarine cables, damaged by explosions at several dozen points each, will not be easy to restore.

Transcontinental submarine cables. Image habr.com
In addition to submarine cables, it is possible to provide Internet communication between the continents using communication satellites.
Satellites in high orbits provide narrow data transmission channels with significant delay, and
getting to these satellites is difficult, at least imperceptibly
.
At the same time, low-orbit global networks of Internet communication satellites, such as Starlink, are being actively developed, and now they may well replace submarine cables.
However, their location in low orbit makes them vulnerable not only to anti-missiles, but also to laser weapons.
The Armed Forces of the Russian Federation have a combat laser complex (BLK) "Peresvet". The exact characteristics, as well as the capabilities of the Peresvet BLK, are classified, and
they can only be assumed
.
If the Peresvet BLK is only able to temporarily blind the optics of reconnaissance satellites, then the issue is temporarily removed from the agenda.
However, if its capabilities make it possible to inflict more significant damage on low-orbit satellites, then the Peresvet BLK or weapons based on it can be used to disable enemy low-orbit satellites.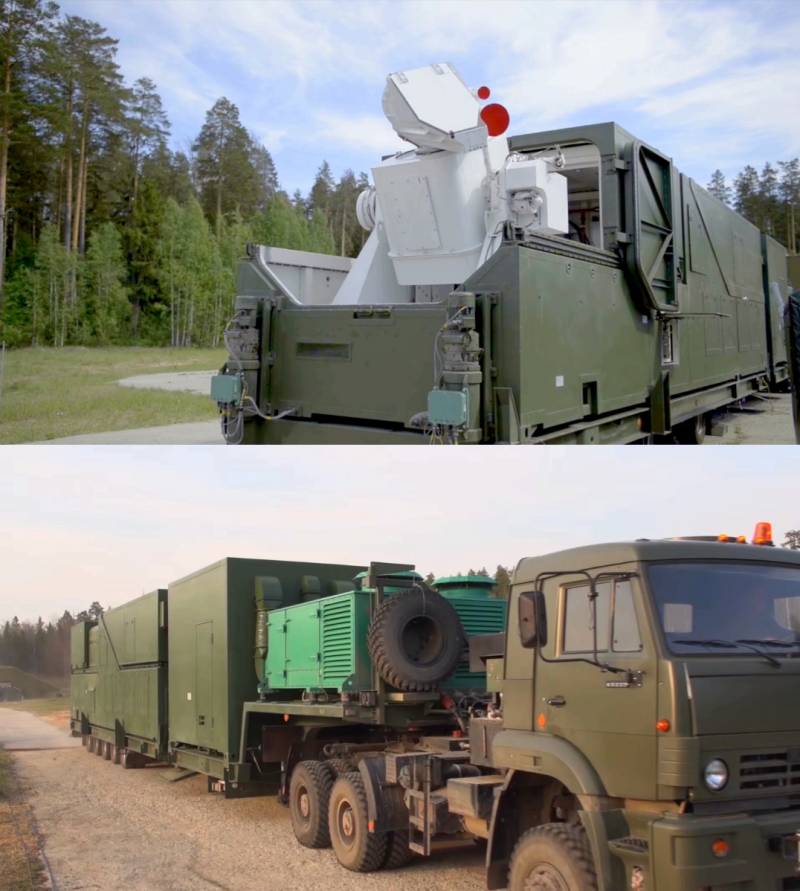 There is a possibility that the Russian BLK "Peresvet" is capable of damaging satellites in low orbits. Image by wikipedia.org
To destroy satellites whose orbits do not pass over the territory of the Russian Federation, the Peresvet BLK can be placed on
aviation carriers
, ships or even
submarines
.
Unlike kinetic methods of destruction, it is much more difficult to prove the impact on a satellite with a laser - how do we know why it broke?
We need to do it more reliably, everyone knows that Elon Musk uses commercial electronic components, and this is the result ...
Of course, it is possible to damage not only communication satellites, but also other civilian satellites - meteorological, agricultural and others, but definitely the civilian sector - our priority goal is to damage the enemy's economy, and not start a war.
Channels and straits
More recently, the world has witnessed how a small accident in the bottleneck of the Suez Canal caused significant damage to the global economy.
Now let's imagine that there are several such incidents, in different parts of the World Ocean, and these accidents are much more serious.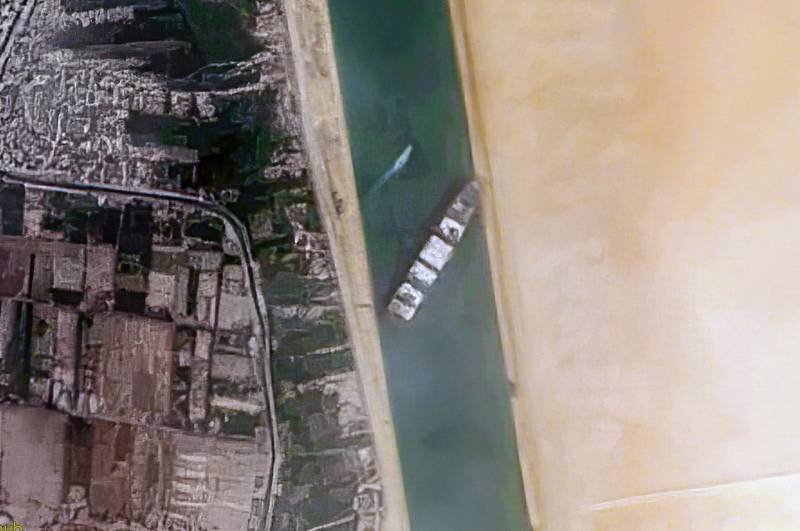 Some waterways can be blocked relatively easily, but restoring them can be an order of magnitude more difficult. Image by wikipedia.org
How can this be organised?
Thousands of ships pass through the canals and straits, which often change their owners and sail under God knows whose flags. Some of them may be acquired through shell companies, or specialists of a certain profile may be introduced into the crews of such ships, or, if such ships are modern and automated, then malicious code may be embedded in their software.
As a result, a ship capsized in a narrow channel or strait can paralyze traffic for months.
In an even worse scenario, it could be several ships loaded with concrete and collided with each other.
Waiver of sanctions
If tough sanctions are imposed on us, then we may well refuse to comply with sanctions against third countries.
For example, we can start supplying all types of weapons to Iran - long-range anti-aircraft missile systems (SAM), operational-tactical missile systems (OTRK), we can lease several nuclear submarines to them, as was done with India.
It is safe to say that some countries in the region will not be happy about this.
And, of course, you should not focus only on Iran - no restrictions on free trade.
Let's turn off the gas
The threat of cutting off gas supply by Russia has been repeatedly suggested by our Western partners, including as a reason to limit the alleged monopoly position of Gazprom.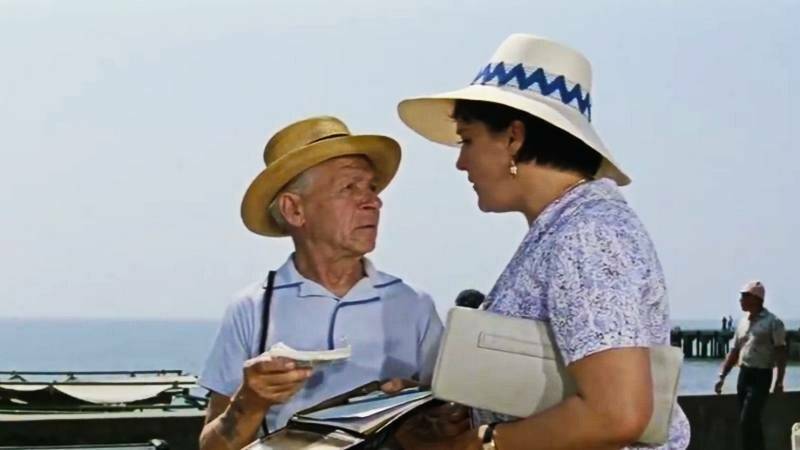 And if they don't take it, we'll turn off the gas
In itself, such a decision is not the most profitable step for our country.
In addition to falling revenues, this is also undermining the reputation of our country as a reliable supplier. Therefore, this measure can be applied only knowing that the supplies will be blocked one way or another from the "other side".
For example, if information is received through intelligence channels that from spring, when demand for energy resources will fall, and the United States will begin to gradually increase supplies of liquefied natural gas (LNG), hoping to completely push Russia out of European suppliers of blue fuel by winter, then you can make a leading move - turn off the gas in winter.
When European countries have to choose between a frozen population and industry, they will make an obvious and predictable choice, and the damage to European industry can be enormous - factories in Texas, shut down due to the harsh American winter of 2021, will not let you lie.
red level
The red level is already when there is no time for jokes at all, when the sanctions have reached such a level that there is almost nothing to lose, and the next step is only war.
Eligibility for immigration
Europe loves to settle refugees from all kinds of bantustans. It would be even more understandable if permission to enter was given only to women, children and the elderly, but no, young men of "military age" also "run" to European countries, who quickly get used to a new place and begin to establish their degenerative orders, trying to turn the country that sheltered them, in the same viper from which they fled.
Who are we to interfere with this bright European dream - to shelter all the disadvantaged?
How can it look like?
Two stages.
The first is recruiting teams that gather everyone in African countries (for example, and not only) to move to the European continent in organized groups (preference must be given to men of military age, and no children).
The second is specially purchased ships, the cheapest of what can be purchased, if only to sail from the point of loading to the point of unloading. And then - everyone, welcome on board, and go.
Let the fleets of the countries of Europe decide for themselves what to do - drown the uninvited guests, send them back, put them in camps, or do something else.
Perhaps, during this occupation, they will not have time to poke their nose into the Black Sea and talk about the belonging of the Crimea?
Both hired teams from third world countries and one of the "refugees" can steer the ship - a simple navigator with a laid course, instructions for managing the ship and mooring by running the ship aground off the coast of the selected country.
Also included is a camera with the ability to transfer photos and videos over the network, in which case to show how the evil European military drown the unfortunate refugees.
How will this affect the social and economic stability of the countries of Europe, as well as their unity, if, for example, about 1 new "settlers" are transported to Europe and the UK in a year?
noble privateers
Returning to the problem of privateering.
If before we talked about Internet privateering, now it's time to return to the origins - maritime piracy.
Already, filibusters of the XNUMXst century have provided an increase in the cost of shipping due to an increase in the length of routes (bypassing areas where pirate attacks are possible), as well as an increase in the cost of insurance premiums. And all this is only because of the poor people with RPGs.

Noble privateers of the XXI century. Image by wikipedia.org
And now imagine that someone trained pirates in different regions of the planet, equipped them with modern weapons, means of communication, high-speed motor boats, etc.
How effective will they be in this case?
How much will the risks and costs of maritime transport increase?
But what if someone will provide pirates with information about the routes of movement of ships based on data from space and undercover intelligence?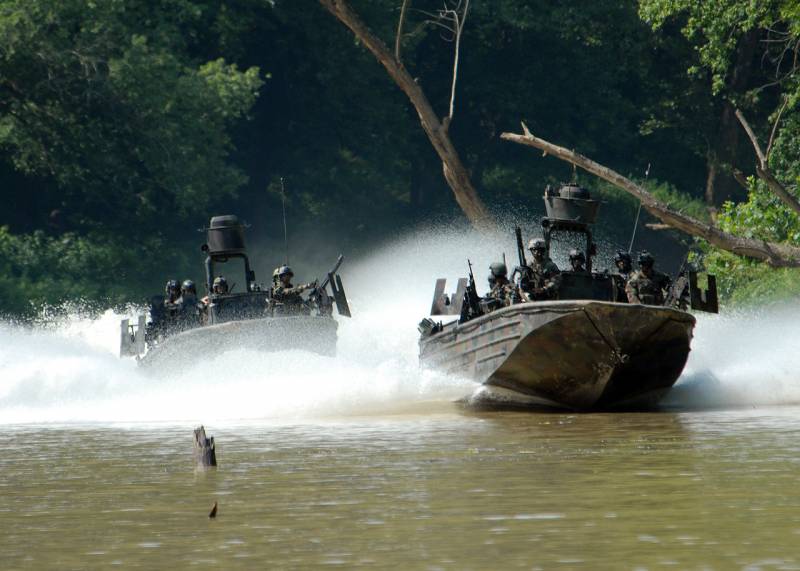 What if tomorrow the pirates look something like this? Image by wikipedia.org
Such "counter-sanctions" will provide the fleets of potential adversaries with employment for many years to come.
It may turn out that in order to solve the problem of piracy, they will even have to give up some of their humane principles, for example, as before, begin to "hang them on a yardarm".
cocaine avalanche
The opinion is often expressed that the United States actively contributed to the fact that drugs got and get into the territory of the USSR / Russia.
But is it really?
It's hard to say - the probability of this is quite high, that they didn't interfere, that's for sure.
For the number of drug addicts that appeared after the collapse of the USSR, we should thank the United States in many ways, as the main "sponsor" of the collapse of the USSR.
But even in the United States itself there are many who want to experiment with consciousness. And the combination of a large sales market and a developed economy gives rise to many who want to master this market.
Fortunately, the United States has Latin America at hand, where people do not live so that they are very rich. And as soon as drugs are not brought to the United States - by couriers, planes, even makeshift submarines.
In Mexico, which shares a border with the United States, some drug cartels are often as powerful and influential as the government.
What will happen if they have modern weapons, really modern, including heavy ones?
Quiet small-sized submarines, originally designed to transport combat swimmers, but quite suitable for solving other specific tasks?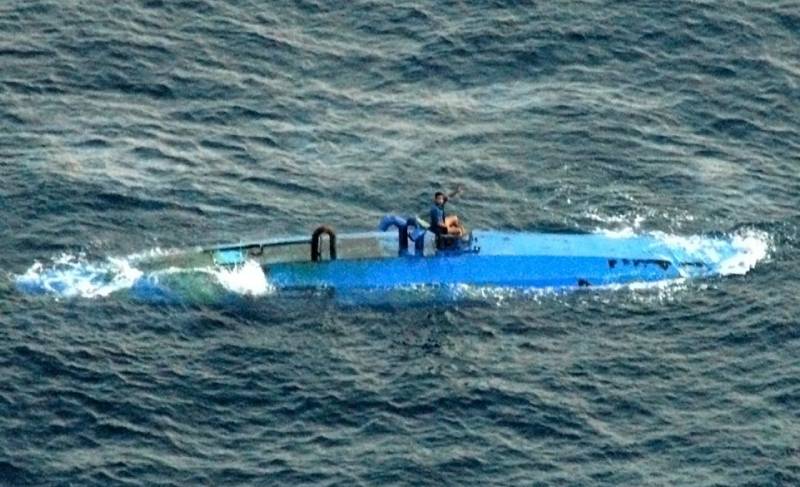 Today, drug couriers deliver goods in underwater coffins. Image by wikipedia.org

What will they do tomorrow? Image by wikipedia.org
The government in Mexico may well collapse, and the United States will receive a full-fledged war zone near its border.
The United States itself will be overwhelmed by a wave of drugs, which will lead to such riots that will surpass by an order of magnitude those that were staged by the demoniac BLM activists (an organization that has not yet been recognized as a terrorist organization on the territory of the Russian Federation).
Freedom fighters
During the Cold War, the US and the USSR actively supported "freedom fighters" around the world.
Accordingly, those whom we considered "freedom fighters" were considered terrorists by the United States, and vice versa.
If the support of various groups at that time was aimed at gaining a foothold in the region and expanding their influence, then as a counter-sanction measure it can be used simply to destabilize the situation in certain regions of the planet.
The same AFRICOM command will be knocked off its feet, trying to extinguish dozens of conflicts and coups across the continent.
Collapsed regimes, the rejection of agreements and the endless redistribution of property will make it much more difficult for the United States and its allies to develop the natural resources of developing countries.
In addition, the flow of refugees to European countries will increase, which is quite consistent with the previously announced "right to immigrate".
Andrews
All the measures given in the article alone may not have a significant effect, but applied in combination, they will lead to a synergistic effect that will make the world shudder, and then those who started and supported all this sanctions mess against Russia will only have to say to themselves - What the hell are we getting into all this?
Are the measures proposed in this article good and humane?
No, they are tough, cruel, unpleasant, and some even disgusting.
But if the choice is between them and the fact that our children will eat grass and roots, as children in North Korea often do, then the choice is quite obvious.
These measures are only a consequence of the actions that can be taken against us, and they simply do not need to lead to this.
Still, no matter how anyone would like, but Russia is not North Korea, and no matter how weak it may be, its capabilities will always be several orders of magnitude higher than those of other victims of American aggression, and losses during any conflict with Russia, be it military or economic, can be unpredictable and unacceptable for all parties.