Preparation and takeoff of a C-2 Greyhound turboprop aircraft from the deck of a US Navy aircraft carrier using a catapult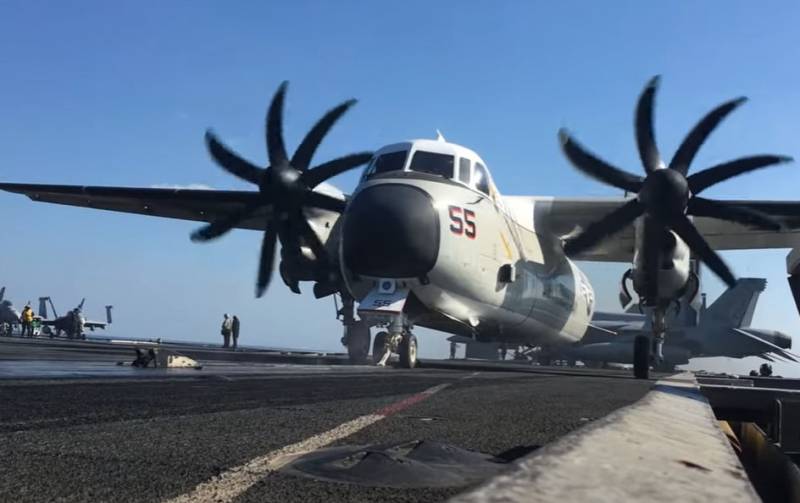 On American aircraft carriers for deck takeoff
aviation
catapults of various modifications are used. The modern version is catapults with the so-called digital control. Upgraded versions of such catapults make it possible to treat the on-board electronics of an aircraft carrier more "carefully". Their initial versions often sinned in that the inclusion of an electromagnetic catapult led to problems with the electronic "stuffing" of the ship.
Catapults allow various means of aviation to rise into the air from the deck of an aircraft carrier. Usually we are talking about jet fighters. However, these same devices make it possible to take off from aircraft carriers and turboprop aircraft. For example, we are talking about the American deck aircraft C-2 Greyhound with folding wings. These aircraft have been produced since the 1960s. Their usual purpose is the delivery of goods to the deck of an aircraft carrier. The carrying capacity of the "transporter" is about 4,5 tons. The volume of fuel tanks is about 7000 liters.
In the presented frames, you can see how the C-2 Greyhound transport aircraft is preparing for takeoff. The launch block of the catapult is activated. Wings are switched to the "Raised and locked" mode. Next, the control is adjusted - lining up along the central axis of the catapult. Information is transmitted to the officer on deck so that he gestures to the pilot for his further actions.
Next, the aircraft is brought to the starting point on the deck. The final check of pairing with the catapult device is being carried out. It is being raised. At this point, it is still blocked. Moreover, its operation can occur at any time. Pilots make a final check of the instrument panel. As soon as it is ready, the aircraft with acceleration begins to literally rush along the deck to gain the speed necessary for takeoff. A few seconds later, the turboprop transporter takes off from the deck of an aircraft carrier.