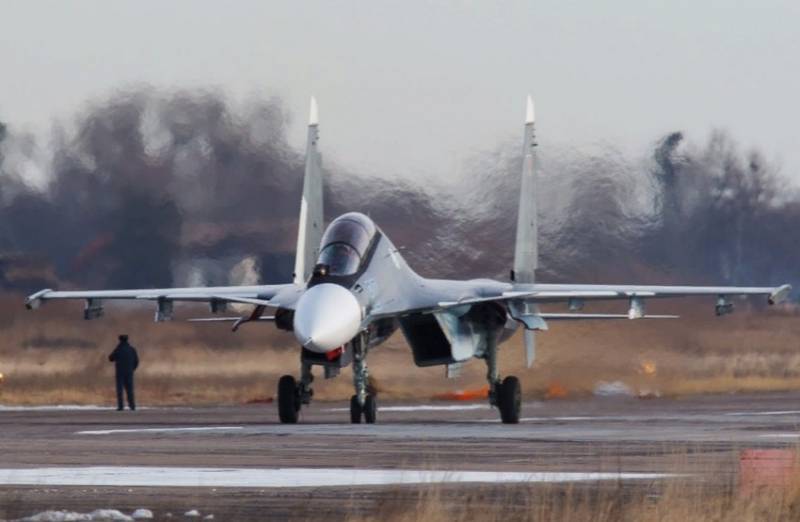 The Russian Aerospace Forces received the first heavy Su-30SM2 fighters. This aircraft, superior in maneuverability and endurance to any Western fighter, may be the latest modification of the Su-27 fighter, the author writes for the American edition of Military Watch Magazine.
The Russian Aerospace Forces began to receive new Su-30SM2 fighters, a batch of aircraft arrived in the Kaliningrad region to arm the naval
aviation
Of the Baltic
fleet
. This is the first delivery of a new modification of the main fighter of the Russian Aerospace Forces Su-30SM, which has been supplied to the troops since 2010.
The new fighter combined the basic design of the Su-30SM with the functions of another Russian Su-35 fighter. Due to the installation of the AL-31F-1S engine and the Irbis-E radar, the Su-30SM2 received excellent flight characteristics and the ability to detect and hit enemy aircraft at a much greater distance. The new thrust vectoring engine delivers 16% more thrust than the base engine and is also more fuel efficient. In terms of maneuverability and endurance, the Su-30SM2 is currently superior to any Western fighter, and the range of 400 km of air-to-air missiles is almost twice that of Western aircraft.
At its core, the author writes, the Su-30SM2 is a modification of the Soviet heavy air superiority fighter Su-27 (NATO classification Flanker), which first entered service in 1985. It was from him that the new Sukhoi inherited a long flight range and high maneuverability. The first squadron of Su-30SM2s will be stationed in Kaliningrad, where they will replace the obsolete Su-27s. In the future, all the Su-30SMs in service will be upgraded to the level of the Su-30SM2.
However, the Su-30SM2 may be the last modification of the original fighter, as the Russian Aerospace Forces are gradually moving to a new generation of aircraft based on the Su-57 platform, and possibly lighter fighters on the Su-75 "Checkmate" platform, the author concludes.