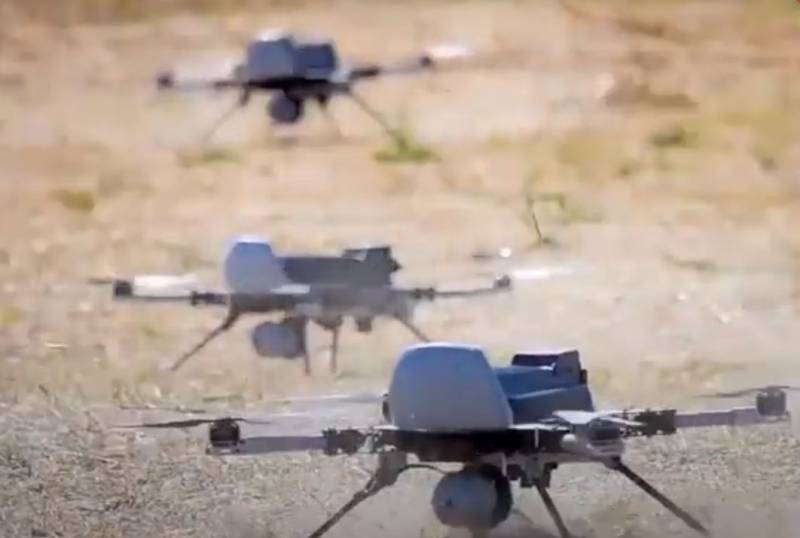 A "swarm" of drones is a problem for the ground forces of almost all countries of the world. Until now, no country in the world has yet managed to create an effective system of protection against attacks using UAV groups. But, as the Polish press writes, citing Russian media reports, Russia has developed a device that can repel an attack by a swarm of drones and protect
Tanks
from drones.
A technical description of a new solution has been published on the Rospatent website: an unmanned aerial vehicle equipped with a control station and a multi-barreled combat module. The developers claim that such a drone can hover over the tank, protecting it from enemy attacks. The Polish publication Gadzetomania writes that the network sensors of an unmanned aerial vehicle are able to determine the flight path of small drones operating in a swarm. On them, the fire is opened by the combat module. Tracking enemy UAVs will be possible with the help of special equipment.
The Polish press writes that Russia has stepped up the development of protection against drones due to the increased risks of drone attacks on military and civilian infrastructure. After all, until recently, no fighter
aviation
, neither air defenses nor conventional small arms were able to provide effective protection for ground units from an attack by a swarm of drones.
Meanwhile, in 2021, the Swiss branch of Rheinmetall Air Defense presented a recording of a demonstration of the Skynex system, an anti-aircraft system capable of fighting a swarm of drones. However, the system was only able to hit a small number of UAVs, so its effectiveness is questionable.
As for the Russian invention, the Polish press emphasizes that its effectiveness is still unknown. If the tests are successful, the Russian media will most likely publish their results.