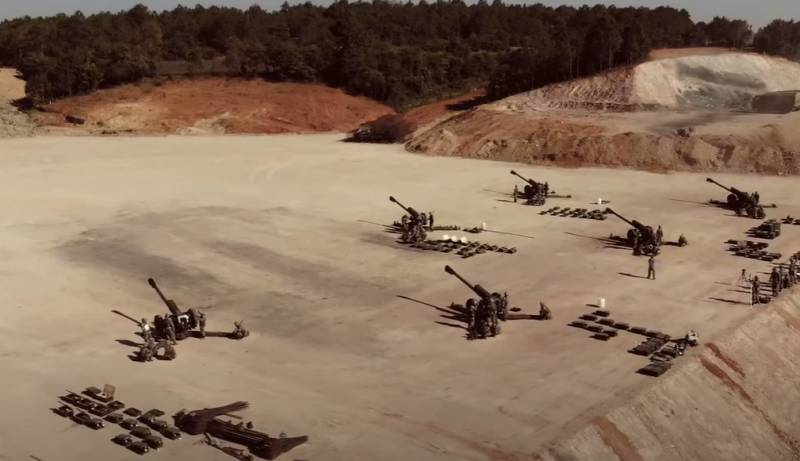 The Chinese Army (PLA) has between 4 and 6 towed 122mm howitzers. Solid stocks of this type of weapons make it possible to use it as targets for practicing fire from other means of destruction.
Thus, in the region of the Tibetan Plateau, a battery of howitzers was destroyed during rocket artillery exercises. In footage released in December 2021, the PHL-03 MLRS, which is the Chinese version of the Russian BM-30 Smerch, unleashed heavy fire on the Type 83 guns in position, with predictable results.
122-mm howitzers Type 83 were produced in large batches in the PRC, but then disappeared from the artillery units of the PLA, being replaced by self-propelled guns on a car chassis. However, this is only one of the models that were mass-produced in China and subsequently put into storage.
As stated in the publication 21AAR, before the appearance of Type 83, the army copied Soviet howitzers of 100, 122, 130 and 152 mm caliber, for example, M-30 and D-74, stocks of which are still available both in the PLA and in the RF Armed Forces . Many of the Chinese replicas are still in service today. So, the troops are currently armed with the Type 54, a copy of the M-30, some of which were converted into tracked self-propelled guns and received the designation Type 70-I, which looks similar to the 2C1 Gvozdika.
It was assumed that the Type 83, which has Soviet "roots" due to its "kinship" with the M-30, will replace systems copied from guns from the USSR. But the service life of this howitzer was short-lived. The absence of a shrapnel shield [in the basic version] and a shortened barrel reduced its weight, but affected crew protection and fire performance. One of the reasons for the rejection of the Type 83 may be the emphasis on the 155 mm caliber that the PLA made in the mid-1980s after transferring related technologies.
Since 1990, the Type 83 has disappeared without a trace [from the troops]. But China keeps thousands of howitzers in warehouses. Their fate to become expendable, targets, has already been decided.
- noted in the publication.