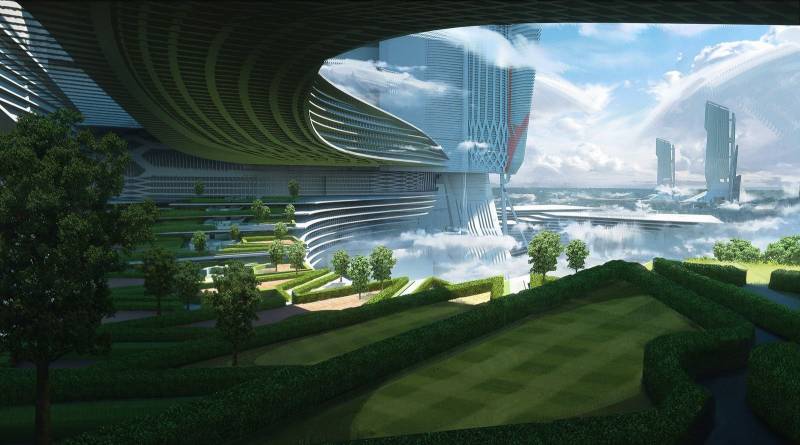 Comments on
previous article
showed that I was probably not as persuasive as I would have liked.
A number of readers considered the ideas utopian, someone considered them an offensive rip-off. I considered it necessary to work out these points in the article, which is an afterword to the cycle.
To begin with, I would like to remind readers that in the fourth article I did not aim for comprehensiveness - this is a difficult task for one person.
My interest was to outline the concept, within which there will inevitably be more and less developed details that need to be deepened in accordance with the overall direction of the project.
Thus, a number of commentators have moved away from useful criticism and reflections on possibilities towards endless savoring of impossibility and critical demagogy in the style of "this cannot be because it can never be."
The essence of the idea is how to pull the country out of the stagnation in which we are stuck.
Arguing about the impossibility of getting out of this state, you actually admit that you have surrendered as patriotic, creative and intellectual forces. In this case, the price of your cheers-demagogy, gentlemen, is worthless!
1. "... the author cynically takes 2 rubles from workers and 300 rubles from poor pensioners ..."
We have a fairly large spread in the size of pensions across regions, so we will proceed from the size of a pension of 12. This value is approximately equivalent to the minimum wage.
In 2021, at the end of the year, we had an inflation of 8,4%. Official, I will emphasize this separately.
Significant part
stories
in modern Russia, this value was more than 7% per annum (in article No. 2 it is indicated that the total inflation over 20 years was 550%.
This means that the conditional thousand rubles of the 2000 sample is now conditional 170 rubles.
Now we take the "grandmother's pension" of 12 and subtract the inflation rate from it - a grandmother (or grandfather) loses 000 rubles per year at 7% inflation
monthly
. That is, in fact, in 12 months, a pensioner loses more than 10 thousand rubles with inflation of 7%.
With inflation of 8%, a pensioner loses 960 rubles a month. That is, three times more than the author proposes to "take away" from him in order to keep the level of this inflation at least at 4 percent.
At 4% inflation, a pensioner loses 480 rubles a month.
We add +480 to 300 (which we take from him) and get 780 rubles of losses (whereas with 7 percent inflation he loses 840 rubles a month).
Conclusion
- in the case of pensioners, citizens actually lose nothing. They will lose practically nothing even if we collect 400 rubles from them, and not 300, provided that the state keeps inflation at a rate of 4%. There are currently 42 million pensioners in the Russian Federation. This is an annual collection potential (at 300 rubles) of 151 billion rubles.
But consider how this maneuver can affect the working man.
For example, we take the same deeply abstract salary of 25 rubles.
Monthly inflation losses at 7% inflation - 1 rubles. At 750% inflation, the worker loses 4 rubles a month. Thus, from a salary of 1, taking 000 rubles, the state actually takes 25 rubles from the worker, if inflation is kept. This is actually 000% of such wages.
Does anyone seriously think that this is a "deadly lot"?
But, let's say we consider a salary of 40 rubles.
Monthly, its inflationary losses at 7% are 2 rubles. At 800% - it will be 4 rubles. An employee with a salary of 1 loses only 600 rubles a month from such a maneuver. This is 40% of his salary.
Conclusion
- there is no need to talk about any critical losses. Citizens monthly and without it bear significant "parasitic" losses, the state can stabilize these losses and use colossal funds for the benefit and growth of the economy.
2. "... why populate the Far East, what will all these people do..."
We are looking at the resource map of the Far East.
It is clearly seen that in this region there are rich deposits of hard and brown coal, iron, tin, oil and gas, as well as gold. The relatively close location of iron and coal gives us the resources to develop in this region at least the production of rolled metal products - instead of driving it through the whole country. These resources can be used in the shipbuilding and machine-building local industries as a minimum.
In the Far East, significant oil and gas resources are a potential for petrochemistry.
There are also significant forest resources - this is an excellent help for the woodworking, furniture and pulp and paper industries at least.
All this is also located in the area of ​​coal mining - that is, there is the potential for cheap generation to provide all this with electricity, and residents - with heat. In the case of a detailed study of the environmental aspect of such activities (at the moment there are effective treatment solutions for thermal power plants and metal production), we have a fairly good logistical gain.
It is worth noting that the region has a number of tin deposits, as well as rare earth elements. This is the potential for the radio-electronic and semiconductor industry.
The fish resources of the region deserve special mention.
The development of the production of modern canned fish and delicacies in this region is quite a promising niche, since there is a potentially huge consumer market nearby.
For example, we will consider the export of Sweden as a model object.
Sweden is interesting for the reason that it is a coastal area that is approximately comparable in terms of climate and resources, the production of which is almost what the Far East can do, whose population (10 million people) approximately corresponds to how much it is desirable for us to deploy in the Far East over a period (20 years) .
Swedish exports for 2020 were
:
15,2% ($24 billion) - nuclear reactors, boilers, equipment and mechanical devices; their parts.
14,2% ($22 billion) - means of land transport, except for railway or tram rolling stock, and their parts and accessories.
8,61% ($13,8 billion) - electrical machinery and equipment, their parts; sound recording and reproducing apparatus, apparatus for recording and reproducing television images and sound, their parts and accessories.
6,36% ($10,2 billion) - mineral fuel, oil and products of their distillation; bituminous substances; mineral waxes.
6,36% ($10,2 billion) - pharmaceutical products.
5,62% ($9,03 billion) - paper and cardboard; products made of paper pulp, paper or cardboard.
4,8% (6,56 billion dollars) - ferrous metals.
3,36% ($5,39 billion) - plastics and products made from them.
2,7% ($4,33 billion) are fish and crustaceans, molluscs and other aquatic invertebrates.
1,88% ($3,02 billion) - wood and wood products.
Sweden's exports indicate very well what kind of export potential, by groups, our Far East could have.
For the neighboring countries of Sweden, I also found the rows of numbers from Finland and Norway to be very curious.
Norway
12,9% ($10,6 billion) are fish and crustaceans, molluscs and other aquatic invertebrates.
Finland
10,4% ($6,84 billion) - paper and cardboard; products made of paper pulp, paper or cardboard.
4,28% ($2,8 billion) - wood and wood products; charcoal.
3,49% ($2,29 billion) - plastics and products made from them.
1,65% ($1,08 billion) - cruise ships, sightseeing ships, ferries, cargo ships, barges.
It is also very interesting to give a number of export items as an example
South Korea
.
12,9% ($66 billion) - nuclear reactors, boilers, equipment and mechanical devices.
6,15% ($31 billion) - plastics and products made from them.
4,95% ($25 billion) - mineral fuel, oil and products of their distillation.
3,65% ($18,7 billion) - ships, boats and floating structures.
1,54% (7,92 billion dollars) - ferrous metal products.
What can be said about this in total?
That you can raise very good money on fish - in the Far East we have significant fish resources and at least 3 huge markets in the neighborhood.
We can, like the Norwegians and Swedes, invest in high-quality infrastructure for the processing of these products and drive them at completely different prices than they are now.
It can be seen that you can earn very serious money on rolled products, plastic and cardboard - and we have the prerequisites for this in the Far East.
That refined petroleum products are a potentially huge market in Asia, much more interesting than crude oil.
That, finally, in the construction of ships we could at least make good money on the needs of the domestic market.
Sweden, Finland and Norway show us that in these export industries, a population of 10+ million can live quite freely, even in a super-competitive European market.
And we have a huge Chinese market nearby, part of the demand of which we can cover with products of processed resources, at least, simultaneously occupying our own population, landscaping the territory, creating the prerequisites for a large scientific and technical cluster in the Far East at the stage of the plan for 20–40 years.
3. "... look at Europe and China, their population is stagnating, read about some kind of demographic transition there ..."
Articles 1 and 2 are very clear on the growth of the European population over 20-year cycles.
This is a cumulative increase in the EU, but at the moment (and for quite a long time already) the EU can be considered as a superstate, within which there is a free migration of labor and finance - so the separate demography of specific European states
not
matter.
The EU is growing in "plus" by at least 20 million in 20 years.
The PRC is currently heavily overpopulated, firstly (the first state in terms of population on the planet). Secondly, the PRC has had a policy of "one family - one child" for a very long time, and now they are in a demographic hole, combined with the current overpopulation and a terrible environment.
You and I are up to the demographics of the PRC to cut, even according to those indicated in
article number 3
и
№ 4
pace - about 200 years. So, thank God, we do not need this. Not so long ago there was
news
, that the net population loss for 2021 in the Russian Federation
amounted to more than 1 million people
.
No, ladies and gentlemen, the "demographic transition" has absolutely nothing to do with it.
In our case, the growth of demographics is precisely
restrained
factors mentioned in previous articles that can and should be broken.
4. "... how can the state guarantee an unshakable line? This is a property of exclusively authoritarian systems ... "
We will take the example of Japan (I return regularly and will continue to return to this country, as its experience is quite interesting).
Is Japan an authoritarian country?
However, Japanese inflation has been close to zero for a very long time. This is a period longer than the designated 20-40 years, longer than the life of one generation.
Stability is not included in any confrontation with political turnover.
Let's take Canada as an example - Canada's standard of living has been steadily rising, its social, economic and political line has been unshakable for decades. Can it be called an authoritarian state?
The German experience of the last 30 years shows that it is also quite possible to create a stable social system on a capitalist basis.
Can we say that Germany is authoritarian?
Despite a number of problems associated with migration, the Germans are quite confident about the future - this confidence is based on the growth of their GDP.
What conclusion can be drawn from this
?
The key to the stability of the political line is
effective growth
first of all, and secondly, it is a political turnover within a system that is not closed to any personalities. Some professionals replace other professionals - contributing to the line of development.
To draw up a quality plan and ensure that professionals stay in power is the key to stability.
5. "...Most loans will be non-repayable. All infrastructure projects are unprofitable..."
Funds issued from the fund will not be issued to anyone, but in accordance with the parameters of the riskiness of the enterprise, credit history, etc. Professionals should always work with money, and big professionals with big money.
Any bank with little or no history develops a fairly effective forecast in terms of repayment and non-repayment of loans.
Immediately, analysts and government agencies will deal with this. Funds will be allocated for the construction of housing (many standard projects in the main) and enterprises
inside the country
. And to start a business, also within the country.
Access to big money will be only for those who have effectively mastered the smaller ones - this is a very simple principle.
Of course, a number of investments will not pay off - and this will be an occasion for analytics and system improvement. However, any venture fund deals with unprofitable projects and profitable projects, the profit from which often compensates for the loss from failures.
Effective venture funds rely on professionals, in this case we are talking about the growth of professional culture within the entire top of the state.
Regarding the unprofitability of a number of infrastructure projects.
The fund will accumulate about 20 trillion rubles in 80 years. This is almost four times our 2020 budget. A lot of money. And this money will not be claimed for a direct purpose (housing certificates) for 20 years.
And then annually it will be necessary to allocate 7,2 trillion rubles for certificates. During this period, if we ensure a three-fold increase in the budget (up to 60 trillion rubles), while maintaining fees (the same 2+2 trillion rubles annually), we will have to unfasten 3,2 trillion rubles each year from the fund itself for certificates.
So here the question is correctly formulated as follows: is 80 trillion rubles enough to triple the GDP in 20 years?
You have to be an epic mediocrity not to reach these parameters with that kind of money!
But we ask ourselves the question - how much and with what money will we have to build housing to support demographic programs?
Very roughly, we need to resettle about 10 million people in the Far East. Let's say it's 5 million families. This is about 70 houses.
This is 24,5 trillion rubles.
We also have a task to resettle about 3-4 million families under the terms of preferential mortgages. Let's say - 4.
This will require another 19,5 trillion rubles.
The total for housing programs over 20 years is about 44 trillion rubles. For everything else, we still have 36 trillion rubles left - that is, 2 budgets for 2020 for business, enterprises, etc. To triple the budget.
Is it real?
This is already a question of the quality of the plan and administration.
In the future, all these people will pay taxes, work, buy, create jobs through their business activities. It doesn't matter how long the built infrastructure will pay off - if we triple the budget, the project itself will be successful and profitable enough to cover holes and costs.
6. "... large-scale housing construction will inevitably affect the price of housing ..."
In article number 4, I cited
link
for a model object - a 17-storey building at prices in August 2021.
In calculations based on the prices of this period, its price figured as 308 million rubles.
Already
taking into account the margin of the construction campaign, similar for that period (by price).
As mentioned above, inflation in 2021 was 8,4%. That is, the price of the house is exaggerated by this value, and with inflation of 4%, this house will cost less than 308 million rubles.
Next, we recall that one of the key points for keeping and reducing inflation in our country was fixing prices for domestic resources. That is, including construction resources. In this way, we can stabilize some resources available to the state through state-owned companies at a cost less than the market value that existed in August 2021, which will undoubtedly reduce the price of a house.
I also remind you that we are building not a 17-story building, but a 12-story building. In total, the actual price of its construction will be much less than 308 million rubles.
And then we remember that according to the calculations, our house appears as 350 million rubles. That is, considering
already
fat is laid on inflation, bad loans, force majeure, about 1/6 of the cost of the house itself.
If inflationary factors are successfully controlled, we will have extra money, at least 30 million rubles from each house built in fact. With the construction of 70 houses, this is 000 trillion rubles, which can be used for other needs.
In the event that inflationary factors are more significant than expected, specifically in construction, we will not notice this until the border, approximately corresponding to 20%.
I believe that this is more than enough cushion for the entire project.
7. "...won't the rapid growth of demographics be destructive, from the point of view that marginal strata of society will multiply?"
In the period from 1980 to 2000, about 30% of the population "increased" in the PRC. For the period from 1950 to 1970 - about 40% of the population. These were not important years, I must say. A very large part of the population of the PRC at that time were just the same marginals.
Tell me, please, during these periods did we observe the growth and development of the power of the PRC, or degradation and decline, due to the growth of extra mouths?
If you give people work and the opportunity to engage in business activity, they will prefer it to degradation. Most, that's for sure. Everyone wants to eat well and live comfortably. These mechanisms move a person in development as well.
For centuries, people in our country have been drinking well and giving birth to many children, including in this very marginal environment - this in no way affected the successes that we had.
8. "...why should business be involved in the government's plan?"
Then what any business is interested in
profit
. And profit is, among other things, a way to reduce costs, including the costs of predictability.
The state assumes prognostic and organizing functions (the state has resources for this - after all, any state collects statistical data, it's just that at the moment these resources are largely idle or gathering dust on the shelves), keeps inflation and prices for domestic resources, issues cheap loans , improves laws.
That is, the state creates a highly predictable, beneficial environment for doing business within the country. This direction is beneficial for business because it is the direction of cost reduction.
A business operating in a scheme has greater potential for stability than one that is "on its own".
9. "... all trade niches are already occupied, no one is waiting for us there..."
For example, we will take
Turkish exports
.
In 2000, as noted in article No. 1, Turkey's exports were $53 billion. And in 2020, it has already become $169 billion.
Let's see what kind of export it is.
13% ($22 billion) - means of land transport, except for railway or tram rolling stock.
9,93% ($16,8 billion) - nuclear reactors, boilers, equipment and mechanical devices.
5,45% (9,24 billion dollars) - electrical machinery and equipment, their parts.
4,94% ($8,38 billion) are garments and clothing accessories.
4,11% ($6,97 billion) - plastics and products made from them.
3,94% (6,69 billion dollars) - can be conditionally noted as "jewelry" and bijouterie.
3,89% ($6,6 billion) - fabrics, carpets and flooring.
3,75% (6,36 billion dollars) - ferrous metal products.
2,84% ($4,83 billion) are edible fruits and nuts.
That is, here is the range of goods for which Turkey was able to triple its GDP.
Do you see something extraordinary here?
I do not see.
The global plastics market is huge, people will always eat (and the more there are, the more they will eat), they will always need clothes, they will always be ready to spend extra money on jewelry.
Machine-building industry of Turkey 20 years ago – was it already better than ours? No. They raised it by occupying the markets.
I remind readers that since the 2000s, global GDP has only grown, therefore, the capacity of the markets of developing countries has also grown - and this means that their needs for these (at least) goods have only increased. At the very least, we can still take a share of the world market with these goods.
But let's consider
Polish exports
– it has also been a very dynamic economy in the last 20 years.
13,3% ($34 billion) - nuclear reactors, boilers, equipment and mechanical devices.
11,5% (29 billion dollars) - electrical machinery and equipment, their parts.
9,74% ($24 billion) - means of land transport, except for railway or tram rolling stock.
5,66% ($14,3 billion) - furniture; bedding, mattresses, mattress bases, sofa cushions.
4,71% ($11,9 billion) - plastics and products made from them.
3,27% (8,33 billion dollars) - ferrous metal products.
2,4% ($6,1 billion) - paper and cardboard; paper products.
2,16% ($5,51 billion) - meat and edible meat by-products.
2,01% (5,11 billion dollars) - rubber, rubber and products from them.
And again, this picture is a lot of money, in general, out of who knows what.
Is it difficult for us to make competitive rubber and plastics?
Maybe we will make wood products worse than Polish ones?
It is worth noting that a significant part of the raw materials for the production of their goods, that Poland, that Turkey,
import
from abroad. The cost of electricity in Poland and Turkey is not like ours.
The cost of labor - also (figures for the average salary were indicated in
article number 1
).
That is, we have a complete carte blanche in intercepting a part of, at least, their markets in terms of the price advantage of products.
10. "...what is the interest of rich people in this whole project? They are satisfied with everything…"
Every rich person is interested in increasing his wealth, in a stable existence that guarantees the security of his profits and investments.
Rich people compete with each other, but their niches are limited niches. These restrictions stem from the environment available to them to build wealth, among other things.
Let's turn to the Forbes list of "20 richest people in the world in 2021":
Jeff Bezos - $177 billion (US)
Elon Musk - $151 billion (US)
Bernard Arnault - $150 billion (France)
Bill Gates - $124 billion (US)
Mark Zuckerberg - $97 billion (US)
The list of 20 closes Michael Bloomberg - $ 59 billion.
For comparison: the richest Russian at the moment (officially) (2021) is Alexei Mordashov, $29 billion, followed by Vladimir Potanin, $27 billion.
It is clearly seen that the size of the fortune of these people cannot be compared with the list of the "top twenty of the world." These are, of course, rich people, but in order to further increase and diversify the sources of their wealth, they need to expand the Russian economy.
Otherwise, they will be limited in their capabilities and will not look good in comparison with their American, European and Chinese counterparts, whose welfare gains are often completely incomparable.
And although many of us are not at all impressed by super-rich people, it must be admitted that in the matter of the country's economic growth, the interests of these people should objectively coincide with ours.
Otherwise, their enterprises will face an increasing decline - resulting both from the general decline of our economic model (under the pressure of sanctions, due to unsuccessful attempts to launch national projects, due to increased social tension), and due to the depletion of readily available resources, which are the main profitable activity for a significant portion of our super-rich people.
A number of readers here may not agree with this thesis - however, you must understand how and what means billionaires earn abroad (these are not resources), and how it happens here. The oligarchs are also well aware of this.
Epilogue
The unthinkable, the impossible are often the limits of our own intellectual barriers. I thought and still think that we have a huge potential, and instead of trying to realize at least part of it, we prefer to endlessly savor the hoary antiquity and numerous sorrows.
The peoples around us have made their strides towards a good life - do we want to make our own?
This is possible. Because nothing is impossible if you want it.
The author is grateful
portal
for the most important statistical information used in the article.