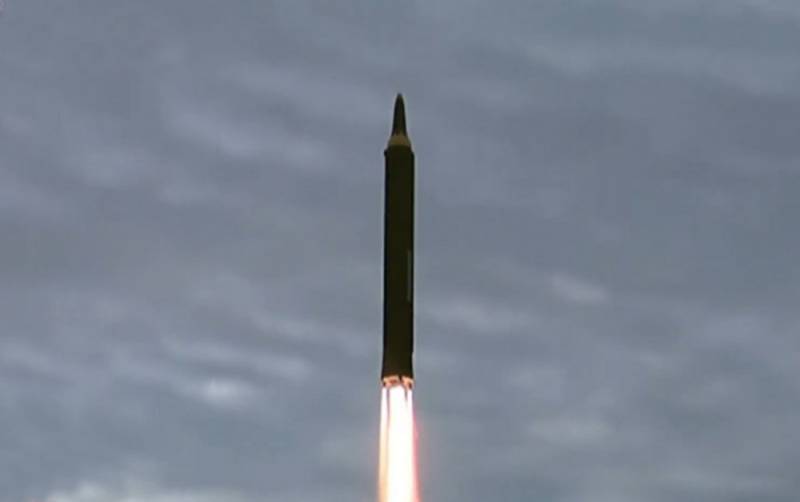 North Korea fired another unidentified munition. According to the Joint Chiefs of Staff of South Korea, this is the seventh missile test since the beginning of this year.
Pyongyang conducted another test of an unidentified munition, a missile was launched towards the Sea of ​​Japan. According to operational control data, the North Korean military tested a ballistic missile, and given that its speed in some areas reached Mach 16, this is a Hwaseong-12 medium-range ballistic missile. This rocket was first shown and tested in 2017.
The missile launched on Sunday morning from the area of ​​the village of Mupyeong-ri in Chagangdo province in the direction of the Sea of ​​Japan and flew about 800 km, fell into the sea, the maximum flight altitude was 2 km, the South Korean military said in a statement. It is emphasized that the DPRK has not launched such missiles since 2017, observing a voluntary moratorium on ICBM tests.
According to our data, the rocket was launched at an almost vertical angle. Its maximum speed reached Mach 16, that is, it flew 16 times faster than the speed of sound.
- leads
news
Yonhap agency words of a military source.
Against this background, a telephone conversation took place between the Chief of the Committee of Chiefs of Staff of South Korea, Won In-chul, and the commander of US troops in the country, Paul Lacamera. The parties condemned the ongoing missile tests by North Korea and reaffirmed the agreement on joint defense in the event of an attack by the DPRK.
Meanwhile, South Korea does not rule out that Pyongyang has ended its voluntary moratorium on testing intercontinental ballistic missiles and nuclear weapons.
weapons
which has been in operation since 2017.