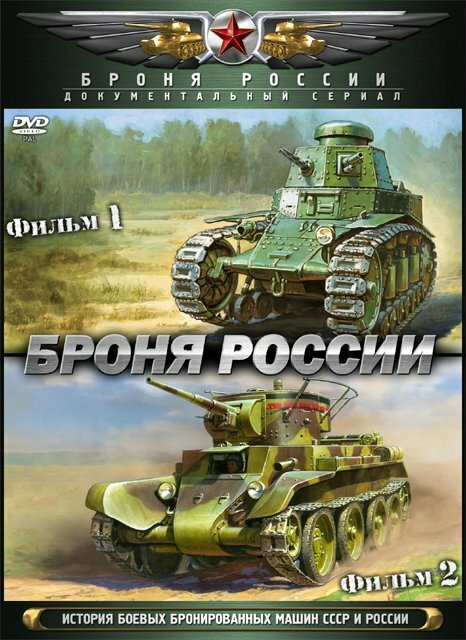 The series "Armor of Russia" is dedicated to
stories
domestic armored combat vehicles: from the first armored cars of the early twentieth century to modern
tanks
.
The ten films of the series describe in detail most types of armored weapons and equipment created in the Soviet Union and Russia. Among them: tanks, armored cars, infantry fighting vehicles, amphibious combat vehicles, armored personnel carriers, tank destroyers, reconnaissance and patrol vehicles, armored anti-aircraft self-propelled installations, self-propelled artillery installations, engineering vehicles, various experimental equipment and much more.
The series contains a huge number of newsreaders, previously not available to a wide audience.
In the films, the main technical characteristics of armored combat vehicles are given, three-dimensional computer graphics are widely used.
The idea of ​​creating an armored fighting vehicle arose in the early twentieth century. In Russia, these were the armored car of Prince Nakashidze, the design of the tracked vehicle by Vasily Mendeleev, the "Rover" by Alexander Porokhovshchikov, the giant fighting vehicle of Nikolay Lebedenko. But almost all of them received no further continuation.
Armored vehicles gained great development already during the First World War. At first it was wheeled armored cars. Gradually improved their design and weapons. But one of the drawbacks of the armored cars came to light - poor maneuverability. It required a different, different from the wheel, the type of propulsion. On combat vehicles began to install tracked propulsion. So there were tanks.
The first film covers the period from the beginning of the twentieth century to the end of the 20-s and contains a computer reconstruction of the first Russian combat vehicles.
In 1929, the Soviet government adopted a decree "On the state of the country's defense." In the shortest possible time it was planned to equip the troops with new equipment. Along with other types of weapons required armored vehicles for various purposes, primarily tanks.
During the 30s, the T-27 wedge, T-26 and BT light tanks, the medium three-turreted T-28 and the heavy five-turreted T-35 were adopted. There were floating tanks - T-37 and T-38. There were also other surveys in the field of armored weapons - among other things, tanks even tried to teach how to fly.
The first serious test for Soviet tanks was the war in Spain, and then the war with Finland.
The second film tells about the development of the mechanized forces of the Red Army from the end of the 20-ies to the beginning of the Great Patriotic War.