Where and how did Russian gold really go?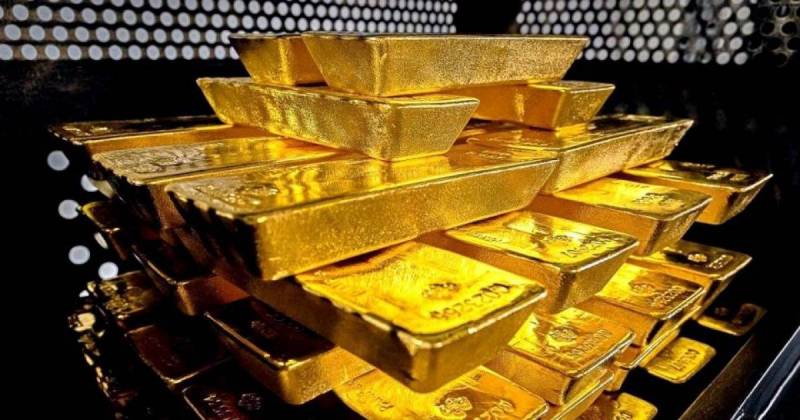 At the end of last year, colleague Alexey Podymov asked in his article
Tell the truth: where is our gold reserve
? a question to which now there will be, if not an answer, then some addition. And I will constantly refer to this material, because there are both questions and a competent approach to the topic.
In his material, a colleague announced the figure of 240 tons of gold, which is gone. Mostly to the UK. However, perhaps the most important thing is not where the gold went (although this is also important), but how it went. And how much.
We stopped at the moment that in 2019, the Central Bank, led by one of the best leaders in the world of such structures (according to the British) Nabiullina, first sharply reduced (almost by half, to 42%) the purchase of gold from fishers, and in 2020 completely stopped buying.
It is worth noting here that if we look back at the level of 1993, when modern Russia practically began, we will see that the gold reserve was only 267,28 tons according to www.global-finances.ru. On the official website of the Central Bank, the figures are the same, but there it is more and more difficult, since international assets are considered all at once and in dollars.
Somewhere at the turn of 2008, a more or less noticeable purchase of gold by the Central Bank began, and since 2013, a steady increase in gold reserves by about 200 tons per year has been demonstrated. That is, in fact, for the entire gold mining of Russia.
And thus, by 2020, Russia's gold reserves amounted to 2 tons. On this, apparently, the Central Bank decided to stop. Or a command came to stop buying gold, which, by the way, is the same thing.
Here it is worth mentioning one event that greatly influenced everything. 2018 is the year when investments in US government bonds were minimized. A lot has been written about this, everyone paid attention to these events. But few people really had an idea for what and how these papers were sold.
In general, it is possible to sell / present US government bonds to the States themselves. But for 90% you will be provided with new bonds, and 10% yes, you can get it in a more significant form. Naturally, our bonds, which began to be dumped, were sold at a decent discount.
Of course, there is no exact information on where they went and in exchange for what Russian bonds of the US government debt. The secret behind ten seals and subscriptions.
There is, however, indirect information on China. From 1977 to 1999, China's gold reserves amounted to 395 tons, and this figure was practically unchanged. Then a period of growth in gold reserves began, and now China has 1948 tons of this metal.
Around 2006, China began buying up gold on the domestic market and building up its reserves. Considering that China's gold mining industry is capable of producing about 30 tons of metal per year, it is clear that not all of the gold was bought up.
In general, it makes no sense to buy all the gold, banks consume it to mint their coins and create their own "cushion", a large amount of gold goes to the jewelry market of any country.
Some experts, like Matt Winsley of Agora Financial, believe that China is deliberately understating its reserves. And today China has at least 3 tons of gold.
Around the same time as the growth of gold reserves began, China began actively buying US bonds. Here the interests of the two countries coincided. Around 2014. Russia, which was hit by a stream of sanctions, began to get rid of US government debt bonds. A very sensible move, we all approved of it. And China, on the contrary, began to actively buy up these bonds, and in huge quantities.
As a result, as we know, today China is the largest holder of US government debt and, together with Japan, makes up the leading pair. The US owes more than $1 trillion to both countries.
Interestingly, it turns out that Russia is getting rid of US bonds and the country believes that everything is going as it should. China was actively buying bonds and they also believed that everything was just fine.
And what is most interesting, both countries ensured their security and independence. Just each in their own way. Russia moved away from US bonds, the payments on which could easily be sanctioned, China ensured its security by accumulating US debt.
Today, the PRC is developing quite calmly, having as protection not only the army and navy, but also a hefty package of US bonds, which can protect very effectively if something happens.
It is clear that just in China there are enterprises owned by the Americans and which they can lose if they present debt obligations for payment. That is, the Chinese have something to grab from the United States on their territory.
Given that America did not spoil Russia with plants and factories, it was easier for us to get rid of pieces of paper. Even by exchanging them for gold.
Yes, gold today is not like a hundred years ago. But anyway, this is one of those things without which the state is not quite a state.
But back to Russia.
We still have a gold mining industry. And she is able to extract about 300 tons of gold per year. And something needs to be done with this pile of gold, because if you leave everything as it is, the precious metal mining industry will simply die.
Yes, the jewelry industry will take some. Another is radio electronics. But in what state we have the latter, I think it is not necessary to say.
Many expressed dissatisfaction with the fact that the Central Bank of the Russian Federation stopped buying gold and putting it in its vaults.
Let's really think, is it necessary? 2300 tons is a lot. This is quite a lot, Russia is among the top ten countries in terms of the availability of gold.
When the indistinct viral events began around the world, gold, as expected, rose in price. It always rises in price during such periods of uncertainty. This is fine. In 2009, the Central Bank bought gold at 1300-1400 dollars per troy ounce, today it sells for 1800.
But the main concern was not the sale of gold, but the cessation of its purchase. Indeed, if the Central Bank stops buying metal from miners, this can have a very negative impact on the gold mining industry as a whole, since after all the Central Bank is the main buyer.
And as a result, a very strange move turned out: instead of conducting transactions with gold itself through the Central Bank, the Russian government, represented by Prime Minister Mishustin, allowed industrialists to sell gold abroad directly, bypassing the Central Bank and commercial banks.
The government allowed producers to export gold under general licenses
.
As you can see, everything is official and with the knowledge of the highest officials of the state.
And Russian gold did not go or flowed - it flew abroad. Various sources (RIA
News
, TASS, Forbes, links at the end of the article) indicate that at least 2019 tons of gold were exported from Russia in 2021-700.
And most importantly: now the sellers are not only able to independently sell gold abroad to anyone, but last year Putin also allowed not to return foreign exchange earnings from the sale of gold to Russia.
Putin signed a law on the abolition of the repatriation of foreign exchange earnings
And so what do we get?
By the way, this scenario is interesting: out of 700 tons of gold sold, 220 tons went where you think? To the UK! Yes, many will now say that this is just a trading hub for precious metals in general and stuff like that. But this is still the same Great Britain, which is so loved by our fellow citizens from among the members of the government and the oligarchs who are not there, as a springboard for themselves, children and grandchildren.
However, in the light of Putin's signed decree, everything looks somehow not very nice. I'm not inventing anything, Rossiyskaya Gazeta is the mouthpiece of the government.
If you carefully read a short note about Putin's decree, then the following conclusions can be drawn from it: now it will become very easy for Russian miners of gold and diamonds to sell their products abroad. Previously, the state obliged all proceeds to be credited to accounts in Russian banks, now the currency from the sale of gold can be immediately credited to accounts in any banks convenient for the buyer and use the money at your discretion. Absolutely without any control from the state.
And yes, this money can be invested in anything. There, behind the cordon.
Well, if you look at all this from the side of a simple layman, then Mr. President simply legalized the export of capital from the country. To offshore, to foreign banks, anywhere. That is, now what they fought so hard against is legalized.
More precisely, they pretended to fight, because no one began to return money from abroad to the country, it was not exported for that. And given that the decree covers such non-primary resources as:
- copper, nickel, aluminum, lead, zinc, tin, gold;
- diamonds, precious and semi-precious stones;
- grain;
- furs, leather, raw wood;
- ores and minerals, then some things become clear. Pretty nasty.
Speaking in Russian, now it will be easier for Russian companies to sell resources abroad. Previously, the proceeds had to first be transferred to accounts in Russia. Now they can simply transfer money to a foreign account and immediately start using it at their own discretion.
The state media, by the way, somehow did not arrange a joyful yelling about another wise indulgence for entrepreneurs. "RG" can be understood, they are obliged to publish documents. But this decree even sounds so that at the first moment you won't understand why.
And the funniest thing. The State Duma headed by Volodin "suddenly" attended to the sale of gold. And the sale of timber. Abroad, of course.
The sale of the forest seems to have been stopped, but how much does it cost now, when for many years caring people have been shouting about the fact that forests are being felled under the roots? Everything, now the process will go differently.
Now the Duma is interested in the "golden stream" that is leaving Russia. In general, it is interesting that they see each other there more often than we see the president on TV. And everyone is unaware. Now, in order for the communist Kolomiytsev to get rid of, Volodin instructed him to make a request to the Central Bank. And then they will consider.
So, a draft protocol order will be drawn up, reviewed, agreed upon with the relevant State Duma committee on the financial market, approved and sent to the Central Bank and the government. And they will respond in a timely manner.
Do you feel the hard work ahead?
Of course, none of this will really work. Gold will go to the West, to those who buy it, because the IMF, which manages the Russian (not ours) Central Bank, ordered so and Putin allowed it.
Everything would be fine, and moving away from American "securities" is a good thing, and buying up gold, which has been going on for 20 years, is also good. But the fact that this is done by the same people who today organize a massive outflow of valuable resources from the country under the guise of developing entrepreneurship, the same people who yesterday contributed to the collapse of the industry, saying that "it's easier to buy in the West" - this is somehow not evokes positive emotions.
On the other hand, gold and diamonds, which today go to the West, we, the population of Russia, have nothing to do with them. This is not our gold, this is not our diamonds, this is not our forest. Alas, this is a given that no one will change once the Constitution is rewritten. What the last change of this document showed.
So the question of Podymov's colleague "Where is our gold reserve" is likely to hang in the air.
The gold reserve of the Russian state is administered by the Bank of Russia, which is not a Russian bank. This, let me remind you, is a legal entity about which we know nothing. No authorized capital, no property, no founders.
The exchange rate of the ruble speaks best of all about how effectively the Central Bank of the Russian Federation fulfills its duties. But this is a subject for a separate discussion.
In the meantime, the bottom line is that Russian gold, everything that is mined, will go to replenish the bins of other states.