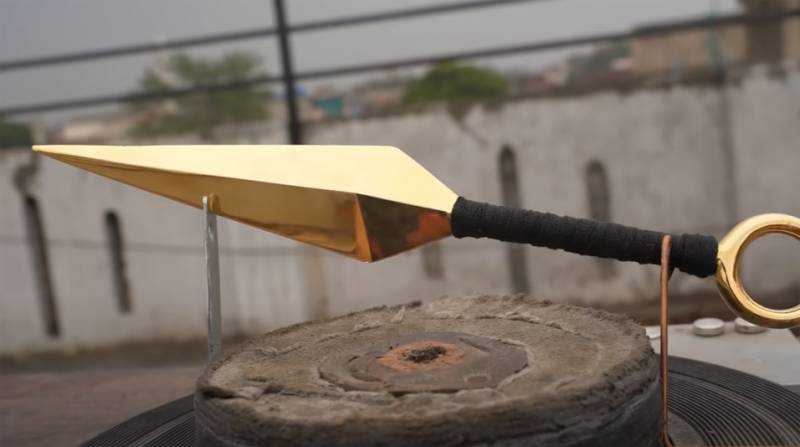 Japan is a country with ancient traditions in the manufacture and use of blades of various types. In addition to all the famous samurai swords, which are "sung" in thousands of works of art, including painting and cinema, the kunai belongs to Japanese traditional blades. This is a knife with different blade lengths. The minimum length is 18 cm, the maximum is about 30 cm.
It is generally accepted that the kunai is a knife that appeared on the basis of devices that were not originally intended for combat at all. The progenitor of such a Japanese combat knife is the tool of the peasants, with the help of which they harvested crops in the fields.
Over time, the length of the kunai changed, and it became one of the attributes of the ninja. Such a knife could be hidden under a cloak, worn discreetly and used at the most inopportune moment for the enemy.
It is noteworthy that the kunai is sharpened only in the part of the tip. Its edges are not sharpened. This option made it possible to wield a kunai in a variety of ways, up to the version of the spearhead. This made it possible to make a special ring, which was actually a structural part of the described Japanese knife and through which a fastening rope could be threaded.
When films are made about Japanese warriors, about how ninjas can climb almost a sheer wall, they usually use the kunai. It is believed that with the mastery of a pair of such knives, you can act as a climber. True, today, far from everything can realize such abilities in practice, which indicates either the loss of an important secret, or an excessive exaggeration of the function of the kunai as a tool for a climber or a fighter storming a fortress wall.
The video shows the process of making a "golden kunai".
"Military Review" recalls that the unauthorized production of cold
weapons
in the Russian Federation is prosecuted by law.