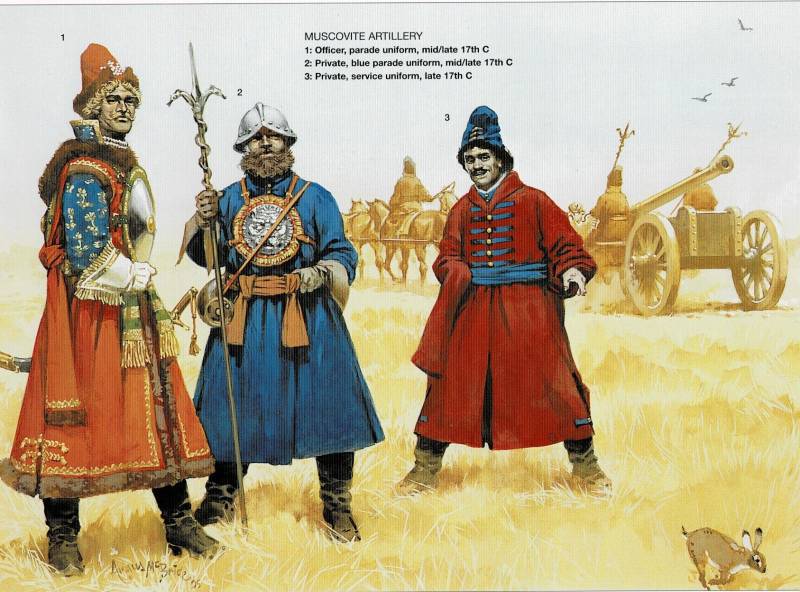 Artillery of the Russian state of the 1th century: 2 - officer in full dress, mid-3th century; XNUMX - a gunner in full dress, XNUMX - an ordinary gunner in everyday attire. Images of breast mirrors were made from photographs from the collection of the Artillery Museum in St. Petersburg. Rice. Angus McBride
If you sell anything to your neighbor, or buy anything from your neighbor, do not offend one another;
The third book of Moses. Leviticus 25:14
History military affairs.
Last time, talking about the archers of the Russian state, I deliberately did not mention a number of very specific aspects of the development of domestic military affairs in the XNUMXth century, namely, its no less than under Peter the Great ... orientation to the West. Actually, Peter only continued the tradition that existed before him. Although there is some difference. Before Peter, they imported into Russia
weapon
and borrowed tactics. At the same time, uniforms were also borrowed. It is clear that it will not be very pleasant for our readers of VO, who are overzealous in their patriotic mood, to read about all this, but what happened, it happened. And what can you do if at that time we had such a strong technological dependence on the West, and ... even more than that, one very specific feature of production. Its essence is that our masters could make individual samples of weapons no worse than in the West. That is, they were not inferior to the local gunsmiths in skill. But many of the same and high-quality weapons were beyond our production to produce. Here, the lack of good metal played a role, and the lack of an established workshop organization, in a word, we never had enough of our own weapons in the XNUMXth century and we had to constantly buy them abroad.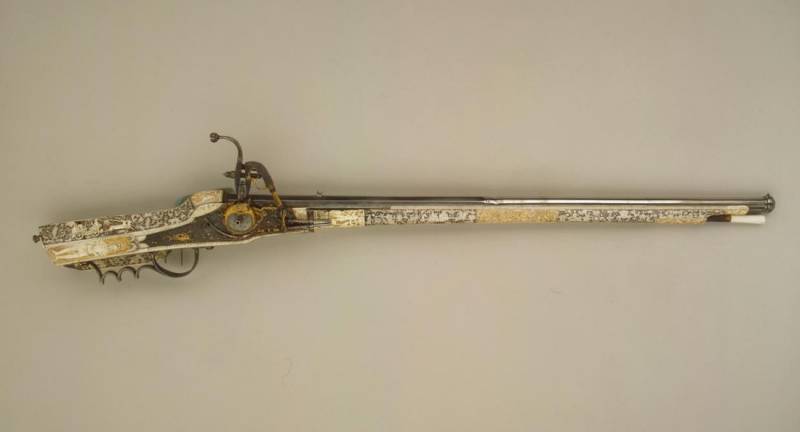 Today, photographs of artifacts from the collection of the State Hermitage Museum will be used as illustrations for the article, and… among them there is something to see! Let's start with the wheellock musket by Hans Fischer, Munich, Germany, 1590-1600. Shotgun length 113,5 cm; barrel length 84 cm. Cleaning rod length 82 cm
In addition, throughout the XNUMXth century, Russia fought almost continuously, its army grew by leaps and bounds, and it needed a lot of weapons. But how many, we'll see now.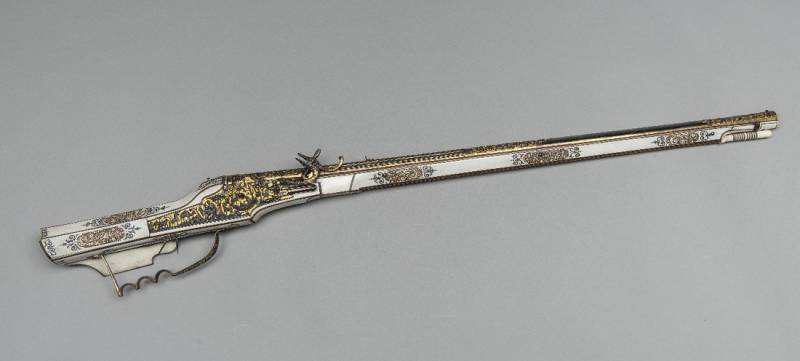 Musket with wheel lock by Daniel Sadeler and Hieronymus Bortschoffer, Munich, Germany, 1632-1637. Length 109 cm; barrel length 82 cm; ramrod 83 cm

Musket with wheel lock, late 70th century. Western Europe. Length 45 cm; barrel length 46,1 cm; ramrod length XNUMX cm
Let's start with the fact that during the 1630-1670s. in Russia, in addition to the archers, the so-called "regiments of the new system" appeared. In the period from April 1630 to the end of 1633, 10 regiments of the "new system" were formed with a total number of up to 17 thousand people.

Matchlock musket 1634 Western Europe. Length 155,5 cm; barrel length 117 cm; ramrod length 118 cm. The barrel is removed from the stock and shown separately
The most widespread among them were soldier regiments, reiters, dragoons, and even hussars. True, by 1680 the dragoons were liquidated as a branch of the army and transferred to soldiers. Nevertheless, the role of the noble local cavalry still fell very much, because now there were three to four times more infantry than cavalry. But both the infantry and the cavalry, both the old, local, and the new system, needed firearms, but there was nowhere to get them. For example, in 1631, Tula craftsmen could produce only 2000 squeakers a year, while in the regiments of the new system there were 1600 people in the infantry and 1000 in the cavalry. With similar tortoise methods, the armament of all regiments would be stretched out for many years. Therefore, in the same 1631, 19 muskets and 000 swords were purchased in Western Europe!

Musket with wheel lock, 1670 Germany. Total length 105cm; barrel length 80 cm
In 1647, preparing for the war with Poland, Tsar Alexei Mikhailovich ordered to purchase 2348 pairs of pistols for cavalry in the West, and in 1660 another 2000 pairs of the same pistols with a wheel lock. So, on the one hand, the Russian Reiter and Hussar cavalry were armed with the most first-class weapons for that time, but their own production was at a completely unsatisfactory level.

Flintlock gun with percussion lock ("mikelet") of the 101th century. France. Length: 65 cm; barrel length: 65,6 cm; cleaning rod: XNUMX cm
Meanwhile, a lot of weapons were required. After all, the army is constantly growing! In 1663, it already had 80-90 thousand infantry soldiers (55 regiments) and 20 thousand reytars (20 regiments), that is, four times more infantrymen than cavalry. But only now the infantryman needed only one barrel, while the riders needed 2, or even 3 (including, in addition to two "pistols", also a "measured squeaker").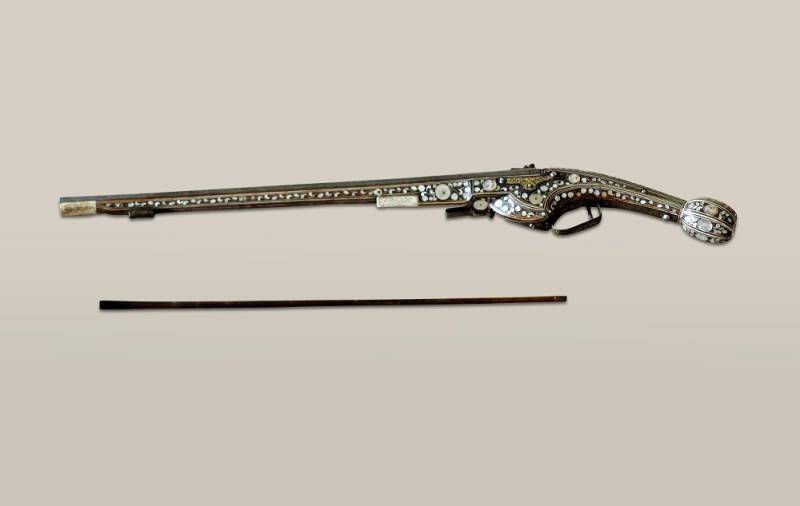 Wheeled pistol with a ramrod, late 71th – early 51th century. France. Length: 50 cm; barrel length: XNUMX cm; cleaning rod length: XNUMX cm
Therefore, not only finished weapons and their individual parts were imported from the West, but also raw materials for their production in Russia. So, in 1629, about 25 pounds (about 000 tons) of "good iron", bought at a high price, were brought from Sweden! Although back in 400 deposits of high-quality iron ore were discovered in the Urals. However, in 1628-1629. only 1630 pounds of iron were smelted from this local iron, and only 63 squeakers, two anchors and a certain number of nails were produced.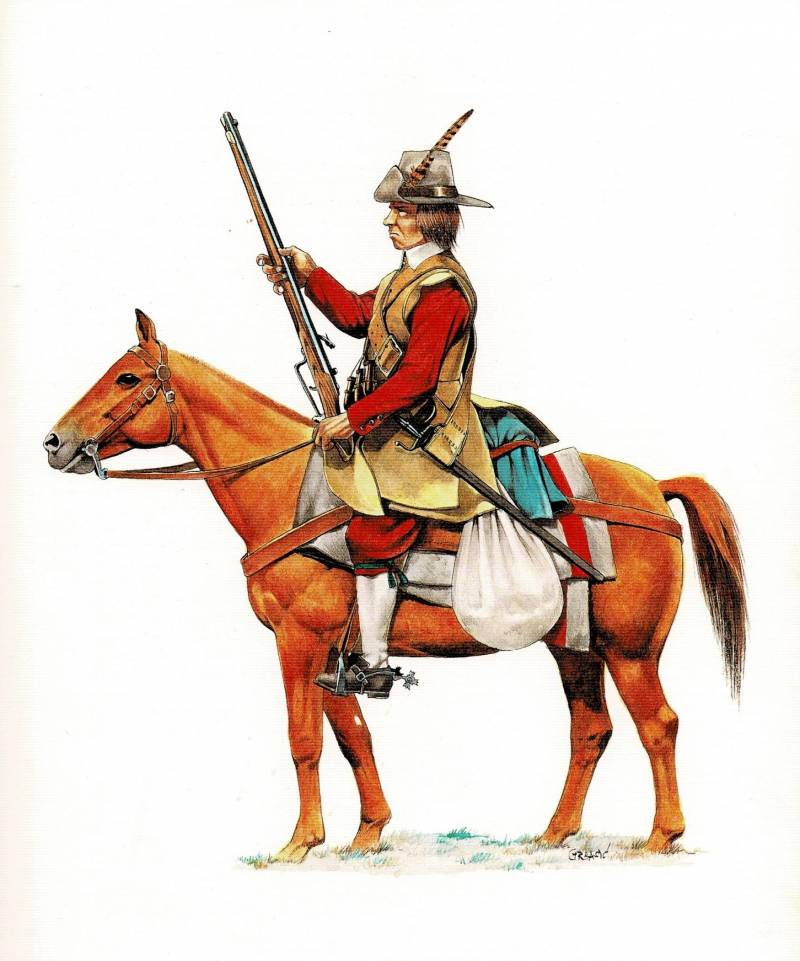 Western European dragoon 1630. Such dragoons fought on the side of Poland and on the side of Sweden. Here - he killed one of these and received both a sword and a musket! Illustration from the book V. Vuksic, Z. Grbasic. Cavalry. The history of fighting elite 650BC–AD1914" London, Cassell, 1994, P.122
On the other hand, many weapons were captured by Russian troops as a result of battles won. It was more than inconvenient for an infantryman to run with an 8-10-kilogram musket in his hands, so they were thrown in the first place. The killed horse immediately gave two pistols as trophies, and if the rider was also killed in addition, then the number of acquired weapons could double on average!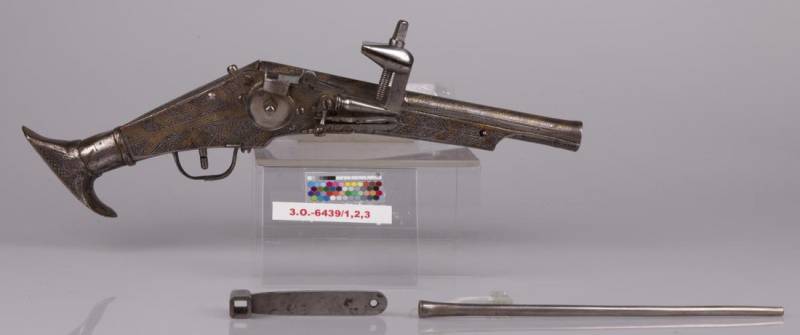 Pistol of Peter Danner, 1602 Germany, Nuremberg. Length: 38,2 cm; barrel length: 22,8 cm; ramrod: 22,2 cm; key: 9,5 cm
Another reason why we then had to buy small arms in Europe was, oddly enough, our own well-established production of ... artillery pieces. Despite the lack of iron, we had a lot of guns made, both bronze - we note that bronze casting in Russia was a very ancient art - and "iron", that is, cast iron. So, during the Smolensk campaign of the 1630s, the army had 151 large guns and seven mortars; in 1678, there were 150 artillery pieces in 3575 cities, and by the end of the century, the active army had from 300 to 350 guns. In his own royal regiment, as the largest, there were 200 guns, and in each voivodship regiment - from 50 to 80. The new "soldier" regiments, like the archers, had from six to twelve guns each. The dragoons also had their own horse artillery, up to 20 guns by 1680. At the same time, the calibers of the guns were reduced in order to increase mobility, the weight of the projectile was also reduced from 10-5 to 3 pounds. New types of guns also appeared, including breech-loading, rifled, multi-barreled, and even short guns with "square barrels" for firing buckshot ("shot"); although their diversity created serious problems. During this period, Russian gun carriages were painted red, although later, during the reign of Peter the Great, it was changed to green. Interestingly, the number of guns in the Russian regimental artillery of the 1650th century. outnumbered any Western European army, and the number of servicemen in this type of troops increased from the beginning of the 1680s to the beginning of the 1,5s by more than XNUMX times.
On the other hand, a lot of iron was also required ... a trench tool. Indeed, in Russia at that time, the construction of security lines, fortresses and prisons was almost continuously going on. Ditches and ditches were dug, shafts were poured, which were lined with turf, logs were chopped, sanded, "rallyed", "cities" were fenced and filled with earth, and, naturally, all this required metal tools.
A foreigner, Colonel Krafert, who was in the Russian service, made an interesting calculation, according to which four artillery regiments needed 5000 shovels, 80 crowbars, 200 picks and 400 axes to build field fortifications. To transport all this and the necessary ammunition, 1500 wagons with draft horses were required, that is, 375 for each regiment. Naturally, all these horses were shod, even if they had two legs, and not four - that's 750 iron horseshoes!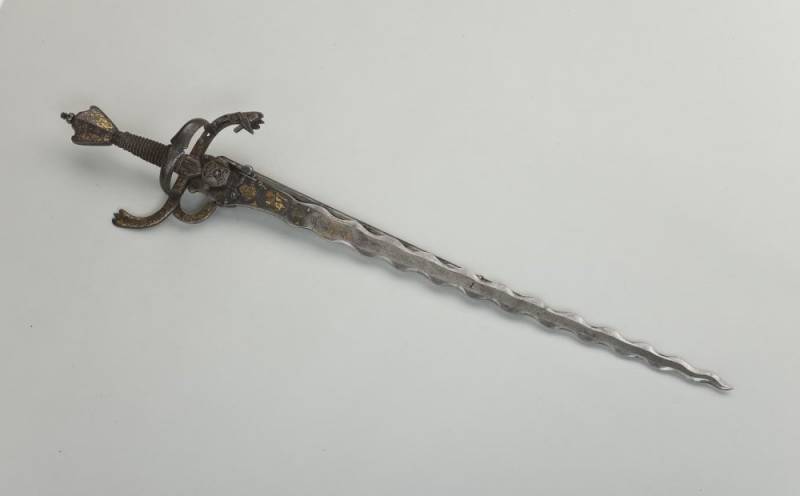 Of course, in the collections of the State Hermitage there are also quite a few such weapons that were bought as gifts, curiosities, or fell into the form of military trophies. For example, this sword with a flaming blade and a wheeled pistol from 1560 could not be a mass-produced weapon. She was either made to order and bought as a curiosity, or it was an equally outlandish trophy, which is why she survived and then did not go to the smelter. Made in France and very richly finished. Techniques such as chasing, carving, gilding, etching, taushing, weaving were used. Length: 83 cm; blade length: 59 cm; barrel length: 40 cm; handle: 17 cm
An important role in the purchase of foreign weapons in the 1650s - early 1660s. played by Englishman John Gebdon. In 1652, together with two foreigners, he was sent to Europe to buy Venetian goods for the royal court. With this mission, he successfully coped, "did not steal." Therefore, in 1658 he was sent to Holland to buy muskets, carbines, "pistols" and gunpowder, which, by the way, we also lacked, like metal. There he bought 20 thousand muskets and swords, and in the early 1660s. conducted a series of transactions that allowed Russia to receive muskets with bandels, carbines, pistols, swords, infantry lances and large quantities of gunpowder. He also carried out an operation to purchase and deliver to Russia two thousand horses for two Reiter regiments. It doesn't seem like much, does it? But the thing is that thoroughbred horses cost a lot of money. For example, in 1633, the cost of the horses of the hussar company of the Lithuanian hetman could be 120-300 zlotys per head. In a more familiar expression for us, this is something about 8,9 kg of silver for ... the cheapest of the good horses!
Cavalry war hammer (chasing) with a wheeled pistol, circa 1590-1600. Western Europe. Total length: 58,2 cm; barrel length: 40 cm
Many weapons were purchased as samples, and then copied by our craftsmen. This is evidenced by the names of our, Russian weapons. For example, French flintlocks in the first quarter of the XNUMXth century were called "Borabor" (Brabant) in our country, and you can find, for example, the following description:
Pair of pistoles of Svitsky (Swedish) iron. Philip case. Locks for Borabor business. Machine tools ivory
". At the same time, the main centers where pistols, pistol barrels, and locks were purchased were Holland, Sweden, England and Germany.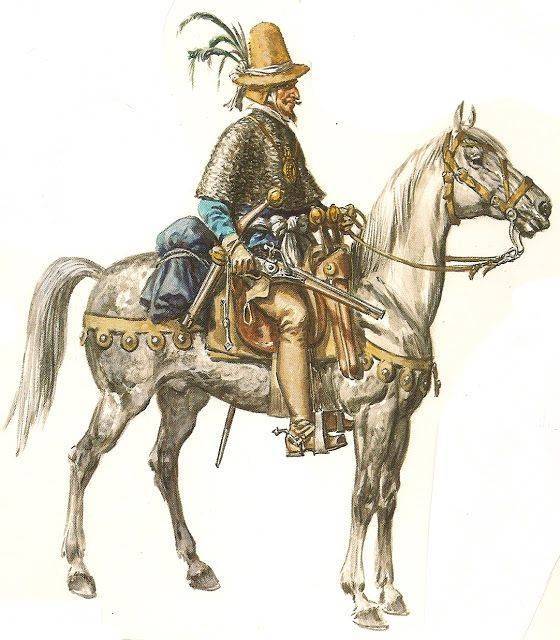 A typical Western European reiter around 1580. It is enough to dress him in a short tyagilyai, a "paper hat", shorter boots and wide ports - and our reiter of the middle of the 2002th century will be. L. and F. Funkens. Encyclopedia of weapons and military costume. Middle Ages. Renaissance: Infantry - Cavalry - Artillery. M .: AST Publishing House LLC: Astrel Publishing House LLC, 45. P. XNUMX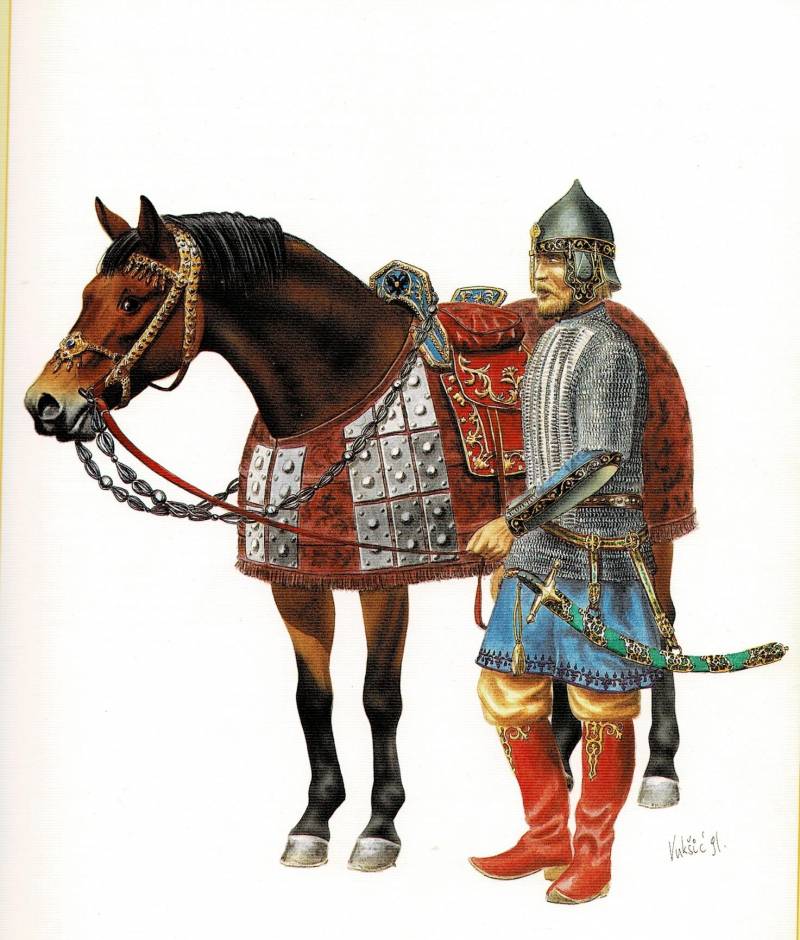 Russian rider of the noble local cavalry of the XVI century. Naturally, a noble, not some seedy nobleman from near Tula. Red morocco boots, green morocco scabbard. The saber itself is most likely Turkish or Persian. Bracers, bakhterets and a helmet - make up protective weapons. But there are no pistols in olstra yet, their time in Russia has not yet come. Illustration from the book V. Vuksic, Z. Grbasic. Cavalry. The history of fighting elite 650BC–AD1914" London, Cassell, 1994, Р.115
The "Census Book" of the Armory mentions, for example, "
a pair of Moscow pistols for the English case, steel barrels
"(pistols of 1625 by the master Timofey Luchaninov). Castles of the Anglo-Dutch type were called "Shkotsky" in our country. So often the master only made the box itself, but on the other hand it was richly inlaid with ivory and mother-of-pearl, and the barrel and lock were "
English case
". Locks, like trunks, were most often supplied from Holland, as well as the cities of Hamburg and Lübeck. All these and many other details became known due to the presence of a developed bureaucracy in the Russian state. Dragoons appeared - the "Order of the Dragoon System" was immediately established, regiments of reiters and spearmen appeared - the "Reiter order" was created, the "Order of the musket business" was in charge of firearms, while the "Order of the barrel case" (Barrel order) was in charge of rifle and pistol trunks. Well, it is clear that absolutely everything was recorded there, and many of the documents from these orders, fortunately, have been preserved for historians.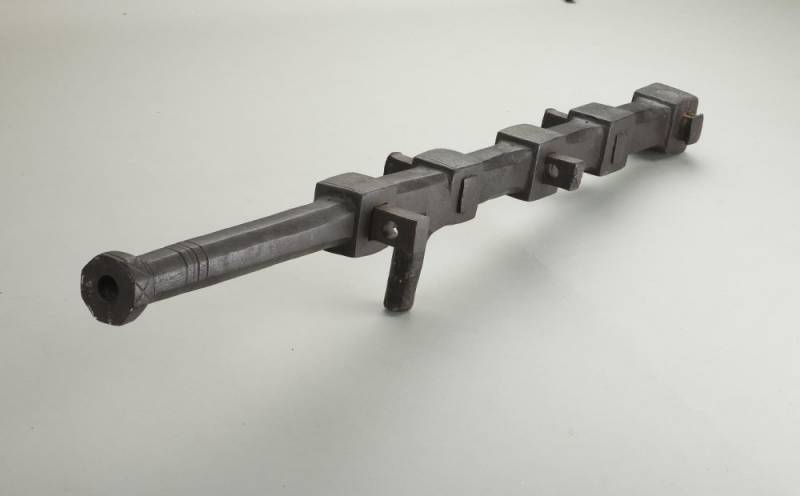 Truly an amazing creation, worthy of pride and admiration, although it looks unprepossessing: a five-shot squeaker, with sequential loading, the first half of the 122th century. - the creation of our Russian masters! Material, technique: cast iron; casting, carving. Length: 23 cm; caliber: XNUMX mm
All military people who served in the regiments of the new system received regular cash and grain salaries, uniforms, weapons and ammunition for it. As a result, all these regiments of the new system were completely supported by the state, which, by the way, is one of the signs of a regular army. True, state support was not extended to all categories of the military. The reason is simple - lack of money. For 1630-1670. expenses for the maintenance of the armed forces in peacetime increased from 275 to 700 thousand rubles.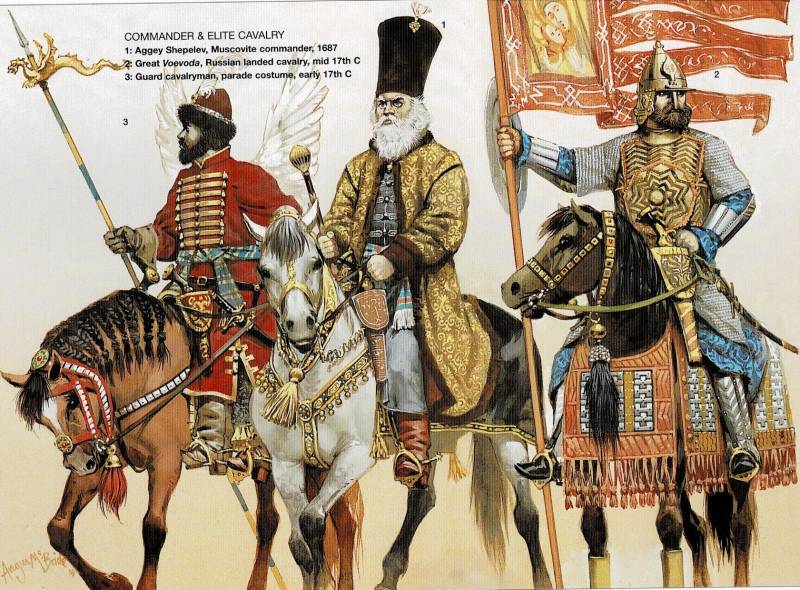 Elite cavalry of the Moscow kingdom of the 1th century: 1687 - Andrey Shepelev - boyar-voivode, 2; 3 - governor of the local cavalry, middle of the 1650th century; 600 - royal guards in full dress, early 6th century. In 600, a foreigner in the Russian service, Christopher Rylsky, being a colonel, led the first hussar regiment in the Russian army, created according to the Polish model. He was given a dragoon "shkvadron" of 12 dragoons, reduced to 18 companies, and armed with 1654 "dragoon muskets", and XNUMX protazans were given to the initial people. Rylsky, together with the regiment, participated in the solemn departure of Alexei Mikhailovich on May XNUMX, XNUMX: "Colonel Rylsky led 1000 hussars, uniformed according to the Polish model, with drums and pipes. His horse had: a sultan on his head, wings on his back and an expensive chaprak embroidered with gold". That is, the wings behind the back were used in Russia, but outwardly they differed from those that the Polish hussars had! Rice. Angus McBride
A paid army, armed in addition with foreign weapons, demanded huge expenses. They were covered by taxes, of which there were a lot in the Russian state. They had to pay full-time (for the ransom of captives), pishchalnye (for the purchase of weapons) and yamchuzhny (for the purchase of gunpowder) money, as well as fees for the city and secession business, for payment of tax and field people. In addition to these taxes in the XVII century. new ones were introduced: the archery tax, a cash tax on pay for soldiers and dragoons in the amount of 25 kopecks to one ruble from each peasant or bobyl yard. Posadskys (commercial and craft population of cities) paid a certain part of their income: "a fifth of money", "a tenth of money", etc. In addition to permanent military taxes, they also collected lump-sum taxes, and this was done by both the state and local authorities.