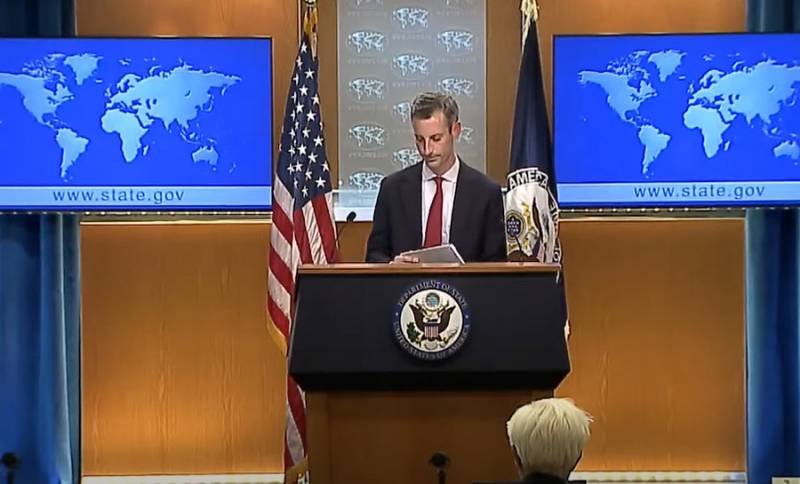 The United States warned Belarus of responsibility for using the territory of the republic to attack Ukraine. The corresponding statement was made by the official representative of the State Department, Ned Price.
The United States continues to escalate the situation around Ukraine, announcing the allegedly impending invasion of the Russian army. Another statement on this topic followed from the State Department, when the official representative of the department, Ned Price, "remembered" Belarus, neighboring Ukraine. According to Washington, Russia can use the territory of the republic to attack Ukraine, especially since there is now a concentration of Russian troops in Belarus.
The State Department decided to warn Minsk that in the event of an attack by Ukraine from the territory of the republic, a "quick and decisive" response would follow from the United States and its European partners. Answering the question of one of the journalists, what is hidden under this wording, Price explained that NATO will increase its military presence in the countries bordering Belarus.
In recent days, we have made it clear to Belarus that if it allows its territory to be used to attack Ukraine, it will face a swift and decisive response from the United States, our allies and partners.
- quotes the press service of the State Department of the words of Price.
Note that the main "accusers" of Russia are the United States and Great Britain, they are also the main suppliers of weapons to Ukraine. Accusing Moscow of preparing for an "invasion", Washington and London are using the situation to pump up Kiev
weapons
, solving their tasks aimed at weakening Russian positions. As Moscow has repeatedly stated, the United States does not need a strong Russia, since it prevents Washington from performing the functions of "the world's policeman."