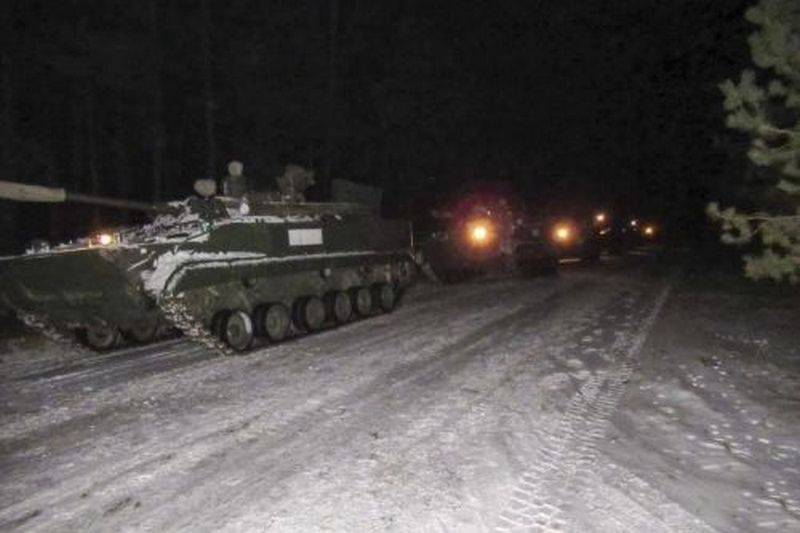 The Ministry of Defense of Belarus has published photos of Russian military vehicles that arrive in the country by rail in connection with the upcoming exercises "Allied Resolve-2022". They (pictured) depict various types of armored vehicles with tactical markings painted over, which makes it difficult to identify their belonging to specific military units.
This was noticed in the Polish edition of Altair:
Russia hides the tactical numbers of military equipment.
As indicated, according to observers, at least 11 battalion tactical groups, as well as two artillery, missile and engineering brigades and a special forces brigade, have already been transferred to Belarus. According to an official statement, these troops will take part in exercises to test the defense capabilities of the Union State of Russia and Belarus. They start on February 10th.
From January 16 to January 21, 2022, more than 33 train levels were reportedly recorded; in total, 200 trains are expected to arrive, each of which on average consists of 50 wagons. Thus, as observers note, 200 echelons are able to deliver a force grouping equivalent to 10 or more brigades.
The masking of tactical numbers may indicate that the transfer of such large forces is preparation for an invasion of Ukraine. Similar measures were taken by the Russian military in 2014 during the operation to annex Crimea and support the rebels in the Donbass.
- indicated in the Polish press.
At the same time, for some reason, the Polish press does not write anything about the fact that camouflage is part of almost any exercise, including the exercise of NATO troops. The same American units repeatedly used equipment with interchangeable designations of belonging to specific formations after it was moved to Europe. If we are guided by the logic of the Polish observer, then the United States was also preparing (preparing) for an invasion in this way ...