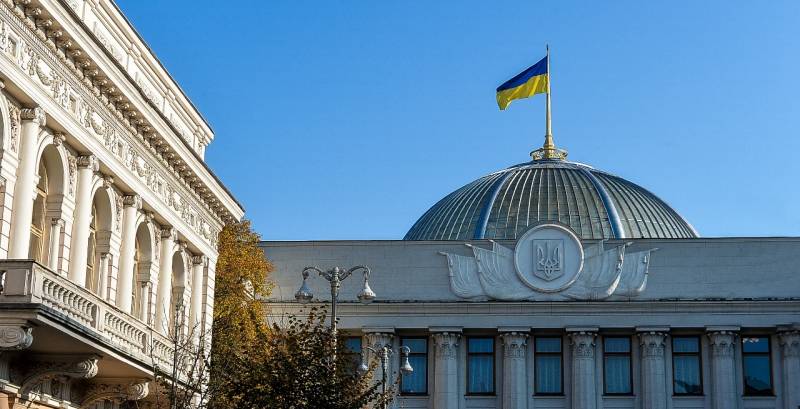 A mass protest rally near the walls of the Verkhovna Rada is taking place in Kiev. According to the Kiev National Police Department, about 1,2 thousand people take part in the action. According to the protesters themselves - at least 3 thousand.
It is reported that the so-called FOPs, a kind of analogue of the Russian version of IP (individual entrepreneur), came out to protest. The protest is due to the fact that Ukrainian entrepreneurs do not agree with the introduction of a mandatory norm for the use of cash registers. At the same time, representatives of the authorities have already announced that the rally "is of a provocative nature." Allegedly, those gathered tried to disrupt "an important meeting of the Rada, dedicated to measures to counter Russian aggression."
We are talking about the consideration of Resolution No. 6543, which was prepared by representatives of several factions of the Verkhovna Rada at once, including such as the Servant of the People, Batkivshchyna, and the European Solidarity Party. The resolution prescribes an appeal to the UN, the European Parliament, governments and legislators of foreign powers regarding the adoption of measures to "prevent military blackmail of Ukraine by Russia."
The resolution was supported by 282 deputies of the Verkhovna Rada.
The document says that foreign governments and international organizations, including the UN, "should" influence Russia in the sense that it abandoned the requirements "inconsistent with the Ukrainian Constitution." In particular, Kiev will now bombard the UN, the EP and the authorities of foreign states with letters where it is going to insist on putting pressure on the Russian Federation in order for Russia to withdraw its demand for Ukraine's non-admission to NATO.
In addition to this resolution, the Verkhovna Rada calls on foreign powers to condemn "Russia's encroachments on Ukrainian sovereignty and territorial integrity."
When discussing the draft resolution in the hall of the Verkhovna Rada, words were addressed to the UN and representatives of the authorities of foreign powers:
Let them come out with the condemnation of the encroachments of the Russian Federation on the sovereignty of Ukraine.
Entrepreneurs who gathered for a rally against the mandatory use of cash registers in the Verkhovna Rada have already been ranked almost as agents of the Kremlin, who allegedly "tried to disrupt the meeting on the adoption of a draft appeal to international institutions and foreign authorities."