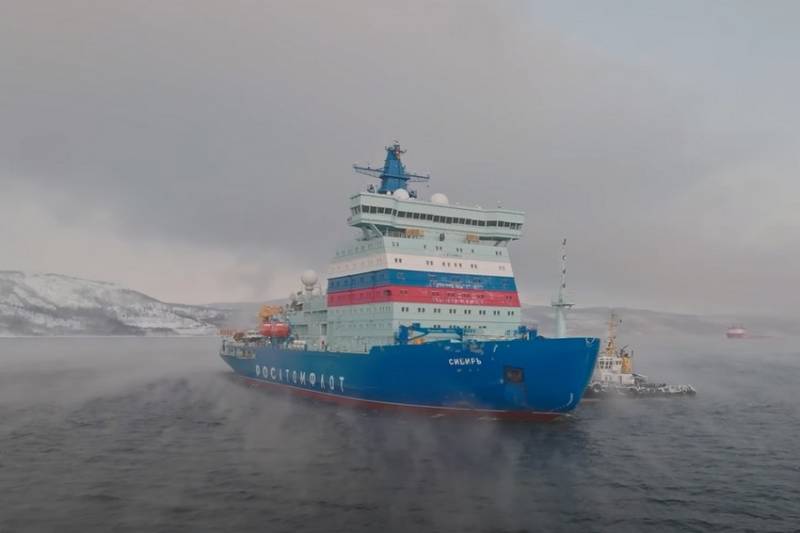 The first serial nuclear-powered icebreaker "Sibir" of project 22220 officially became part of the FSUE "Atomflot", the solemn ceremony of raising the national flag of Russia took place today in Murmansk.
On January 25, 2022, the national flag of Russia was hoisted on the nuclear icebreaker Sibir, which means the official handover of the vessel to the customer. The solemn ceremony took place in Murmansk, where the icebreaker arrived on January 23, having made the transition from St. Petersburg. As noted, "Siberia" left the city on the Neva on January 12 and had to spend 8 days on the transition, but a strong storm that raged in the Norwegian and North Seas stretched the trip to 11 days.
The icebreaker is fully ready to work in the Arctic, the first working voyage of the Siberian ship is planned for the next few days, the main place of work for the icebreaker will be the western sector of the Arctic - the Ob-Yenisei region of the Kara Sea.
The universal nuclear icebreaker "Sibir" is the first serial vessel of project 22220 after the lead "Arktika" in a series of three vessels being built at the Baltic Shipyard in St. Petersburg under a contract with Rosatom. Laid down on May 26, 2015, launched on September 22, 2017, the acceptance certificate to the customer was signed on December 24, 2021.
Length - 173,3 meters (160 meters at design waterline), width - 34 meters (33 meters at design waterline), side height - 15,2 meters, power - 60 MW (on shafts), travel speed - 22 knots (through clean water ), draft - 10,5 meters / 9,03 meters, maximum icebreaking capacity - 2,9 meters, displacement - 33 540 tons, design service life - 40 years, crew size - 54 people.
At present, the Baltic Shipyard in St. Petersburg is building three more icebreakers of project 22220 - Ural, Yakutia and Chukotka.