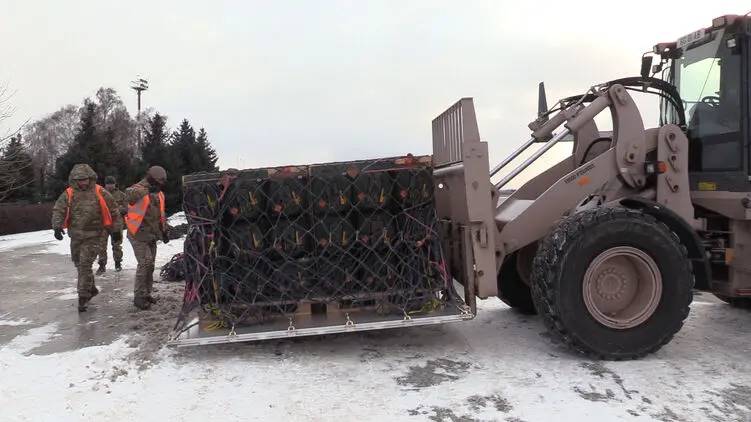 British NLAW grenade launchers for Ukraine. Photo by the Ministry of Defense of Ukraine
Ukraine is again preparing to repel "Russian aggression" and is counting on the help of friendly foreign countries. In recent days, such assistance has again acquired a real form. Several batches of various weapons were handed over to the Ukrainian side, and issues of new deliveries are being resolved. How these processes will affect the combat capability of the Ukrainian army and its plans is a big question.
special cargo
In recent years, Ukraine has repeatedly received foreign-made weapons and ammunition, both as part of purchases and as foreign aid. The latest shipments of this kind began a few days ago and are now seen as a way to urgently prepare for the expected Russian attack.
First delivery
weapons
this time carried out by Great Britain. Since January 17, she sent a large batch of NLAW anti-tank grenade launchers to Ukraine. The exact number of such weapons is not reported; the British side talks about thousands of products. For their transportation, several sorties of military transport aircraft were required.
On January 22 and 23, the United States sent its assistance to Ukrainian partners. By air, approx. 170 tons of various ammunition and weapons. The composition of such a cargo included at least a hundred FGM-148 Javelin anti-tank missile systems. In addition, an unnamed number of M141 BDM "assault" grenade launchers were delivered.
It is reported that this delivery is the first under the new plan of military-technical assistance from the United States. This document was approved in December last year and provides for the transfer of weapons, various means and products worth $ 200 million. Only a part of this amount was spent on the first 90 tons of weapons, and new batches will be transferred in the near future.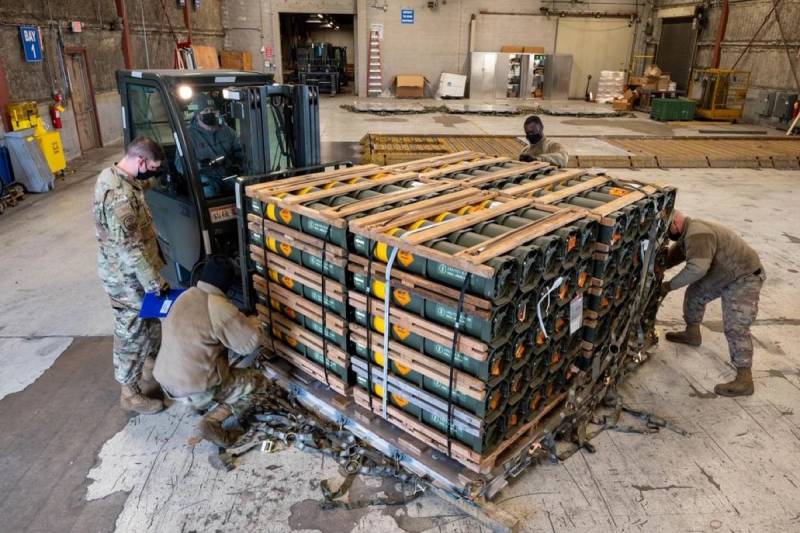 M141 products in the American warehouse. Photo by the US Department of Defense
Several foreign states expressed their willingness to help Ukraine. Accordingly, at any time there may be messages about the arrival of regular aircraft with one or another cargo. It is very likely that we will again talk about weapons for defensive purposes - to protect against the notorious Russian aggression.
Plans and problems
The United Kingdom and the United States have already sent real military products to Ukraine. Several other countries are ready to provide such assistance, but real steps of this kind are still being postponed for various reasons. It is not known how soon these issues will be resolved and deliveries will be established.
Latvia, Lithuania and Estonia are ready to provide military-technical assistance to Ukraine. At the end of last year, they spoke about the fundamental possibility of transferring anti-tank and artillery systems. However, such supplies must be coordinated with third countries. Thus, Javelin anti-tank systems were purchased in the United States, and the American side must allow their re-export to Ukraine. Estonia bought its 122-mm howitzers from Finland, which in turn bought them from Germany. The further fate of the guns must now be decided with the participation of these two countries.
The issue of re-export of American weapons can be resolved in the near future. The American press writes that Washington will allow its allies to help Ukraine by supplying weapons from the warehouses of its armies. So, Estonia will be able to send FGM-148 ATGMs to the Ukrainian army, and Lithuania will be allowed to transfer FIM-92 Stinger anti-aircraft systems.
The Czech Republic expressed its readiness to help Ukraine. However, for this it is necessary to determine the needs of the Ukrainian side and the Czech possibilities. In addition, deliveries must be coordinated within the framework of international organizations. How soon this will happen and what results it will give is unclear.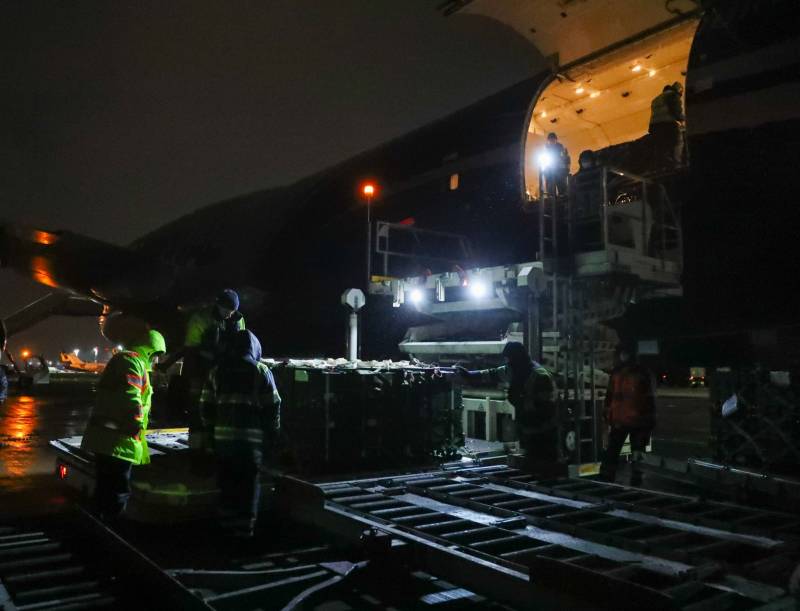 Unloading American weapons in Ukraine. Photo of the US Embassy in Ukraine
Ukraine would like to receive German-made military products, but this will not happen. The German leadership recalled that for a long time it adhered to a policy of refusing to export lethal weapons. Kiev will not be supplied with weapons. At the same time, the German side is ready to contribute to the political resolution of the current situation.
New lend-lease
In the United States, it is proposed to use a new way to help Ukrainian partners. A few days ago, senators from both parties introduced a bill on the resumption of the practice of Lend-Lease. It is proposed to conclude a special agreement with Ukraine, which will allow more quickly and without bureaucratic delays to transfer to it the necessary products "to protect the civilian population from Russian invasion."
The authors of the draft note that the current US legislation allows the President to transfer defensive means to allies for temporary use. However, there are various restrictions and procedures that delay the provision of such assistance. Due to the new bill, it is planned to optimize these processes, and without serious changes in other laws.
The lend-lease bill will have to go through all the stages of consideration and obtain the necessary approval, which takes some time. How long all these processes will continue and what they will lead to is unknown. It is very likely that the new principles of aid will be adopted and will produce real results in the foreseeable future.
Defensive and more
Against the backdrop of another escalation, a new stage in the supply of military products to Ukraine began. An approximate list of transferred items and weapons planned for transfer is already known. This information allows you to make some assumptions about the opportunities and benefits received. In addition, one can imagine how such opportunities will be used by Kiev.
It is easy to see that a significant part of the latest deliveries were anti-tank systems of various types. Thanks to this, Ukraine and foreign countries get the opportunity to talk about the supply of defensive weapons, suitable only for defense against attack. In addition, such deliveries look favorably against the background
News
about the concentration of "aggressive" Russian armored vehicles on the borders.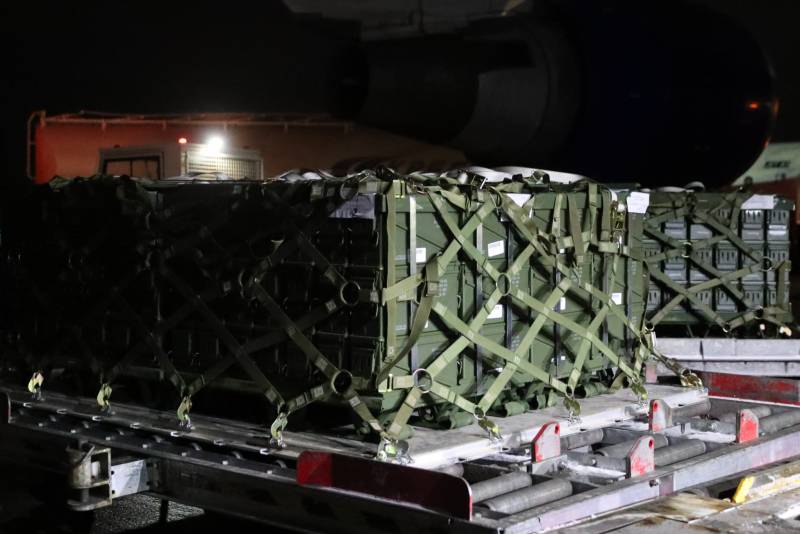 New weapons from the USA. Photo of the US Embassy in Ukraine
However, there are notable difficulties and problems. So, the Javelin complexes are not distinguished by the best ratio of cost and characteristics. In addition, realizing its potential is not too easy. British NLAW grenade launchers, in turn, have limited performance. In addition, it is reported that products of old production with expiring shelf life went to Ukraine.
You should pay attention to the M141 Bunker Defeat Munition grenade launchers. Unlike the FGM-148 and NLAW, this weapon is designed to deal with enemy fortifications and buildings; anti-tank capabilities are severely limited. Such a weapon cannot be called defensive - and it may well be used in offensive operations in the Donbass.
The proposed arms deliveries are of a specific nature. Thus, the Baltic countries are ready to provide defensive anti-tank systems or portable air defense systems. At the same time, 122-mm howitzers are offered for this, which, obviously, have not only defensive potential.
It should be noted that some of the supplied products are new for the Ukrainian army, and they will have to be studied and mastered from scratch. The full implementation of new weapons in parts will not be quick and easy. However, this does not prevent the Ukrainian leadership from rejoicing in the supply of foreign products - and at the same time talking about a "Russian attack" in the very near future.
New threats
Deliveries of weapons and equipment of various kinds to Ukraine have been going on for several years. In recent days, these processes have noticeably intensified and led to the supply of new weapons suitable for solving defensive and offensive tasks. All these deliveries are carried out under the pretext of protection from Russia, but they probably have other goals.
By supplying lethal weapons to Ukraine, foreign countries demonstrate their readiness to support it, and also solve their own political and military tasks. In turn, Kiev, along with new weapons, will receive broader combat capabilities. And some of the products received indicate that his preparations to repel a hypothetical invasion may be hiding preparations for his own attack on the republics of Donbass.