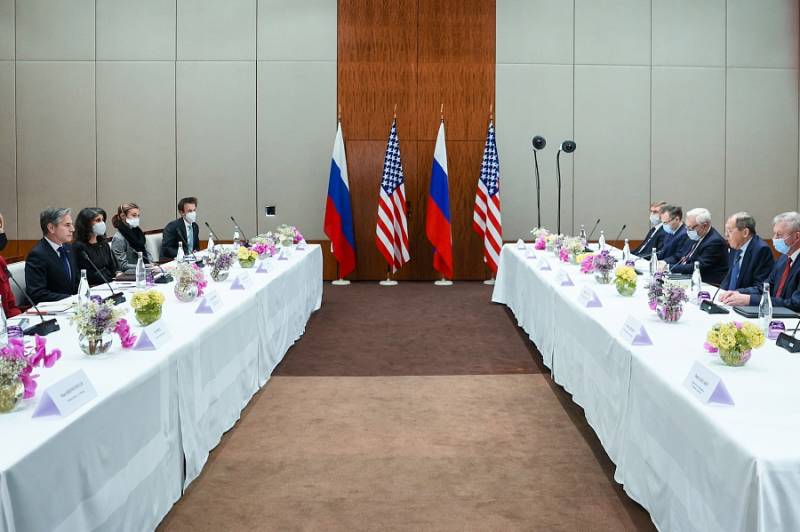 The meeting between Sergei Lavrov and Anthony Blinken ended in Geneva. According to the latest information, it lasted about an hour and a half. In fact, this meeting was the second round of Russian-American negotiations on security issues, the first round of which took place on January 9-10, also in Switzerland.
During the meeting, Sergey Lavrov presented Russia's unequivocal position on the issue of the NATO military presence in Eastern Europe. The head of the Russian Foreign Ministry pointed out that Moscow's position clearly implies non-acceptance of the former Soviet republics into the alliance, and also implies the complete withdrawal of foreign NATO military contingents from the territory of Bulgaria and Romania.
It should be emphasized that in Romania there is a position area of ​​the American missile defense system (anti-missile defense). It is located near the village of Deveselu. Russia has repeatedly stated to Washington and Brussels that the location of such an area near the borders of Russia (including Poland) poses a clear threat to the Russian Federation. The reason is that anti-missiles in launchers can be easily replaced with strike weapons - ground-to-ground missiles, which have a range sufficient to destroy objects on Russian territory. However, neither in the United States nor in NATO has anyone reacted to these concerns of Moscow in recent years. At first they said that the American missile defense facilities in Romania and Poland were "against Iran", then they completely stopped commenting on this.
Also, Sergei Lavrov, during negotiations with the head of the US State Department, said that "it's time to force Kiev to comply with the Minsk agreements." The head of the Russian Foreign Ministry noted that the Ukrainian authorities, not fulfilling these agreements, are doing everything themselves to ensure that Donbass is torn away.
The Foreign Minister stressed that during the talks, the US Secretary of State acknowledged that Russia is deploying its weapons on its territory. This is one of the key positions in the dialogue that took place, because the United States is constantly talking about the deployment of Russian troops "on the borders of Ukraine." Sergei Lavrov actually got Anthony Blinken to acknowledge the fact that there is not a single international treaty that would prohibit the Russian army from moving across its territory or through the territory of other countries whose authorities approved such a move.
For his part, Blinken said that US President Joe Biden is ready to personally meet with Vladimir Putin if this will help resolve the crisis.