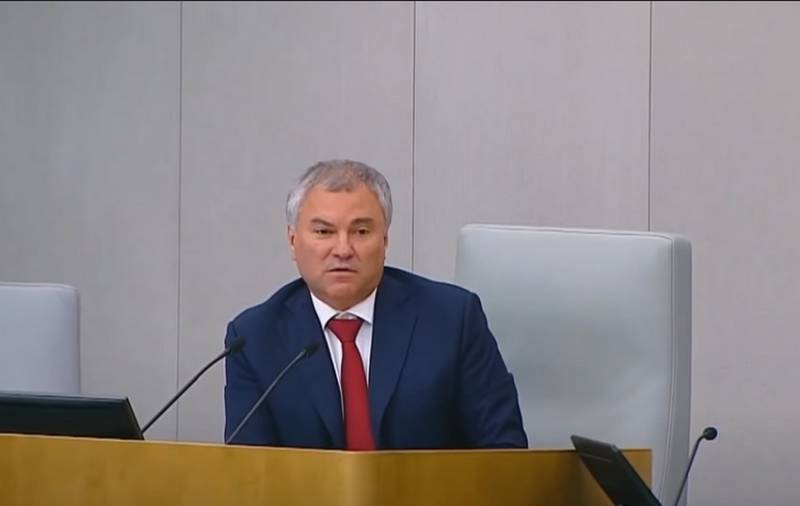 The State Duma will consider a draft appeal to Russian President Vladimir Putin on the recognition of the Donetsk and Luhansk republics. This was stated by the speaker of the State Duma Vyacheslav Volodin.
According to Volodin, the draft appeal, submitted to the State Duma by deputies of the Communist Party headed by Zyuganov, will be discussed next week with the heads of the Duma factions. As the speaker explained, preliminary consultations will be held on this issue. Only after that the project will be considered by the Council of the Duma.
As Volodin emphasized, it is necessary to look for solutions to ensure the security of the population living in the Donbass, including Russian citizens, against the backdrop of Ukraine's militant moods supported by the collective West. He noted that the Kiev authorities, led by Zelensky, are ignoring the Minsk agreements, which could lead to tragedy.
Recall that on Wednesday a group of deputies from the Communist Party headed by faction leader Gennady Zyuganov submitted to the State Duma a draft appeal to the President of Russia on the recognition of the self-proclaimed Donetsk and Lugansk People's Republics as independent, sovereign and independent states. In their opinion, over the past years, democratic bodies of the state with all the attributes of legitimate power have been formed in Luhansk and Donetsk. It was emphasized that official recognition would protect the people of the republics from external threats and the policy of genocide on the part of Ukraine. In addition, it is planned that after the recognition of the republics by Russia, a mechanism for international recognition will also be launched.
The draft appeal also raises the issue of holding talks as soon as possible with the leadership of the Donetsk and Lugansk People's Republics on the creation of a legal basis for Russia's interstate relations with the republics.