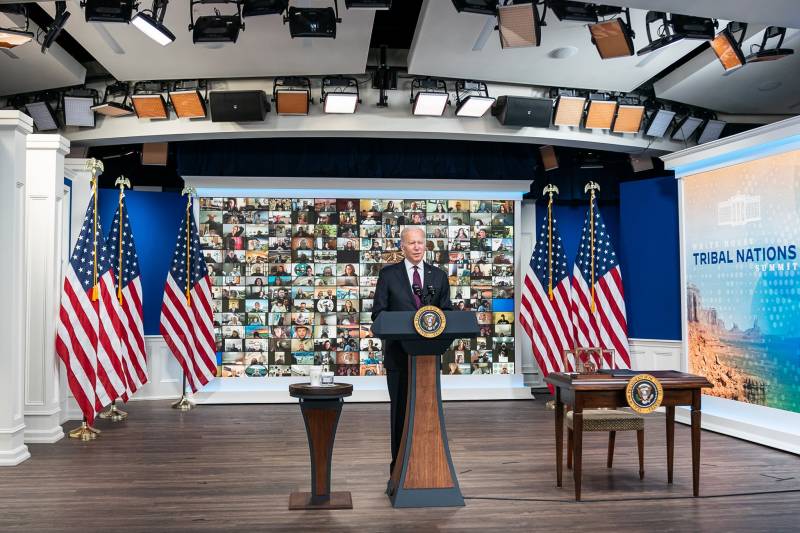 The US administration spoke ahead of a meeting scheduled for today between Secretary of State Anthony Blinken and Russian Foreign Minister Sergei Lavrov. This meeting is to be held in Geneva. The comments concern not only issues of strategic security, but also new warnings to the Russian Federation about the so-called "possible attack on Ukraine."
US President Joe Biden, who received a fair amount of criticism for his statements that "a deep Russian invasion of Ukraine will lead to serious consequences," decided to specify his words. He noted exactly what actions he intends to consider an invasion.
According to Joe Biden, this will not only be the movement of Russian troops across Ukrainian territory, but also cyber attacks against Ukraine.
Biden:
We will consider the attack on Ukraine and the actions there, including the "gray zone", of Russian servicemen not dressed in Russian military uniforms.
According to the 46th President of the United States, the United States is ready to respond to all this, "using the entire arsenal of available opportunities." At the same time, the current owner of the White House repeated his statement made during the briefing that "Russian banks will be prohibited from any operations with dollars."
Biden's words that Washington is going to consider an "attack on Ukraine" contain an actual hint that Ukraine's Western "partners" or (and) Ukrainian intelligence services controlled by them are themselves capable of committing a provocation, in order to later pass it off as allegedly the actions of the Russian Federation . The words about considering a cyber attack as an invasion sound almost a direct characteristic of the fact that the main message is anti-Russian sanctions, and they will find a reason overseas. And if they don't find it, they'll stage it.