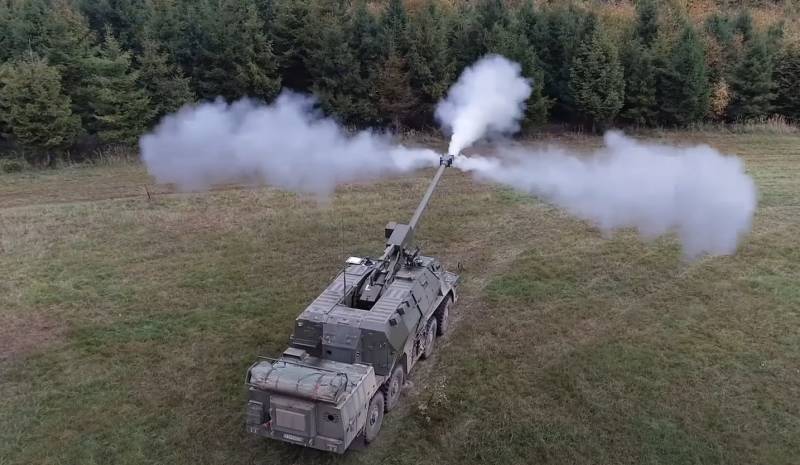 The first wheeled self-propelled howitzer Zuzana 2 was delivered to the Slovak troops in the summer of 2021. In the first half of December 2021, several artillery systems were deployed as part of the NATO force contingent in Latvia. A number of potential customers, including Georgia, are already showing interest in the ACS.
There are currently a total of 135 Slovak soldiers in Latvia; in December 2021, they were joined by crews with 9 new Zuzana 2 howitzers.
The Minister of Defense of Georgia received good recommendations on howitzers based on the results of their operation in Latvia
- said the head of the military department of Slovakia Yaroslav Nagy.
As noted in the Czech edition of CZDefence, the Zuzana 2 self-propelled guns interested the Georgian military and this interest is not accidental. Georgian troops currently use several types of self-propelled howitzers. According to IISS data for 2021, the Georgian artillery has 20 2C1 Gvozdika howitzers, 13 2C3 Akatsiya howitzers, 32 DANA vz. 77 of Czechoslovak production and one unit each of 2S7 Pion and 2S19 Msta-S.
According to the Georgian Ministry of Defense, these Soviet-era artillery systems are currently completely ineffective in the Caucasus region. In this regard, the military department decided to prepare and submit a program to improve the current state of the [artillery fleet]
- indicated in the publication.
In accordance with the comprehensive Action Plan for the period from 2020 to 2030, the intensive development of artillery is expected from 2024. At the same time, it is planned to use national production facilities for the production of mortars and other artillery systems.
This is a great option for the Slovak defense industry. The ultimate success of Slovak howitzers will open up new opportunities for her on the world market.
- noted in the publication.
The wheeled self-propelled gun Zuzana 2 is produced by Konštrukta-Defence. The 155-mm howitzer is based on the new Tatra T 815-7 chassis, the turret has STANAG 3 protection level 4569 [withstands a 155-mm projectile at a distance of 60 m], the maximum firing range is 41 km. The only operator of the Zuzana 2 at the moment is officially the Slovak Armed Forces, which by the end of 2022 can receive a total of 25 units of such armored vehicles from the manufacturer.