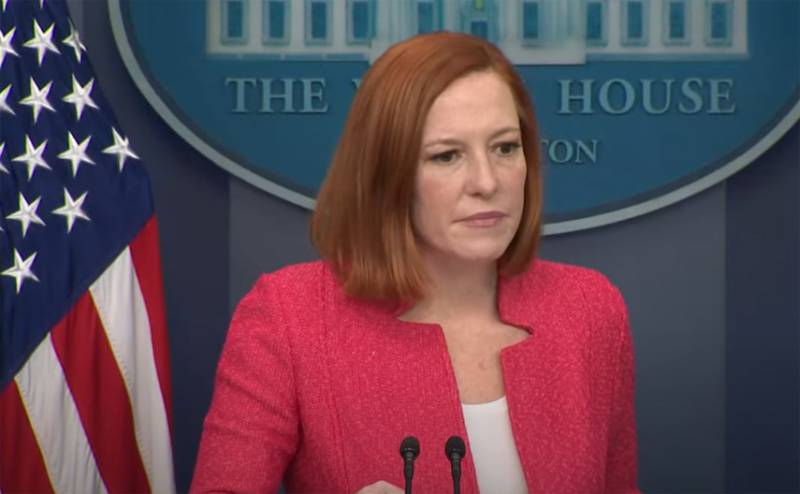 The White House is "tired" of making predictions about when Russia will "attack" Ukraine. Recall that since the fall of last year, various dates were announced in the United States on which Russian troops allegedly would launch an offensive. This topic was picked up in Ukraine itself, declaring either the date of the Catholic Christmas, or the New Year, or the night of the Orthodox Christmas. All these dates have passed, new forecasts have appeared: "February".
Realizing that all these statements turn into untenable and contribute to a frank loss of confidence in the information voiced by Washington and Kiev, the White House decided to develop a universal version of the rhetoric on this issue.
Thus, the official representative of the American administration, Jen Psaki, at a briefing that ended a few hours ago, said that "Russia can launch an attack on Ukraine at any moment." The very term "any moment" has become that unified form of numerous statements, which, from the point of view of the White House bureaucracy, will make it possible to say: "We warned you." If no "offensive" takes place, then the wording will allow the same Psaki to declare that "the threat remains" and that "the moment has not yet come."
Jen Psaki:
The President of Russia himself created the crisis by deploying about 100 troops on the borders of Ukraine. They are now moving their troops to neighboring Belarus, announcing preparations for joint exercises.
According to Psaki, the United States believes that this is a "dangerous situation." The White House official notes that "on January 21, the US Secretary of State will try to clarify the situation at a meeting with the head of the Russian Foreign Ministry." The meeting is to be held in Geneva and become a sort of second round of talks between Moscow and Washington on issues of global security.
Ordinary Ukrainians comment on statements from the White House, noting that now any movement of Russian troops will attract increased attention from Kiev, Brussels and Washington, and every time statements will be heard that these movements are "definitely connected with preparations for an invasion."