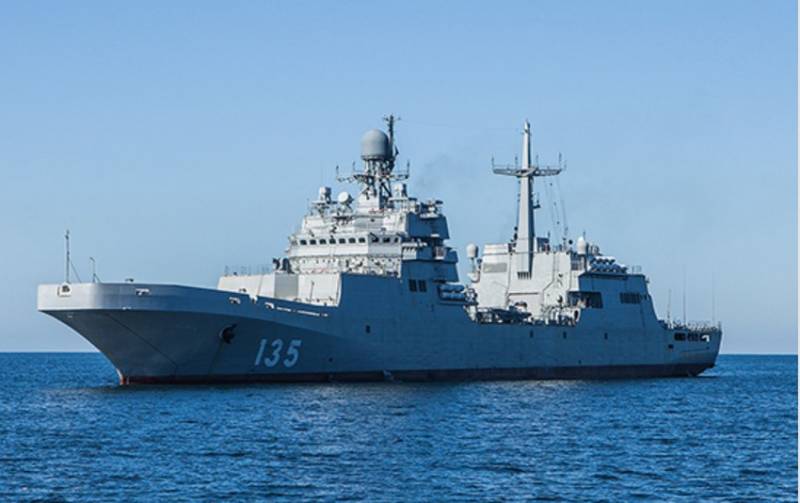 The activity of Russian ships in the Baltic region alarmed the Swedish Ministry of Defense. For three days, six large landing ships (BDK) of the Russian Navy proceeded past Sweden.
The movement of Russian BDKs was recorded on Monday by the Danes, when three Russian BDKs proceeded through the Great Belt from the Baltic to the North Sea at once. The passage of the ships was recorded by a webcam on the bridge across the strait that connects the Danish islands of Funen and Zealand.
The activity of the Russian BDKs alarmed the Swedish Ministry of Defence, the head of the Joint Operations Department of the Swedish Armed Forces, Lieutenant General Michael Claesson, said that the Russian BDKs left with a cargo, the nature of which is unknown. Also, the Swedish military does not know where the Russian ships went, but just in case, they strengthened the defense of the island of Gotland.
No sooner had they told about the first three Russian BDKs in Stockholm than the second trio of landing ships, also with cargo, proceeded through the strait. The official representative of the Swedish Armed Forces, Jonas Olsson, said that all six Russian landing ships that had been there recently had left the Baltic.
It is noted that on Monday the large landing ships Korolev, Minsk and Kaliningrad, which are part of the Baltic Sea, entered the North Sea.
fleet
, and on Tuesday the large landing ships "Olenegorsky miner", "George the Pobedonosets" and "Pyotr Morgunov" from the Northern Fleet left the Baltic. All the landing craft left with their cargo.
The Swedish press suggests that the ships are going to the Black or Mediterranean Sea.