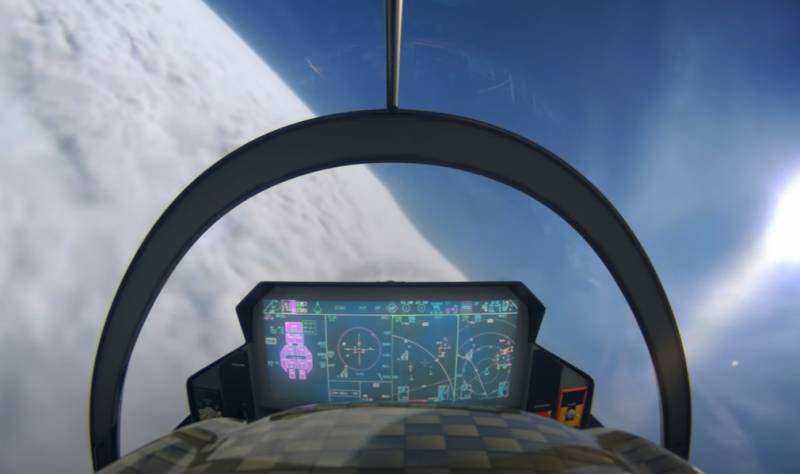 In the cockpit of a fighter. Illustrative photo
In the United States, work continues under the program to create the latest fighter, which can be attributed to the sixth generation of combat aircraft.
aviation
. The code designation of the program is NGAD. The 6th generation fighter itself is currently designated as F / A-XX, where, according to American tradition, F is from the first letter of the word "fighter" ("fighter").
Detailed information about the work within the framework of the program and the combat vehicle itself is kept secret, however, some data on the characteristics of the sixth generation American fighter has recently begun to appear. These data appear in the Western media, where materials are published with reference to American specialists involved in the development of the F/A-XX.
In particular, it became known that the first flight of a promising American fighter should be made in 2030. At the same time, the final version of the F / A-XX should appear in the US aviation fleet by 2035. By this time, hundreds of fifth-generation F-35 fighters will be withdrawn from the US Air Force and Navy.
Data are being voiced that the combat radius of action will be about 1,45 thousand km, which is significantly higher than that of the mentioned F-35 fighter.
The US Navy notes that one of the F / A-XX modifications will be a carrier-based version of the fighter. In this case, it is especially important to increase the combat radius of action.
A big stake in the development of the 6th generation fighter in the United States is on its armament. Information is confirmed that it is planned to equip the F / A-XX with combat lasers, as well as hypersonic missiles. At the same time, they will be controlled by an artificial intelligence (AI) system, the initial elements of which are being tested in the United States today. The AI ​​system at the first stage will assist the pilot in choosing the most optimal weapons for hitting a specific target.
The maximum flight speed of the sixth generation fighter at an altitude of 10-12 thousand meters is designated as 2,3 thousand km. In this regard, the United States states that the promising fighter will also be used as an interceptor. Moreover, there is a section of the NGAD program, which involves the creation of an unmanned version of this fighter, where artificial intelligence will control not only
weapons
, but also by all stages of flight, including those when you need to get away from enemy missiles fired during an attack from the air or from the surface of the Earth.
The United States believes that within 8-10 years they will be able to accomplish the task and deliver up to 2035 sixth-generation fighters to the troops by 250.