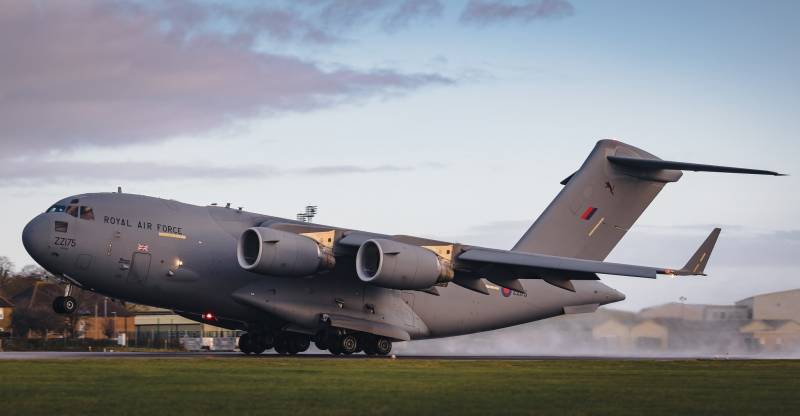 Materials have appeared in the German and British press saying that Germany has decided to close its airspace to aircraft that supply weapons and military equipment to Ukraine. The materials indicate that the airspace was allegedly closed to military transport
aviation
Britain and Canada. At the same time, the United Kingdom recently decided to supply anti-tank systems for the needs of the armed forces of Ukraine.
News
about the closure of German airspace for aircraft with weapons for Ukraine began to be actively discussed both in the Western world and in Ukraine itself.
In particular, it is noted that British aircraft with
weapons
for Ukraine, on board, it was necessary to make a fair "detour" in order to reach Kiev airport. The materials of the British press say that aircraft from the UK were forced to fly to Ukraine through Danish airspace, flying around the airspace of Germany from the north. Thus, the duration of the flight exceeded the planned parameters, which were usually fixed during the flights of the Royal Air Force aircraft to Ukraine.
Meanwhile, German journalists turned to the United Kingdom Ministry of Defense with a request to comment on the situation. The British department said that they "did not themselves submit a request to fly in German airspace." Allegedly, it was planned to fly through Denmark.
However, this explanation did not satisfy the journalists, who asked why London decided to send its transport aircraft over a longer air route? At this, the communication of the official representative of the British Ministry of Defense with the reporters stopped. The department of Ben Wallace did not answer this question.
This gives reason to say that Britain and Germany are in a state of dispute over the supply of weapons to Ukraine. Recall that the German government did not consider it necessary to provide Kiev with military-technical assistance, noting that both Ukraine and Russia are friendly countries for Germany. In Germany, they say that they are in favor of a political and diplomatic resolution of the conflict situation.