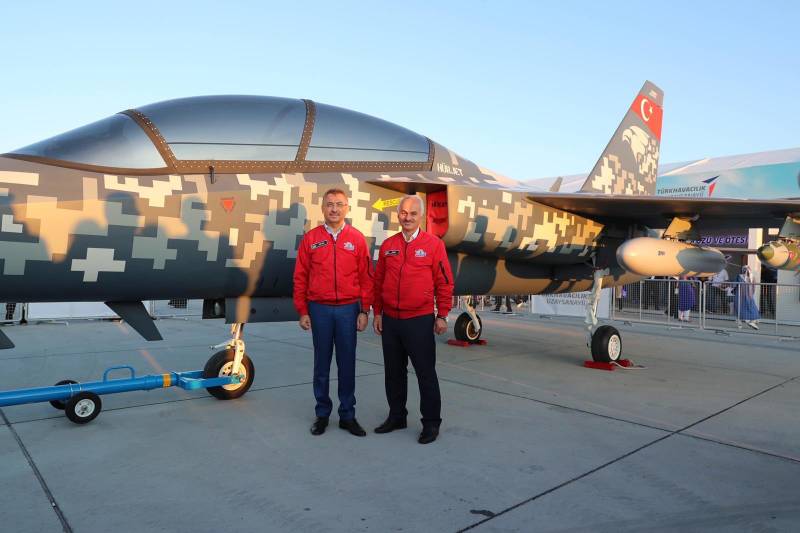 Turkey is preparing a presentation of a new promising combat training aircraft of its own design Hürjet. As stated in the developer company, the presentation of the aircraft will take place in the near future.
Turkish Aerospace Industries (TAI) intends to present to the general public the Hürjet combat trainer aircraft, which is being developed both for the Turkish Air Force and for export deliveries, within the next two months. According to the head of TAI Temel Kotil, the company has big plans for this aircraft.
According to Kotil, at the first stage, the company will build four prototype aircraft, which will take part in the tests. The aircraft will make its first flight in 2023, and from 2024 it should go into mass production. At the first stage, it is planned to produce only seven aircraft per year, but after 2025 the plans are grandiose, the company plans to produce 2 aircraft per month. Although there is no actual aircraft yet, the company is already offering it to potential customers. For example, the UBS Hürjet was proposed to Malaysia as a light attack aircraft. In the Turkish Air Force, he must replace the training T-38s, and the combat training F-5s, the need for at least 70 aircraft has already been announced.
Work on a new combat training aircraft capable of performing the tasks of a light attack aircraft began in 2017, in April 2018 the development of the Hürjet concept design was completed, in 2019 the creation of project documentation was completed. The single-engine jet is actually a further development of the Hurkus turboprop UBS series.
Declared characteristics: length - 13,4 meters, wingspan - 11 meters. Payload - 3000 kg, speed - Mach 1,2 (1470 km / h). Flight altitude - 14 km. Modern weapons systems will allow the use of both guided and conventional weapons.