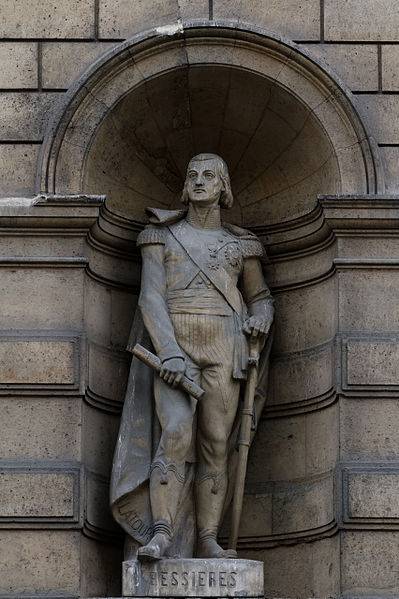 Statue of Marshal Bessières on Rue Rivoli, facade of the Louvre
В
previous article
we talked about the youth of Jean-Baptiste Bessières, his family, the military service of the French Republic, thanks to which he became one of the first marshals of Bonaparte. Today we will continue and finish this story.
Combat campaigns 1805-1807
During the War III of the Coalition, Bessier's Guards Cavalry participated in the operation to encircle the Austrian troops near Ulm. In the Battle of Austerlitz, Bessieres' cavalry and General d'Hautpoule's cuirassiers fought the Russian guards.
At first, the Life Guards Horse and Hussar regiments of the Russian army, reinforced with horse guard batteries, counterattacked the French and achieved some success. But then 2 squadrons of rangers of the cavalry guards and a company of Mamelukes under the command of General Rapp overturned them, and then they cut into the square of the battalion of the Semenovsky regiment, capturing an artillery battery. The rest of this regiment, as well as Preobrazhensky, began to retreat. After that, the elite Cavalier Guard Regiment entered the battle, in which the children of aristocrats and the Cossack Guards Regiment served. The cavalry guards, which L. Tolstoy in the novel "War and Peace" called "
rich handsome men on thousandth horses
", until then they had never been in battle, and the French clearly showed them how easy and pleasant service at court differs from the real military one. At first, they were attacked by two squadrons of horse rangers and a squadron of horse grenadiers, and then they were hit by 4 squadrons under the command of Marshal Bessieres himself. The surviving cavalry guards later recalled with horror their battle cry for a long time (they knew French better than Russian, and understood everything perfectly):
"Let's make the St. Petersburg ladies cry!"
The attitude of Russian aristocrats to this campaign is evidenced by the fact that the wives of many of them were ... in the army train - such a pleasure trip to the war with the "Antichrist-Bonaparte". The wife of Prince Nikolai Repnin, commander of the 4th squadron of cavalry guards, who was captured, was among these "tourists". She soon arrived at Melk Abbey, where her wounded husband was comfortably accommodated. The wounded rank and file of the Russian army, of course, did not even dream of such treatment by the victors.
In the fleeting campaign against Prussia in 1806, Bessieres led the II Corps of the reserve cavalry, took part in the battles of Jena and Helsberg.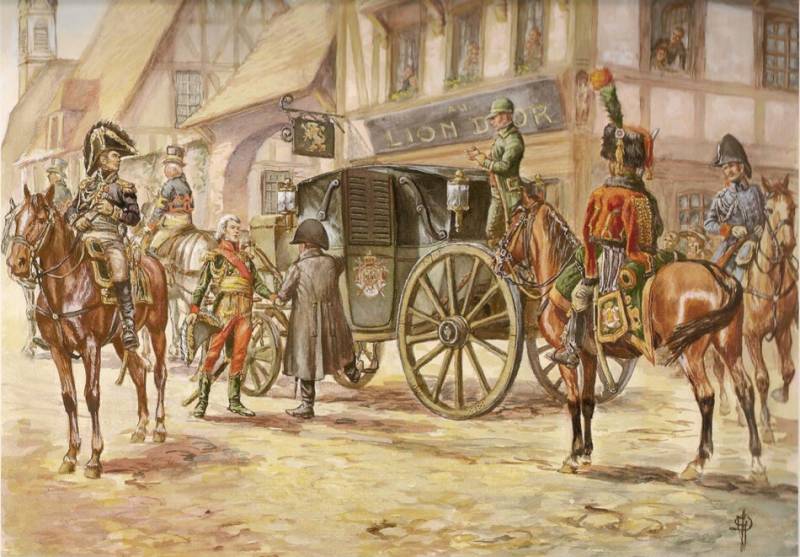 In a painting by Patrick Courcelle and Jacques Girbal, we see Marshal Bessieres meeting Napoleon in Berlin
In 1807, Bessières distinguished himself at the Battle of Preussisch-Eylau, where, together with Murat, he took part in a brilliant cavalry attack on the center of the Russian positions, which saved the French from defeat. In this battle near Bessieres, two horses were killed.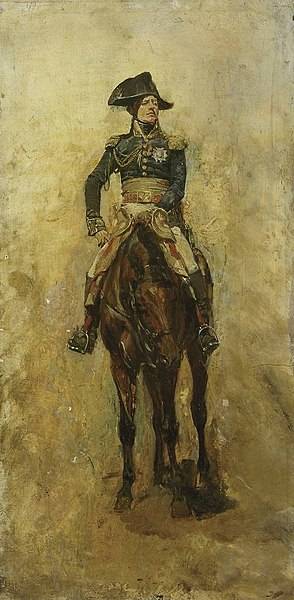 E. Meissonier. Equestrian portrait of Marshal Bessières
Bessieres also participated in the decisive battle at Friedland.
Bessieres in Spain
After the conclusion of the Tilsit Peace, Napoleon unexpectedly sent Bessieres as an ambassador to Württemberg in August 1807. However, the marshal did not stay in diplomatic work. Already in 1808, Bessieres was sent to Spain, where soon he, at the head of the II Corps numbering 12 thousand people, managed to defeat the 24 thousandth Spanish army of General Cuesta (battle of Medina del Rio Seco). Satisfied Bonaparte wrote about this victory, which opened the way to Madrid:
"Bessières elevated my brother Joseph to the throne of Spain."
In May 1809, Bessières received the title of Duke of Istria.
However, the victory at Medina del Rio Seco was the only success of Marshal Bessieres in Spain. In early 1809, he was removed from office by the emperor. He handed over his corps to Soult, and he himself became commander of the reserve cavalry of the French army.
War with Austria
The cruel and bloody Pyrenean War forced Napoleon to constantly keep significant forces in Spain. Contemporaries even said that Bonaparte now "
can only fight with one hand
". The Austrians decided to take advantage of this circumstance, who counted on the fact that their first successes would cause an uprising in the German regions controlled by Napoleon. They also counted on a solid monetary subsidy from England and tried to drag Russia into this war. In France, this activity did not go unnoticed. In January 1809, Napoleon arrived from Spain in Paris and also began preparations for a possible war. In relation to Russia, he traditionally demonstrated peacefulness, trying in every possible way to explain to Alexander I that there were no deep contradictions between their empires, just as there was no reason for a new war. He took a completely different position in relation to Austria:
"She wants a slap; I will give her two - one on each cheek, and you will see how she will thank me and ask me for further orders.
According to the 10th paragraph of the agreement concluded in Erfurt, Russia was obliged to support France in her war with Austria. However, trying to maintain good relations with Alexander I, Napoleon did not put pressure on him and did not demand decisive action. He agreed to any, even symbolic, help, leaving the Russian emperor the right to choose military means - if only Russia would not get into a fight with him again - for English money and Austrian interests. Alexander hesitated and acted in his own style, which Pushkin wrote about, calling this emperor "
weak and cunning
". The tsar assured the French ambassador Caulaincourt of Russia's readiness to fulfill allied obligations. He promised the Austrian envoy Schwarzenberg "
take all measures to ensure that Austria is not struck"
(this general will return to military service 2 days before the Battle of Wagram).
Napoleon prepared for a new war very seriously. The cavalry units of Generals Montbrun and Lassalle, as well as Lannes and Lefebvre, who spoke German well, were withdrawn from Spain. Davout was supposed to assemble a 45-strong army from the French units quartered in Germany and bring it to Bamberg. The disgraced General MacDonald was sent to Italy to Eugene Beauharnais, who took on the role of the guardian of Bonaparte's stepson. Massena went to Augsburg, where Oudinot's corps was supposed to connect with the Badens. Bernadotte, who led the Saxon troops, was located near the borders of Bohemia. The Polish troops of Jozef Poniatowski (about 18 thousand people) were concentrated near Galicia. But Bonaparte, in his absence, entrusted the supreme command to his chief of staff - Berthier, who had no experience in commanding large armies, and did not at all seek such experience. The great general staff officer made a number of mistakes and quarreled with Marshal Davout, who was trying to correct them, for which he later received a reprimand from the emperor.
The Austrians fielded three armies totaling 310 men. The German army (the largest of the three) was commanded by Archduke Karl. The Italian was led by Archduke John, this army was divided into two parts: the first, under the leadership of Elachich, took up positions in Tyrol, the second, commanded by Giulai, operated in Dalmatia. Archduke Ferdinand became the commander of the smallest - the Galician army. Military operations were started by the German army, which entered Bavaria on April 10, 1809 - and was defeated in the so-called Five-Day Campaign, which included battles at Tengen, Abensberg, Landsgut, Eckmuhl and Regensburg. Interestingly, in the battle for Regensburg, Bonaparte himself was wounded in the leg, and generals Marbo and Labedwier, who personally led the assault, were among the first to climb the walls of the fortress. Having lost 40 thousand people, Archduke Karl still managed to retreat in an organized manner, saving his army, but Bessière's cavalrymen rushed to Vienna. They approached her on May 10, 1809, on May 13 the city capitulated.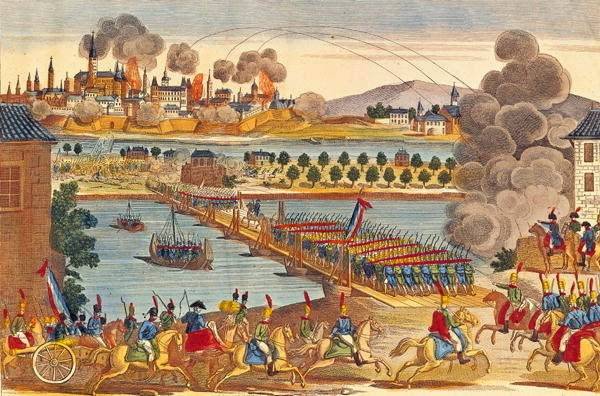 Storming of Vienna 10 May 1809, XNUMXth-century French colorized engraving National Library, Paris
Only three days later, the army of Archduke Karl came to the capital.
This was followed by the tragic battle of Essling-Aspern, in which Massena and Lanna, who had crossed to the other side of the corps, were left alone in the face of the entire Austrian army as a result of the collapse of the pontoon bridge. Here Marshal Lannes was mortally wounded, and again Massena showed himself from the best side. This has been covered in previous articles. I will only add that at that time hostility between Bessières and Lannes was clearly manifested, and it almost came to a duel between them. The instigator of the quarrel was Lannes, who hated Bessieres (after his report to Bonaparte about the shortage of guard units in the box office), who, according to Marbo, wanting to provoke his opponent, sent an adjutant to him with the order:
"Tell Marshal Bessières that I order him to attack decisively!"
Bessières was indignant and took out his anger on the innocent envoy.
Then Lannes, at a meeting with Bessières, rudely declared:
"I find it too bold of you to chastise one of my adjutants!"
Further, according to Marbo, the following dialogue took place:
"Know," cried Lannes, "that in the army they do not listen, but follow orders!" If the idea came to the emperor to make you my commander, I would immediately resign, but as long as I am your commander, I will give you orders, and you will carry them out. Otherwise, I will remove you from command of the troops. As for a decisive attack, I gave you this order because you did not do it - since the morning you have been prancing in front of the enemy, and not really attacking!
"But that's an insult!" Bessieres exclaimed angrily, "you will answer me for this!"
"Right now, if you like," Lannes replied, taking up his sword.
Massena had to separate the marshals.
During this battle, Bessières and his adjutant were surrounded by Austrian lancers, but they were rescued by Lassalle's cavalrymen.
Meanwhile, MacDonald and Eugene Beauharnais approached Vienna with fighting. Here MacDonald will receive a marshal's baton - immediately after the Battle of Wagram. During this battle, another scandal occurred due to the refusal of General Walter, subordinate to Bessieres, to support the attack of General MacDonald's corps. Walter motivated his refusal by the lack of orders from Bessieres, who at that time was shell-shocked. It is said that many of Bessier's subordinates then wept, thinking that the marshal had died. Napoleon then said about this:
"Here is the core that made my guard cry."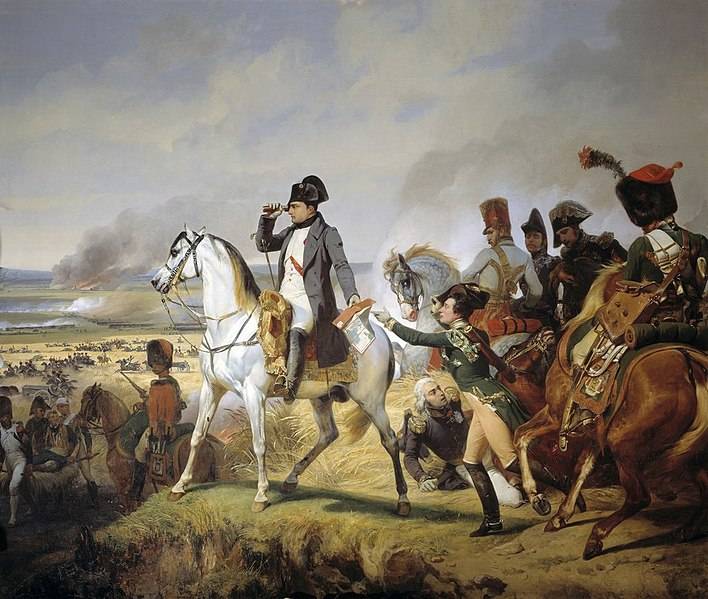 Horace Vernet. Napoleon a Wagram. Here we see a shell-shocked Bessière - lying behind Napoleon (he can be immediately recognized by his powdered hair)
The army of Archduke Ferdinand at that time entered Poland and occupied Warsaw. Jozef Poniatowski retreated, but not to the west, but to the east - to Galicia, where the anti-Austrian uprising began. The Russian army of General S. F. Golitsyn, allied to Napoleon and, consequently, to Poniatowski, also acted against the Austrians.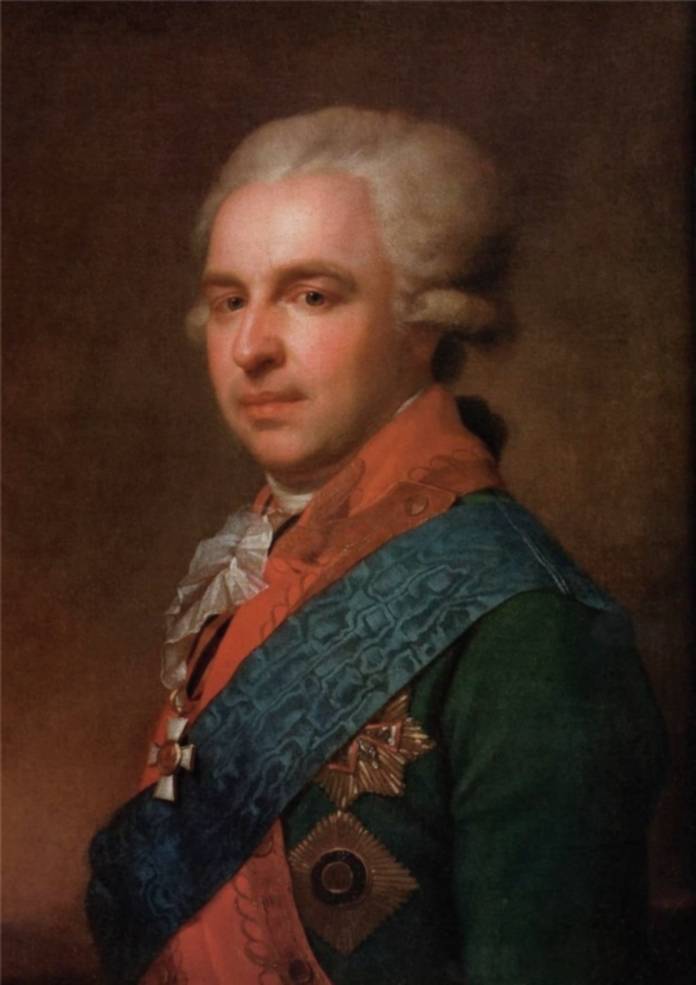 S. F. Golitsyn in a portrait by an unknown artist, 1791, Museum-Reserve "Dmitrovsky Kremlin"
Golitsyn got along well with the Austrians, who retreated as soon as they saw the Russian troops in front of them. During the entire campaign, the Russians lost three people killed, five wounded, three people were captured (this military clash happened by mistake, when at night the Austrians, without understanding, mistook the Russians for the Poles). 41 Austrians ended up in Russian captivity. But with the Polish allies, relations with Golitsyn's subordinates, on the contrary, were extremely tense, and several times it almost came to hand-to-hand combat. In addition, the Poles captured the courier Golitsyn (I wonder on what basis?), who found a very kind and even friendly letter to the Austrian commander. The letter was sent to Bonaparte, who received further proof of Alexander's insincerity and unreliability as an ally.
In the end, the Austrians were forced to withdraw from Poland. And Russia, without making practically any effort for this, only thanks to an alliance with Napoleon, received the Tarnopol district with a population of 400 thousand people: until then, our country had never acquired territories with such minimal effort. Most of the population here at that time was hostile to both the Austrians and the Poles, and was distinguished by pro-Moscow views. Later, Alexander I, it is not clear why, exchanged these lands for Polish ones alien to Russia.
Return to the Pyrenees
In January 1811, Bessières was appointed commander of the Army of Northern Spain, which operated from Asturias to Navarre, and was also supposed to support Massena's Portuguese army.
On May 5, 1811, Massena at Fuentes de Onoro entered the battle with Wellington's troops and greatly pressed them. Victory was close when he ordered a decisive blow to Bessieres's subordinate, General Lepic. You can learn about what happened next from the memoirs of Massena's adjutant - A. Marbo (who will become a marshal in 1831 - under Louis Philippe):
"At this time, Massena, wanting to consolidate the victory, sent an adjutant to General Lepic, who was in reserve with the guards cavalry, with the order to attack. But the brave Lepic, biting the blade of his saber in despair, answered with pain that his immediate superior, Marshal Bessieres, had categorically forbidden him to let his units go into battle without his own order ... Immediately ten adjutants were sent in different directions in search of Bessieres, but he , who for several days relentlessly followed Massena, disappeared, of course, not out of cowardice - he was a very brave man - but out of calculation or envy of his comrade. Without thinking at all about the highest interests of France, he did not want to send a single one of his soldiers to ensure a victory, the glory of which would go to Massena.
«
To win, I need more troops and fewer Bessiers
", - Massena himself bitterly commented on this situation, for whom this battle was the last in his life.
1812 Campaign
In 1812, Bessières commanded the cavalry of the Guards. He offered Napoleon to stop at Smolensk. In the battle of Borodino, Ney, Davout and Murat begged the emperor to send the guards into battle, vouching that the Russian front would be broken through. There are different versions of the phrase that Bessières said then to Bonaparte, including this one:
"The whole of Europe stretches between us and France, it is necessary to save at least this handful of soldiers that can be counted on."
Many participants in the Battle of Borodino from the French side did not forgive Bessieres for these words. But most modern historians, on the contrary, consider this advice reasonable and say that he may have saved the emperor during his retreat from Russia. R. Delderfield, for example, writes:
"If there was no guard that could unite everyone else around itself, no one would have returned from Russia. Napoleon's career and Imperial France would have died out like a candle at the end of December 1812."
After the Battle of Maloyaroslavets, Murat asked for guards units, promising to open the road to Kaluga for the Great Army. Bessières answered him:
"For such an enterprise, the army, even the guards, will not have the courage ... We have just become convinced of the insufficiency of our forces. What enemy will we have to fight? Didn't we see the field of the last battle, didn't we notice the fury with which the Russian militias, barely armed and uniformed, went to certain death?
Segur writes that Bessieres advocated a retreat - and was the first to utter this word. And Napoleon's offer to Bessieres
as if approved by his silence
».
The death of Bessieres
In 1813 Bessières was haunted by bad premonitions. On May 1, his troops were preparing for the battle at Weissenfels. Marshal was in a gloomy mood. He burned his wife's letters, which he had carefully kept until then, had breakfast reluctantly, saying to the adjutants:
"If the core is to take my life this morning, I don't want it to happen on an empty stomach."
It was the core that he was killed a few hours later. It happened during a reconnaissance near the village of Rippah.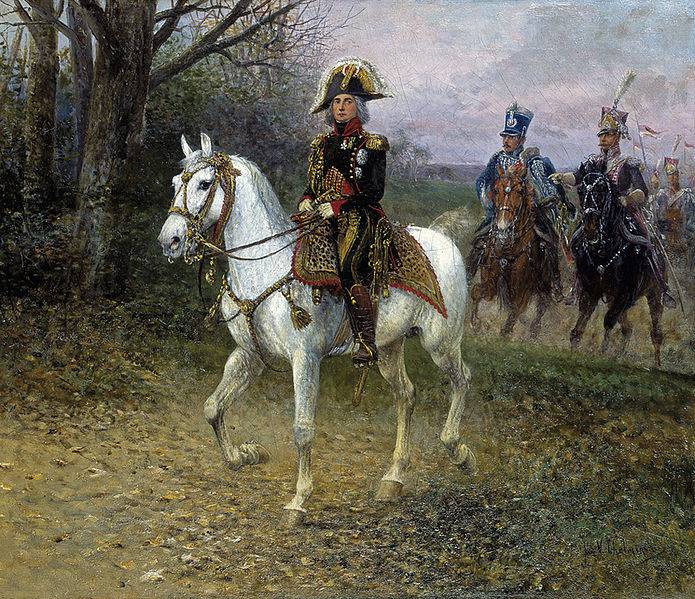 Jan Zhelinsky. Marshal Bessières with escort officers, 1813
A random core tore off the marshal's left arm and pierced the torso.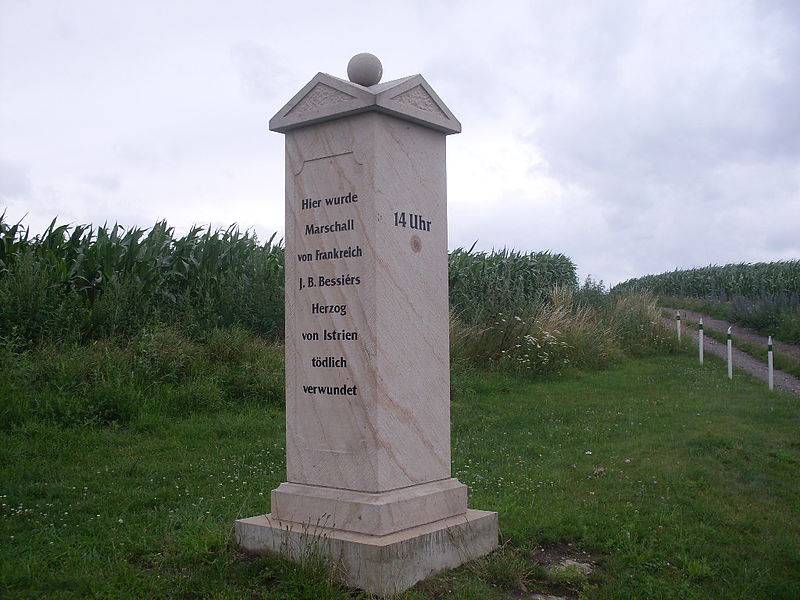 Memorial sign at the place of death of Marshal Bessieres
Bessières became the second marshal to die on the battlefield, and his death made a depressing impression on all the soldiers and officers of the French army. At the same time, Marbo claims that Bonaparte was saddened most of all, who, having learned about the death of his marshal, said:
"Bessières lived like Bayard and died like Turenne."
He wrote to his widow:
"My cousin, your husband died on the field of honor. The loss that has befallen you and your child is undoubtedly enormous, but for me it is even more irreparable. The Duke of Istria died a beautiful death and without torment. He left an unsullied reputation and this is the best legacy that he bequeathed to his son. I take him under my protection. My affection, which I felt for his father, will also pass to him. Try to find comfort in these assurances of mine and never doubt my good feelings towards you.
Michel Ney, saying goodbye to the body of Bessieres, said:
"This is our destiny. It's a beautiful death."
Alas, he himself was not destined to die in his last battle at Waterloo - even though he was looking for death in him.
As we already know, Bonaparte paid Bessières' debts. Later, the Emperor of Austria Franz I appointed the marshal's widow an annual annuity of 20 thousand francs as compensation for the duchy of Istria lost to her (and ceded to the House of Habsburg).
Bessières' body was buried in the Les Invalides in Paris, and his heart was buried in his hometown of Pressac, where a monument to his fellow countryman was erected by the townspeople.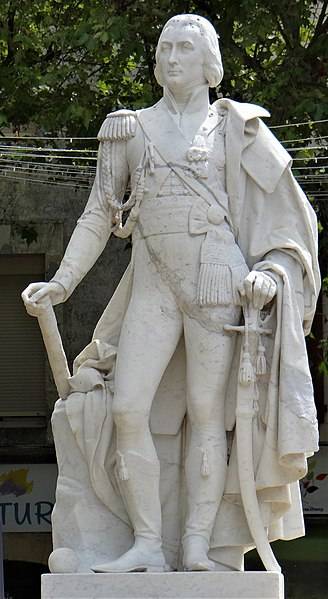 Prayssac. Monument au marechal d'Empire Jean-Baptiste Bessieres, duc d'Istrie