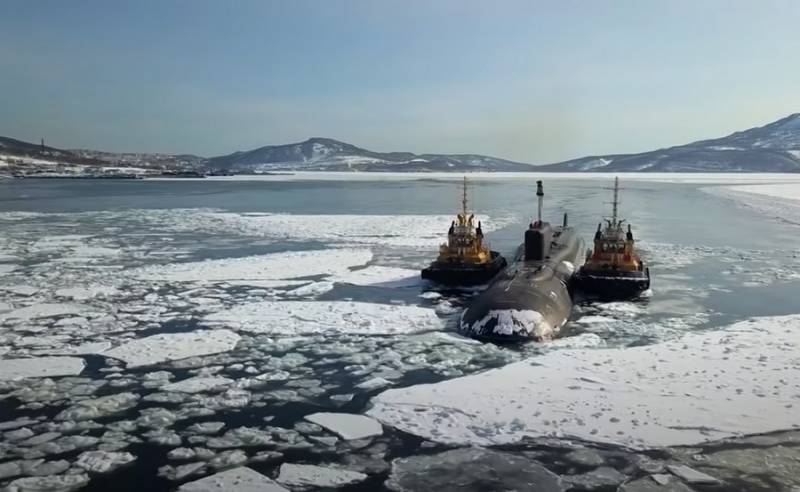 Russia is increasing its presence in the Asia-Pacific region, Russian nuclear-powered submarines
weapons
on board make the Far East impregnable, writes the author of an article for the Japanese edition of Chunichi Shimbun.
Russia included in the Pacific
fleet
two new nuclear submarines armed with ballistic missiles with nuclear warheads, thereby warning potential adversaries that in the event of a military conflict, retaliation will be crushing, the author writes.
Recently, Russia has taken up the strengthening of the eastern borders of the country, Moscow is increasing its presence in the Asia-Pacific region. According to Japanese experts, this is evidenced by the increase in the number of nuclear submarines with nuclear weapons. Russia seeks to protect itself against the background of the developing conflict between the United States and China, and submarines with nuclear weapons will guarantee that even after the destruction of Russia in the heat of a nuclear war, the enemy will be punished.
New submarines of the Borey project can stay under water for up to 90 days and the enemy will not know where they are located. The Pacific Fleet has the submarine "Vladimir Monomakh" belonging to the first generation of "Borey" and modernized submarines of the "Borey-A" project. The Bulava ballistic missiles deployed on board the submarines have eight nuclear warheads and are capable of destroying several cities at once. At the same time, existing missile defense systems are not able to intercept them, the newspaper writes.
Today, Russia is pursuing a dual policy towards its potential adversaries, including Japan. On the one hand, Moscow is engaged in "intimidation" by commissioning new nuclear submarines. On the other hand, the policy of openness should show that Russia is not to be feared when relations are normalized.
New submarines make the Russian Far East impregnable, and ballistic missiles remind that Russia has the status of a nuclear power, the author concludes.