Cold
weapon
Ancient Egypt, ancient Europe today belongs to the most ancient civilizational artifacts. Until now, disputes have not subsided about exactly where the first samples of daggers made of metal could appear, with the help of which they not only hunted, but also conducted full-fledged military operations.
A number of historiographic sources say that the first versions of daggers appeared in Ancient Mesopotamia - in the state of Sumer. At the same time, the weapons business in terms of creating such edged weapons received special development in ancient Egypt.
The most famous variants of ancient Egyptian edged weapons include khopesh (with an emphasis on the second syllable). This is a sickle-shaped blade of cutting-cutting-piercing purpose. It is believed that the khopesh itself may be a modification of the so-called battle sickle of the Hyksos. The Hyksos are a people who in the XNUMXth century BC. was able to conquer part of Egypt, but did not extend the rule of his dynasty to the entire Egyptian territory.
The classic Egyptian khopesh is a melee weapon about half a meter long. The classic khopesh, which historians consider more like a battle ax than a dagger, often "appeared" in the images of the pharaohs. Such "axes" were also found during excavations of tombs.
Speaking about the transformation of the Egyptian khopesh, historians argue about whether this name could have migrated to ancient Europe.
The reason for such reflections is the kopis dagger (stress is also on the second syllable), which is typical of the ancient Greeks. In the generally accepted interpretation, he believes that the very word "kopis", which translates as "hack", is associated with a similar pronunciation of the Egyptian word, meaning the limb of an animal. In this regard, the same word was often used in Greek kitchens when talking about long knives for cutting meat.
At the same time, some historians are sure that the Egyptian khopesh and the Greek kopis have, in fact, a single prototype - edged weapons from the aforementioned Sumer, which had numerous modifications.
The plot of Random Hands demonstrates the process of making edged weapons, which, as the author himself writes, "is possibly an Egyptian dagger."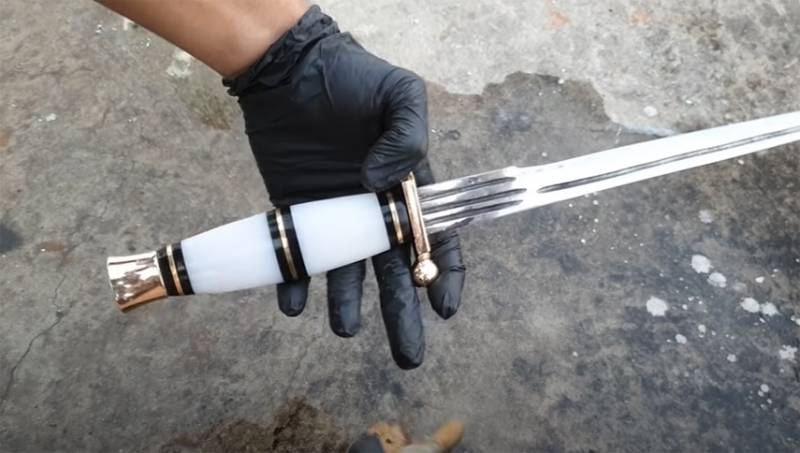 However, what happened in the end clearly has nothing to do with a typical khopesh (kopis).
"Military Review" recalls that the unauthorized manufacture of weapons is punishable by law.