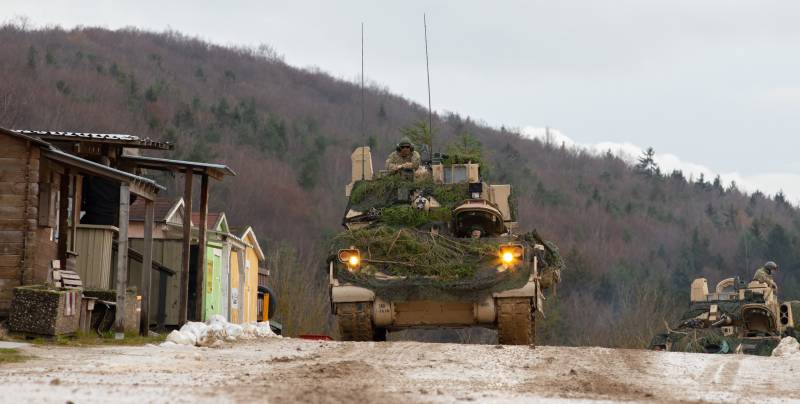 Photos of NATO exercises in Europe
Western media comment on a series of talks that were held with Russian representatives this week. These negotiations started on January 10 in Geneva, where the delegations of the Russian Federation and the United States met, then on January 12 a meeting took place in the format of the Russia-NATO Council, on the eve (January 13), negotiations were held between Russia and the OSCE in Vienna.
Following the talks, the NATO Secretary General said that no concessions would be made with regard to Russia and that the alliance's "open door" policy remains relevant. According to Stoltenberg, "Russia cannot dictate to NATO whether to accept certain countries into the alliance or not."
However, an article was published in the American edition of The New York Times, which says that this is only "the official position at the press conference." In fact, the US and NATO actually agreed with the Russian position that Ukraine and Georgia will not be admitted to the alliance, at least in the short and medium term. The publication refers to high-ranking representatives of the alliance and to the American administration. As evidence, the fact is cited that neither Ukraine nor Georgia has yet received the so-called MAP - a membership action plan. This is a document that unambiguously defines the period of time after which a country is admitted to NATO.
The Polish edition of Wirtualna Polska points to a statement by the head of the Russian Foreign Ministry Sergei Lavrov, who noted that Russia continues to consider the United States as the main partner for negotiations and perceives negotiations with the United States as the main ones of the whole troika "Russia-USA", "Russia-NATO", "Russia- OSCE ". In fact, this makes it clear that it is the US decision that is capable of overriding all other decisions that are made by the "collective" West.
The Polish press notes that the US and NATO negotiations with Russia have clearly shown that there will be no war for Ukraine. But there will be a "redistribution of spheres of influence in Europe," which cannot but affect the countries of Eastern Europe. In particular, it is noted that ultimately Eastern Europe may receive the status of a "militarily neutral region" - following the example of Sweden and Finland.
The German press said that the West initially reacted extremely negatively to the words of one of the deputy foreign ministers of the Russian Federation about the readiness of a military response to stop the threat against the Russian Federation. Then, as noted, there was a positive reaction after the words of Russian President Vladimir Putin that "Moscow will not brandish a stick (cudgel)."