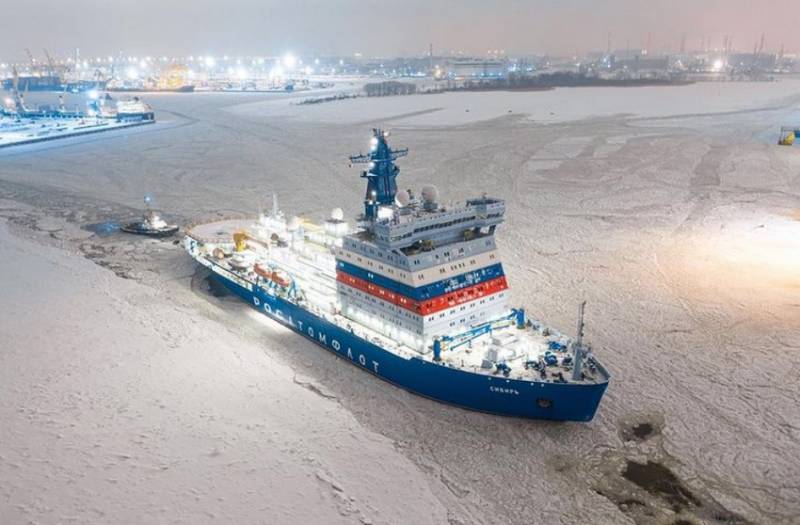 The first serial nuclear-powered icebreaker "Siberia" of project 22220 is fully ready for operation in the Arctic. This is reported by Rosatomflot on its Instagram page.
The icebreaker left the "Baltic Shipyard" in St. Petersburg and began moving to the place of permanent registration, the port of Murmansk. According to preliminary data, the transition will take eight to nine days. According to the press service of Rosatomflot, the icebreaker is completely ready to work in the Arctic, the experienced crew knows the route well, most of the crew members have already worked on other icebreakers.
The first working voyage of the icebreaker is planned a few days after arriving in Murmansk. The main place of work of "Siberia" will be the western sector of the Arctic - the Ob-Yenisei region of the Kara Sea.
The universal nuclear-powered icebreaker Sibir is the first serial vessel of Project 22220 after the lead Arktika in a series of three vessels being built at the Baltic Shipyard in St. Petersburg under a contract with Rosatom. Laid down on May 26, 2015, launched on September 22, 2017, the acceptance certificate to the customer was signed on December 24, 2021. Joined FSUE Atomflot.
Length - 173,3 meters (160 meters at design waterline), width - 34 meters (33 meters at design waterline), side height - 15,2 meters, power - 60 MW (on shafts), travel speed - 22 knots (through clean water ), draft - 10,5 meters / 9,03 meters, maximum icebreaking capacity - 2,9 meters, displacement - 33 540 tons, design service life - 40 years, crew size - 54 people.
A feature of the 22220 project icebreakers is the use of variable draft using ballast tanks. Double-deck ships can operate both in deep water and in shallow water in river beds, overcoming ice up to 3-meters thick without losing speed.