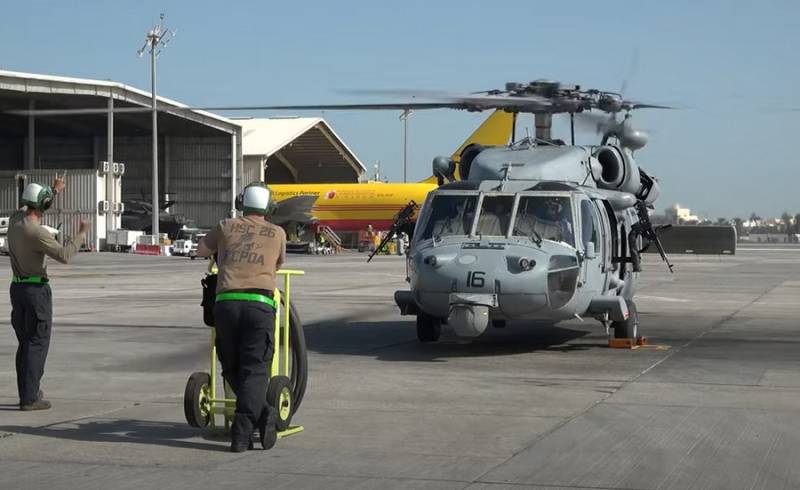 An MH-60S Knighthawk helicopter from the US Navy crashed in the United States. According to the press service
fleet
, the car crashed while trying to make an emergency landing.
US Navy MH-60S Knighthawk helicopter made an emergency landing in Isle of Wight County, Virginia on Wednesday, January 12 at approximately 11:31 am local time. time. The reason for the emergency landing was not reported; upon landing, the helicopter touched nearby trees and, by inertia, crashed into a forest belt.
There were three crew members on board. According to the headquarters of the Navy, the pilot and navigator who were in the cockpit were not injured, the third crew member, who was behind, escaped with minor injuries, but was taken to a nearby hospital for examination. Police and representatives of the US Navy worked at the scene of the incident.
The helicopter received significant damage, the question of its further fate will be decided by the command of the Norfolk naval base, to which it was assigned. According to reports, the vehicle was part of the 26th Naval Combat Helicopter Squadron (HSC).
Note that the last accident with the MH-60S Knighthawk helicopter in the US Navy occurred at the end of August 2021 off the coast of San Diego. A helicopter belonging to the 8th Naval Attack Helicopter Squadron, based at the North Island Naval Base in California, which was carrying out operations on the aircraft carrier USS Abraham Lincoln, for an unknown reason fell into the water, resulting in the death of five crew members.
The MH-60S Knighthawk is a modification of the SH-60 Seahawk and has been used by the US Navy since 2002. Today, the US Navy has about 500 of these rotorcraft.