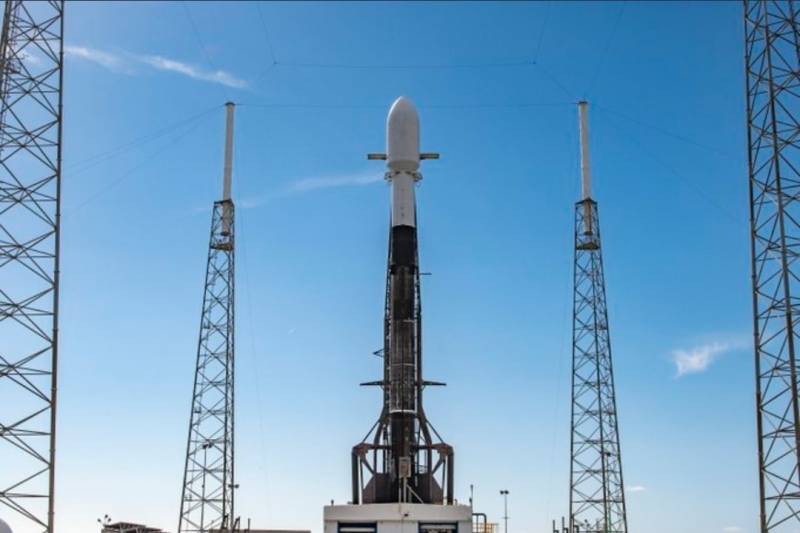 Ukrainian officials are looking forward to tonight. And it's not about celebrating the New Year in the old style. It turns out that the attention of the official Kiev today will be focused on the first launch of a Ukrainian satellite in 10 years.
Ukrainian media reports say that it is about the Sich-2-30 spacecraft, which will be launched into low-earth orbit using the spacecraft of the American company SpaceX. This is a Falcon 9 rocket, which is to be launched from the cosmodrome at Cape Canaveral at 18:25 Moscow time. It will be morning in Florida.
The rocket from the Elon Musk company is at the SLC-40 launch pad. At the same time, the technical staff of the cosmodrome and the SpaceX company itself must take into account the parameters of the so-called launch window - this is about 29 minutes. Simultaneously with the Ukrainian spacecraft, it is planned to launch several small Transporter-3 satellites into orbit.
The Ukrainian press widely announces the first launch of a Ukrainian satellite in 10 years, which causes irony both among ordinary Ukrainians and among politicians and other famous people.
This is how Anatoly Shariy reacted to the announcements of "thorough preparation" for the start on Twitter:
The first Ukrainian satellite is being launched.
News
... The President will probably speak. "We will follow the launch with a sinking heart" ... As if it were not 65 years old.
Anatoly Shariy accompanied his post with a Soviet poster depicting the first artificial Earth satellite launched in the USSR back in 1957.
The Ukrainian Goskosmos paid about $ 2 million to the American company for the launch of the Sich-30-2 satellite. The satellite itself was built in Dnepr (post-Maidan version of the name of Dnepropetrovsk) as part of the Ukrainian space program. It is planned that the satellite will carry out sounding of the Earth's surface. As they joke in Ukraine itself, "it will look for traces of the Russian army."