The era of the Middle Ages gave us a lot of examples of cold
weapons
... Some specimens have proven so powerful and effective that they have been used for centuries. Morgenstern can rightfully be attributed to such types of weapons. This edged weapon combined ease of use, a frightening appearance and terrible wounds that the enemy who met with him received.
What is a morning star?
Morgenstern (Morgenstern) is a melee weapon of shock-crushing action. In its canonical form, it was usually a metal ball (an elongated, oval shape was also found), which was additionally equipped with spikes. This ball was used as the pommel of other medieval weapons: maces, clubs or flails. The chain morgenstern (kettenmorgenstern) was a type of flail; in this example of a cold weapon, a spiked ball was attached to a long handle with a chain.
Anyone who has studied German will guess that the name of edged weapons has German roots, and they will be right. Morgenstern is translated from German as "morning star". The shape of the weapon really did resemble a star. It is also believed to be an obsolete form of the "good morning" greeting. For comparison, the Flemings called their stabbing polearm goedendag, which literally translates as "good afternoon." In a sense, humor in the Middle Ages was not all that bad.
Morgenstern was also called a small spiked wooden club, or a small metal mace with a short handle and a spiked spherical beat. Wooden weapons were as simple as possible to make, so such samples were widely used in Europe during peasant wars and uprisings. They were also actively used by robbers operating on medieval tracts.
Morgensterns were most widely used at the beginning of the XNUMXth century in Germany. In this case, the weapon was used by both infantry and cavalry. The riders were armed with Morgensterns with a shortened handle. It is known that morgensterns remained in service with the Swiss infantry until at least the middle of the XNUMXth century.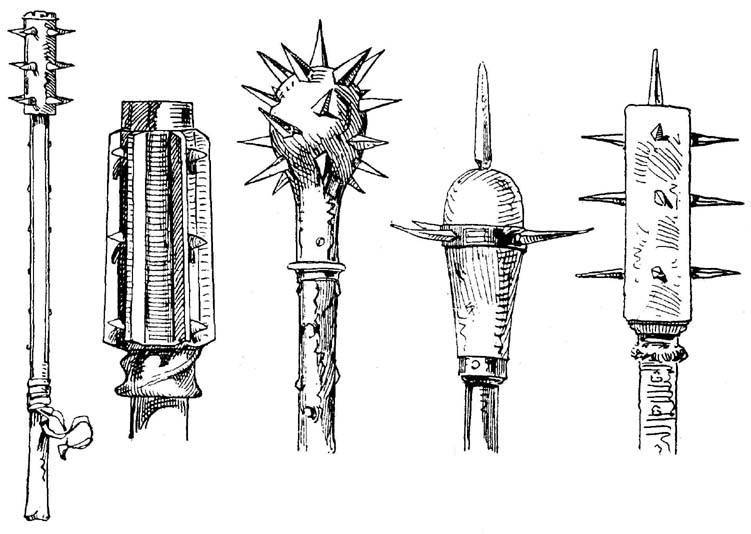 Morgenstern (center). From Wendelin Böheim's Encyclopedia of Weapons (1890), image: wikimedia.org
Morgensterns and their numerous varieties in medieval Europe were a fairly massive and widespread type of cold steel, which was used for centuries. To some extent, this group of medieval shock-crushing weapons was made unique by the fact that it was used in battle by various segments of the population and participated in various battles of that era.
How Morning Stars were Made
There were three main types of morningstars, which differed primarily in the quality of workmanship. The first examples were well-made military morningstars, which were intended for use by professional soldiers. Experienced gunsmiths mass-produced such edged weapons, including for supplying urban arsenals.
The second type was much simpler, it was used by noble warriors, most often peasants. They could independently prepare such a weapon by picking up a wooden blank of a suitable shape and hewing it. They could also fix nails or spikes in it on their own, or they could turn to a blacksmith for help, who could additionally strengthen the structure with iron bands.
The third type of morning star was decorative patterns. They were produced by the most skilled gunsmiths and were not intended for battle. This is a decorative weapon that could be a symbol of the power and wealth of the owner, for decoration it could often be inlaid with silver or gold.
From a technical point of view, the process of making a morning star was not difficult. If the shock part (beat) was made of iron, then the spikes were often simply welded to it. A variant was also used when the blacksmith inserted spikes into a metal ball "hot". In this case, the spikes inserted into the pre-prepared holes in the hot ball were firmly stuck when the structure cooled down, since the metal contracts when cooled.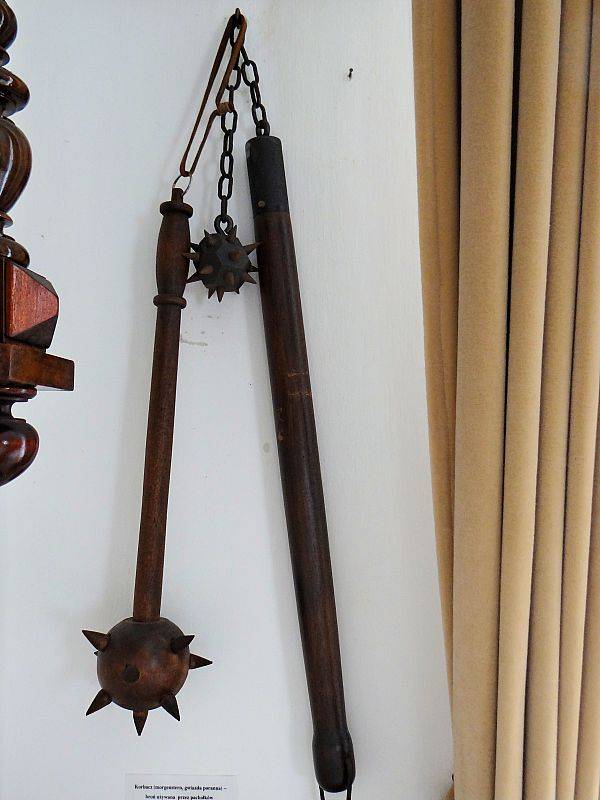 Morgenstern and kettenmorgenstern in the museum, photo: wikimedia.org
The easiest to manufacture was the option that was used by peasants, militias and numerous robbers. They simply drove iron spikes or nails borrowed from a blacksmith into a wooden club. True, such a design was not the most reliable, and the tree began to crack relatively quickly, if the weapon, of course, was used in battle.
Advantages and disadvantages of the morning star
The weapon looked quite creepy and spectacular, having a moral impact on the enemy even before the battle. At the same time, the spikes themselves were often not a help in battle, but simply a decorative element if warriors in light protection or without armor participated in the clash. At the same time, the morning star became especially effective in battles against heavily armed infantry, as well as mounted warriors. The spikes were effective against warriors in chain mail, and a rider armed with such weapons could also pierce plate armor at good speed.
The advantages of this melee weapon include the simplicity of design. For example, the Kettenmorgenstern was often an ordinary threshing flail, which in peacetime could well be used to grind grain. Unlike the two-handed sword and other medieval weapons, which required long and diligent training, morgensterns and kettenmorgensterns were much simpler, which allowed them to be used effectively by peasants who knew what a flail and club were.
In turn, the simplicity of the design concealed and cons. For example, the tactics of the combat use of such weapons was primitive. Morning sterns were crude inertial weapons that allowed them to shower blows on the enemy, mainly from a good swing. All hope was that the enemy would open up, miss your blow and get a terrible head injury. No helmet of that era saved from a strong blow at the right angle.
The kettenmorgenstern had another specific flaw. In the heat of battle, a warrior could also catch allies fighting next to him. In addition, such a weapon lost its effectiveness when the enemy shortened the distance with you as much as possible - in such a situation, the weapon on the chain turned out to be simply useless, the same was typical for models with a fairly long handle.
Despite the fact that morningstars certainly increased the severity of injuries and injuries, it was quite difficult to carry such weapons. It was impossible to make a cover for him, besides, he could cling to items of clothing and ammunition. In battle, the spikes could interfere with an accurate hit, clinging to various close objects, and they could also get stuck tightly in shields or armor.
Morningstars began to fade from the scene at the same time that armor ceased to play its former role, that is, with the advent and increasing distribution of firearms. Such edged weapons were used in relatively large quantities until the beginning of the XNUMXth century. It is all the more surprising that it suddenly revived in the XNUMXth century.
Surprisingly, the Morgenstern was reborn from the ashes during the First World War, becoming one of the most terrible examples of trench weapons. In bloody hand-to-hand combat, makeshift morningstars became deadly weapons. It was often used by German soldiers, as well as the soldiers of the Austro-Hungarian Empire, who especially actively used morning stars on the Austro-Italian front.