Our respected and highly respected Kyle Mizokami from TNI once again pleased us with a very unoriginal, but peppy and patriotic reflection on the topic that Ash, if he suddenly had to fight with Virginia, would undoubtedly lose.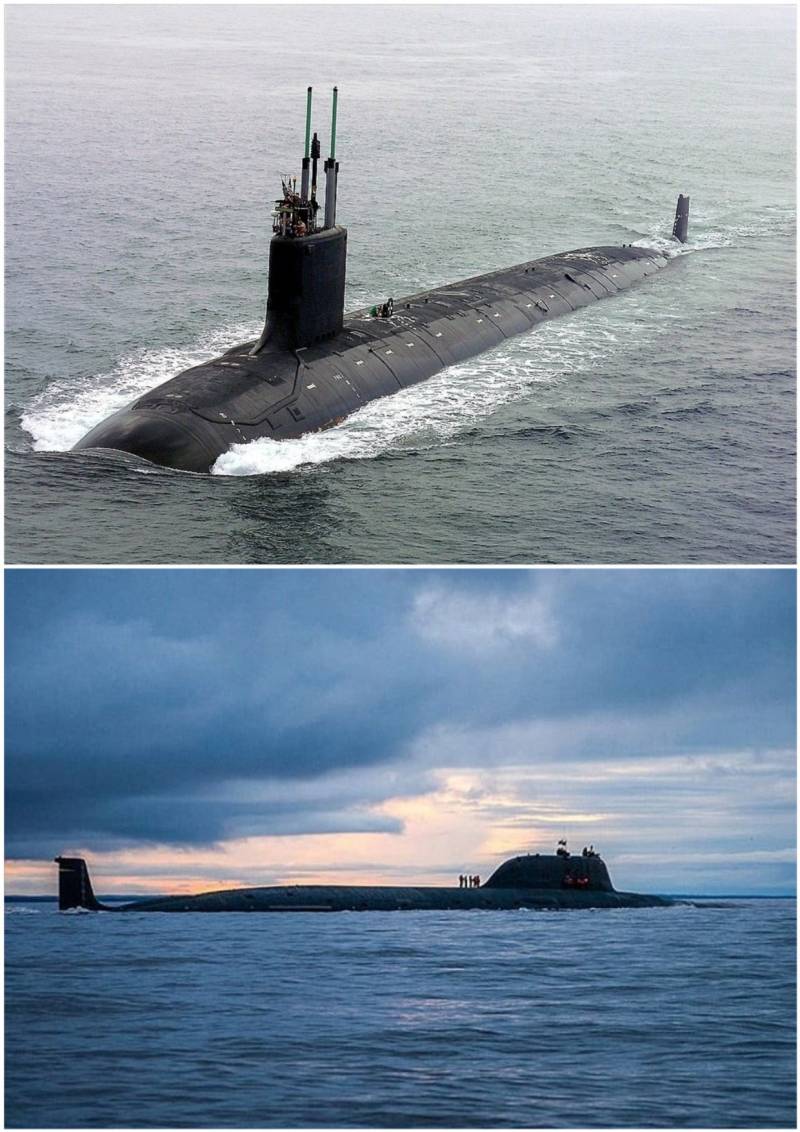 What Would Happen if Russia and America's Most Powerful Nuclear Submarines Went to War
?
Giving a historical digression is simple: the new boat is not so new, since the 885 project has been in development for more than 20 years. It is difficult to argue with this, indeed, the work has been going on since 1977, but we all know what things are done very quickly.
In addition, the Yasen developers faced a difficult task: to create a multi-purpose universal submarine that would have to replace a number of domestic submarines.
It is impossible not to deny the fact that in the Soviet
navy
there were too many submarines of different projects, which greatly complicated the operation, repair and training of crews. And the presence of a universal missile-torpedo boat could greatly simplify the situation.
Yes, and the Russian submarine fleet would look better. Today's hodgepodge of the remnants of the Soviet Navy does not look weighty. However, we have already discussed this several times.
And so, albeit with a significant deadline, but project 885 was born. It took a long time to build, the Americans are well aware of what caused it, but in the end the boats went into operation. Yes, not 19, as was originally intended, but only 9. And there is something in these numbers that will lead us to certain conclusions.
There is data on Ash, although there is not as much of it as we would like in the part that interests us the most.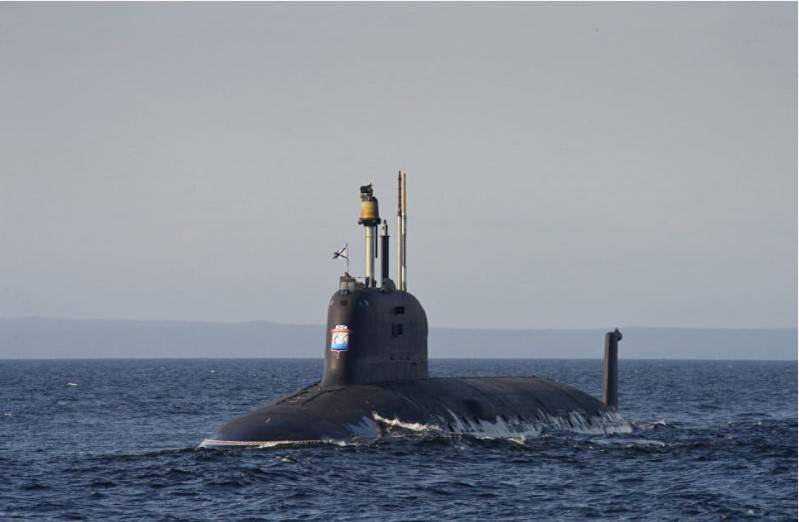 Photo: SEVMASH JSC
The boat is larger than the Virginia in terms of displacement and size, and the crew is smaller than on American boats. This indicates a higher automation of processes, this is recognized by the Americans themselves.
There is an advantage in the reactor. The OK-650KPM reactor is capable of working out the entire life of the boat. This is beautiful because it reduces the need for costly boat repairs. For "Virginia" it was considered good luck to realize the opportunity to make three overhauls during the service life instead of four. Yes, the Russian boat will not do without such repairs, but still, work with the reactor is the most expensive and problematic.
Surface and submarine speeds of Russian and American boats have been compared so many times that it is somehow even inconvenient to return to the topic. It can be noted here that they are actually equal.
The main question is which of the boats is quieter and at what speed. Maximum silent speed is more important than just maximum speed, because the faster the boat can go without giving away, the more useful it is.
They say that in this regard, "Virginia" is cooler. That is, both quieter and faster when it is quiet. But if you look realistically, the data is absolutely classified, and this is fully justified. It is very difficult to judge anything without having normal data on hand, but at a quiet speed, thanks to its water cannons, the Virginia will clearly be faster. It's hard to say how Ash has in this regard, with its low-noise quiet-running electric motor and innovative propeller. God forbid that it was not worse. Again, gossip-level general data suggests that the Virginia has a quiet speed of 25 knots, while the Ash has 20 knots.
The maximum diving depth is greater for Ash, there is still a difference of 100 meters - this is decent, although not critical.
Hydroacoustic weapons. This is very significant, but again it is not easy to judge. Little more than nothing is known about the Irtysh-Amphora, which stands on the Yasen. Yes, a large spherical antenna in the bow, so that there was no room for torpedo tubes, side antennas for receiving signals from the Ajax sonar, a towed antenna behind the boat. There is no data on the effectiveness of the GAS "Irtysh-Amphora" and, in principle, cannot be yet. As well as there are no reviews or comments on the use of the MRK-50 Albatross.
The "Virginia", like the "Ash", the main acoustic station with a spherical antenna, is also located in the bow. But starting with the boats of the Block III series, the BQQ-10 sonar complex was replaced with a horseshoe-shaped Large Aperture Bow sonar.
Additionally, wide-angle antenna arrays Light Weight Wide Aperture Array are installed on the port and starboard sides, consisting of two blocks of three acoustic sensors each. These wide-angle antenna arrays, which transmit data over fiber optic cable, are primarily designed to detect diesel-electric submarines. Behind the radar detection provides a towed passive antenna array TB-29(A). And finally, the high-frequency sonar installed in the bow of the bridge fairing allows the Virginia to detect and bypass sea mines.
It is generally accepted that American sonar systems are superior to all available in the world. On this I would like to put an end to the reasoning, since there is no way to really compare the sonar systems of boats.
But we can talk about weapons. We know about weapons, if not everything, then almost everything.
And from this angle, "Ash" looks like a complete killer cyborg. 10 torpedo tubes versus 4 for Virginia - this is significant. Many people in the know say that the American Mk.48 Advanced Capability (ADCAP) torpedoes are vastly superior to Russian Fizik-class torpedoes, but there are numbers here that are difficult to level. Even taking into account the possibility of loading the Harpoon anti-ship missiles into the torpedo tube.
Of course, the multiple attack system in case of losing a target on an American torpedo is significant. We have to admit that Russian torpedo designers are still in a state of catching up, but optimists are pinning their hopes on the Physicist-2 / Case. Pessimists believe that it will be very, very difficult to catch up with the Americans.
However, a submarine is not strong with a single torpedo. Especially if it is a multipurpose universal strike submarine.
12 Tomahawk cruise missiles (Block III and Block IV boats) or 24 missiles (Block V boats) look... they don't look very good. "Ax", no doubt, is a good rocket. But it's still really old. Yes, modern upgrades make rockets quite good
weapons
but here's what's good. Satisfying modern requirements, about the same as the Harpoon anti-ship missiles, which can be used to arm the Virginia. Even increasing the number of carried "Tomahawks" to 40 will not greatly improve the situation. "Tomahawk" is good to use on ground infrastructure, for this it is really good. But a ship or a submarine - sorry.
At "Ash" with missiles, everything is somewhat better. 32 "Onyx" or "Zircon" or 40 "Caliber". It can be attributed to patriotism, but the Russian submarine's missile kit allows you to do business against any enemy, no matter on the water or on the ground.
So who is stronger?
Mizokami, of course, gives the palm to Virginia. However, I would not be so categorical. It is very difficult to compare the capabilities of ships that have never demonstrated them. And, in fact, I would not really like such a demonstration to take place in the coming years.
Yes, the Americans are recognized leaders in terms of combating the noise that submarines make. It is a fact. But it cannot be denied that our designers also achieved success in this area and our boats began to catch up with the American ones in this parameter. Yes, the race will be long and difficult, but it is.
hydroacoustic equipment. It is also not easy, because there is no data. The fact that world experts say that Americans are the best in this industry spoils the picture a little, but nothing can be done about it. They are really good.
The torpedo armament of Russian boats is inferior to the American one, but work is underway and it is likely that we will see new models that will be no worse than American ones.
Our missiles are better. And it's hard to argue.
As a result, it turns out that Virginias are best suited to search for and destroy Russian submarines, especially SSBNs, in order to prevent the launch of ballistic missiles from the sides of submarine missile carriers. As an additional option, any Virginia can strike ground targets with cruise missiles and ships with torpedoes.
Actually, the perfect combination of low noise, good sonar equipment and excellent torpedoes. Better, probably, for a submarine hunter and not worth wishing for.
The "Ash" is assigned somewhat different functions. And, accordingly, a wider range of use of the boat with an emphasis on more advanced missile weapons.
And, of course, one of the important components is the number of boats that countries can produce.
3 "Ash" out of 9 planned are already ready. 19 out of 30 planned "Virginia" also plow the seas.
Of course, the boats of the first two Virginia families are simply incorrect to compare with the Ash, but there are only 10 of these boats. Two dozen Virginias of Block III and Block IV modifications are a lot.
So if we talk about who is better in confronting Russian and American attack submarines, then we should seriously take into account that there are three times more American boats. And this means that it will be easier for them to find and deal with Russian submarines.
That moment when quantity can take precedence over quality. Yes, American submarines have their strengths, but there are more. There will always be more of them, this is a given that cannot be brushed aside.
"Ash", in principle, a modern weapon, which is on par with the American "Virginia". This is undoubtedly the success of our shipbuilding, even though the Americans have advantages.
But the number will be very difficult to win back. Although it is worth striving to ensure that the total superiority in terms of the number of modern US submarines over Russia is not so critical. This is a worthy task. And then Kyle Mizokami will have nothing to cover next time.