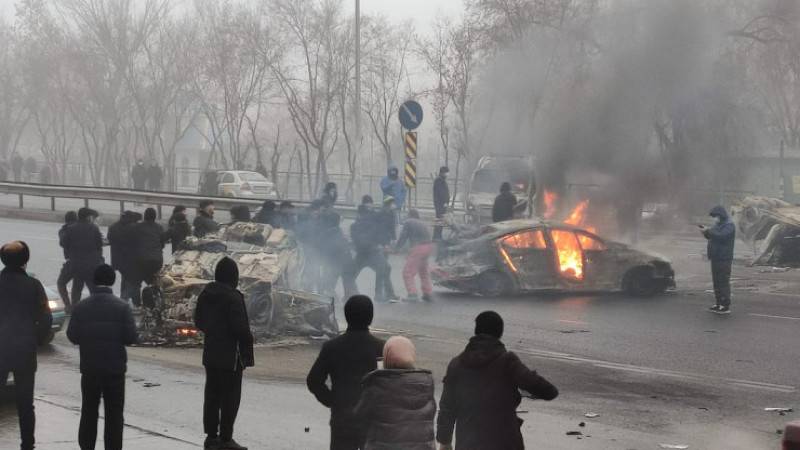 Photo by: tengrinews.kz
Returning to Kazakhstan
I would like to return to the topic of Kazakhstan.
The other day I watched an interview with I. Strelkov, well-known to many, as well as two more invited to speak on the topic of Kazakhstan, K. Sivkov and E. Mikhailov (I don't know, though, what they are famous for). Very interesting opinions. I won't say what kind of channel on YouTube, whoever wants, he will find and watch.
One thing touched me in it: this is the expressed opinion that in Kazakhstan there was not just an attempt at a Maidan coup, but a real rebellion against the authorities, which no one expected. Or rather, it was expected ... by those who, in fact, planned it, but something went wrong.
And this "not so" scared everyone very much.
The Asian mentality was superimposed on the outcasts, who were the main movers of the rebellion, and away we go ... and off we go.
It was also said there that the Russian authorities did not develop a coherent policy at first, but after that they unexpectedly took the initiative into their own hands and urgently sent a rather large contingent of CSTO forces to help. Moreover, not the usual units of peacekeepers, a motorized rifle brigade or, say, a division were sent. And the units of the Airborne Forces and even the special forces of the Airborne Forces.
That is, the game went immediately with trump cards.
The main result of this conversation was that the events in Kazakhstan do not at all resemble those that occurred in Ukraine. There are, of course, many coincidences, and it seems that the tasks are the same, but the goals turned out to be different. And these goals could very well be transferred to the Russian Federation, due to the similarity of the scenario and its implementation.
Like it or not, it's hard to say, I'm not an analyst, and I'm not paid for it. Need more information and not out of the ordinary
news
tapes.
But my first impression coincides with the opinion of these large-caliber powerless authorities or medium-caliber ones, their caliber is a very speculative feeling.
However, there is something in it.
In one of the news videos, a woman, the owner of a jewelry store, was remembered. She brought food to the Maydanniks (or whatever they are called in Kazakh), and they (or not those, or almost those) plundered, as if to mock her, her own jewelry store a little later.
Coup of 1917
In this regard, the events of 1905 were remembered, as well as 1917, February.
There was a lot of interesting things there, and now, if not forgotten, then not protruding, even taking into account post-perestroika glasnost.
For example, the main mover of the revolution of 1917 was by no means the peasants, who for the most part did not understand what was happening at all, and not the workers, who were very few, and not all of them suffered from revolutionary disease.
The main contingent was just such ladies who wanted the revolution for themselves and suffered from it like a fashionable disease.
And then there were oligarchs and government officials, and then there was bribery and so on, however, as in any country, and at any time, not excluding the valiant USSR, which hid everything under the brand name of special shops and special distributors, as well as the appointment of the right people to leadership positions .
But the victims were actually the same people who are now crying about the plundered property, they, in fact, then lost everything, and many of their lives.
It all started then, just as it does now, with the betrayal of a part of the elite.
The conspiracy involved the Grand Dukes, Generals Alekseev and Ruzsky, industrialists Ryabushinsky, Tereshchenko, Konovalov, liberals from various parties like Guchkov and Milyukov, and others, but already from abroad.
The result, in principle, everyone knows. Only, comrades and gentlemen, it is not the intellectuals who create the rebellion, they only plan it - but the city bottom. And in order to manage it, one must either be a genius, or fully know this environment and this mentality, and even have a certain temperament that is more suitable for an adventurer.
You can say - revolutionary sailors, but this is a generalization, and, as elsewhere, revolutionary sailors are divided into many categories, and those of them who first shot at naval officers did not belong to the best of them, alas: it was so, so it is it'll be this way forever.
In the Russian Empire there was a terrible curse - Asiatic. They were branded, as with a seal, anyone who allowed himself unseemly acts, from the point of view of an educated person.
And what do you think the first thing the crowd rushed to do in February 1917?
Correctly…
Shoot the police, attack their sites and prisons. Someone started a rumor that in the attics and in the corner houses, at the crossroads, policemen with machine guns sat down. To kill means the people, by order. And the fun began!
In many books, both the 1917 edition and later, it is indicated that even boys and old women hunted policemen, calling them pharaohs (a nickname hitherto unknown to the police officers). And having caught, they literally tore them apart, beating them to death, but the revolution was bloodless. So it was stated, at least officially.
The funny thing is that the information about machine guns was not confirmed, neither then nor now.
After the murder of bailiffs, police officers and other gendarmes, the crowd, in which there were very few soldiers and workers, and even more so peasants, rushed to smash shops and liquor stores. More precisely - warehouses, because there was a dry law since 1914.
What happened next, in principle, you can see in the news about Kazakhstan.
Switching to the side of the enemy, lack of will, waiting, amorphous babble: how could it be, but we did not wait.
Everyone talks about color revolutions, forgetting that the first of them, in essence, took place in our country in 1905.
The Great French and others were still different from ours.
The second rehearsal took place in 1910 in Portugal, but also the third, additional, in February 1917.
And I ask you, comrades, not to be confused: even in the Bolshevik press no later than 1930, the October Revolution was referred to as the October Revolution. That is, in Russia there was only the February Revolution of 1917.
By the way, I partly stumbled upon the explanation of the bestial cruelty of the crowd in February 1917, and later too.
At that time, drugs were not prohibited, and morphine and cocaine were very common and were sold even in pharmacies.
There were so-called "marafets" and, in fact, "marafet", that is, cocaine mixed with various associated rubbish.
And there was the famous "Baltic tea" - the same cocaine, only taken internally with vodka, it was used by sailors and many naval officers too.
The result of taking drugs, in principle, is obvious.
And this is another cobblestone in the garden of the uprising. Any uprising.
color riot
So not everything is a color revolution that starts like this. And rebellion, after all, it can be different, mostly terrible, but more often - ugly.
And finally, purely for reflection, the words of A. A. Bublikov, written in 1918 in exile in the USA. The golden words of an educated person who committed meanness to his own country.
"The eternal dream of a truly Russian person is a sense of justice, the desire for something high. To the fact that he himself often does not understand that he is terribly far away, but about which he once heard from no one knows. He strives for the highest ideals, not realizing that they exist only in his imagination.
There is only one thing that can be said about any revolution, which I understood from many memoirs I re-read.
A Russian person, namely Russian or living entirely by Russian culture without imposing his national mentality on him (and I emphasize this - according to his mentality), thinks that all people will change for the better if they live by the truth, by the law, by the rules , under communism.
But reality constantly dips the face of its best representatives in the dirt, and they die misunderstood by their own people, looking through the ideological blinders invented by people experienced in deception. Human nature does not allow many to step over their desires.
Lust, greed, the desire for fame, comfort, and exaltation over others cross out all the actions of its best representatives. They lie down in the ground one after another, flooding it with their blood, and on it, without hesitation and without trying to change anything for the better, those who always stand behind their backs, those who want change, but not for everyone, but for themselves personally.
Those who are skilled at manipulating others, those who come up with theories, those who know what they want and know what everyone else wants. Not all of them are public, not all are recognizable, but all of them are always and everywhere in power. They fight with people like them for power, destroying each other, and presenting it to everyone else as a struggle for a brighter future.
They are remembered, they are admired, they are idolized, not understanding what they are leading the country to. Fooled, slandered, living by faith in what will never be, the best and the worst continue to rise under colorful banners, helping others to seize power for themselves.
The crowd is faceless, the crowd is amorphous, the crowd is cruel, it does not know how to think, it is sick with action, it needs movement in any direction, the desire to do.
But each of them is a separate individual.
So why does everyone strive to go where there is no road, and where no one has ever been?
Why does everyone with such fury defend the ideals invented once and by someone, without thinking about them and not realizing that they are unattainable.
And that is why you always need to think, you always need to compare, so as not to make one more mistake, more and more, because each of them may turn out to be the last or fatal.
Sometimes I don't know how to think, sometimes I feel something that I can't explain, but I know that it will happen, it will definitely happen, and then my heart aches in hopeless longing for the lost.
I personally feel sorry for all those Russian people who fell into the ground forever, for the sake of other people's aspirations, everyone: soldiers, peasants, aristocrats, intellectuals, workers, clergymen. All those who will never be returned, who longed to change their country for the better, but paid for it with their blood, but did not achieve what they wanted.
Something that can never be achieved, what those who organized it all knew about.
To all of them, slandered, cursed and forgotten, an eternal requiem. May we not repeat what once happened in 1917 ...
And Kazakhstan...
Let Kazakhstan serve as a warning to those who do not understand what it is doing and for whom. They have their own destiny and their own karma.