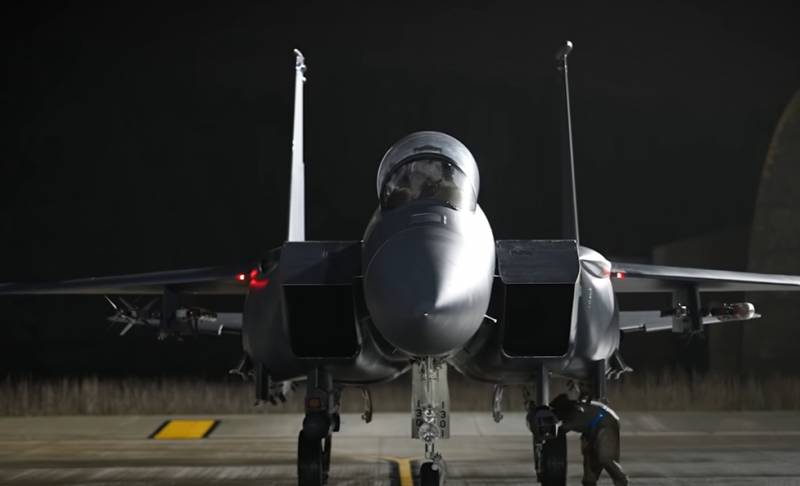 Recently, American experts have been paying particular attention to the F-15EX fighter. This aircraft, in their opinion, has a number of interesting qualities, and it differs in relatively affordable cost compared to its main competitors.
John Keller, editor of Military & Aerospace Electronics, writes that one of the fighter's main advantages is its large payload, the ability to use an all-weather Stormbreaker bomb with precise guidance.
Chris Osborne of the American edition of The National Interest notes that the F-15EX may be more subtle than its competitors. While many experts argue that the new high-tech aircraft will still be the fourth generation fighter, some of its upgrades go beyond the traditional characteristics of this generation of aircraft.
For example, the fighter is based on a 1970s aircraft model, but contains noticeable improvements in sensors, armament, and even the fuselage. The design and configuration of the aircraft and its coating make the aircraft less visible than its prototypes, although, of course, stealth technologies are not used to such a high degree as in the F-22 or F-35.
The F-15EX fighter, according to the American press, has conformal fuel tanks, which allow for a greater supply of fuel during the flight, but also make the aircraft less visible. The United States Air Force has so far ordered eight new F-15EX jet fighters with improved avionics, navigation systems and radar. But this is only the first batch.
However, estimates of the F-15EX Advanced Eagle differ: a number of analysts in the United States consider the aircraft one of the biggest mistakes of the American military.
aviation
and the military industry. It is argued that the aircraft will not be able to withstand the latest Russian and Chinese air defense systems, so its creation is almost useless for the American armed forces.