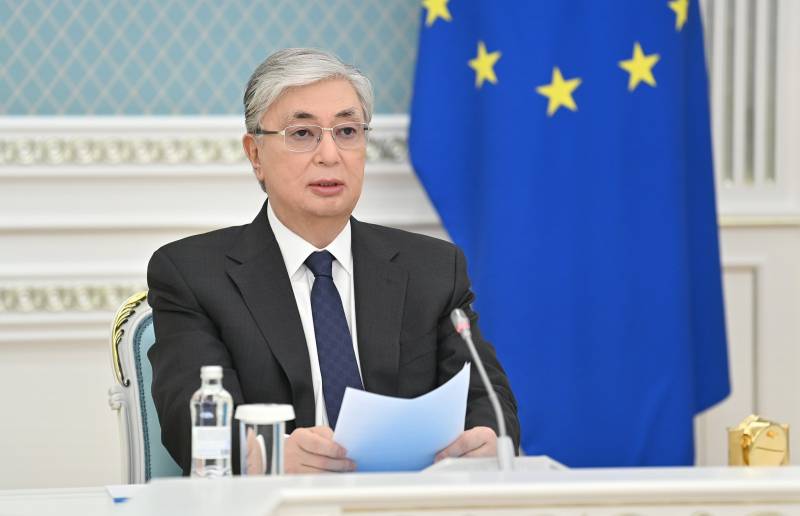 Kazakhstan is returning to a peaceful life, the president of the republic outlined tasks for the new government and parliament. Tokayev considers one of such tasks to establish order on the customs border with China.
According to the Kazakh press, Tokayev has set the task to sort out the situation on the border of Kazakhstan and China as soon as possible, where, according to him, "a real mess" is going on. At a parliamentary meeting, the President instructed to restore order there, stating that the discrepancies between the customs statistics of Kazakhstan and China amount to "billions of US dollars."
Tokayev drew the attention of law enforcement officers to some "untouchable operators", instructing the General Prosecutor's Office to conduct a comprehensive check. The Ministry of Finance and the Financial Monitoring Agency should join the prosecutor's office.
The real mess going on there is well known. Cars are not searched, taxes and duties are not paid
- said the Kazakh leader, adding that putting things in order at customs will bring additional funds to the state treasury, which are necessary for carrying out reforms.
It is emphasized that the issue with customs on the border of China has been standing for a long time and has not yet been resolved. Back in 2017, the discrepancy in statistical data on trade between countries was quite a big difference. If Beijing announced an increase in trade turnover by 46%, then the Kazakh customs showed only 30%.
Meanwhile, Kassym-Jomart Tokayev urged wealthy citizens of Kazakhstan to start sharing their income with a less wealthy stratum of the country's population. According to him, a fund "To the People of Kazakhstan" is being created in the republic, which urgently needs sponsors. The government has been tasked with determining the range of companies and simply rich individuals who will make annual contributions to the fund.
Tokayev stressed that in Kazakhstan during Nazarbayev's rule there were a lot of people who were rich even by world standards, and now the time has come to help the people on a "systematic basis."